Ben Thompson grew up on a farm near Buffalo, 15 miles east of Springfield, and graduated from Tri-City High School in 2001. He was a farm boy who knew how to use a gun and a bow and enjoyed all kinds of sports. A talented multisport athlete, he participated in soccer, basketball and track. However, he never dreamed of traveling the globe and becoming the world's best in a sport. In 2019 he won the gold medal in men's compound archery at the World Archery Para Championship in the Netherlands and achieved the #1 ranking in the world.


Being world champion in a particular sport is a tremendous accomplishment. Ben Thompson achieved that and an additional recognition. In November 2019 he was named the Best Male Paralympic Athlete of the Year across all sports. The U.S. Olympic and Paralympic Committee presented six prestigious awards at a ceremony at Universal Studios in Los Angeles, naming the best male and female Olympians and Paralympians and best teams. Thompson shared the spotlight with some of the world's most famous Olympians, such as Simone Biles, who was named female Olympic Athlete of the Year. Honorees are selected through a process in which 50 percent is determined by online fan voting and 50 percent by votes of the Olympic and Paralympic Committee.


Tragedy led to Thompson becoming a world champion athlete. He suffered a life-changing accident, but has come out on top, thanks to his determination and can-do spirit. In 2010, at the age of 28, Thompson was hit by a car while riding his motorcycle to work in South Carolina. He broke his back, and in an instant his life was turned upside down. Although now confined to a wheelchair, the accident has not confined his spirit or his ability to excel and inspire others.


Thompson moved to Charleston, South Carolina, in 2009 to work for Boeing after receiving his certification in airplane mechanics from Lincoln Land Community College. He is a quality engineer for Boeing, working on the 787 aircraft program. He traces his interest in airplanes to growing up on a farm and watching crop dusters. He chose to channel his interest in airplanes on the ground rather than in the air as a pilot.


Finding fulfillment and success through archery


Doctors and therapists convinced Thompson that he needed to get involved in something, and they provided a menu of options for him to consider. Thompson's young son, who was under five at the time of the accident, was a big motivation. Thompson says it would have been easy to waste away, but he was committed to being able to do things with his son, who is now 14. Thompson also credits his success to an amazing support group, including his family, co-workers and friends.
One of his doctors suggested Thompson pursue archery, which he found enjoyable. "For a 210-pound 6-foot-4-inch guy, playing basketball in a chair was not as appealing," says Thompson. His mother, Karen Thompson, says Ben decided that it wouldn't be simply a hobby, and from the beginning he intended to become a world-class athlete. Thompson's parents, Mark and Karen Thompson of Buffalo, are his most ardent supporters.


Thompson competes in the compound archery category, which involves shooting 72 arrows at a target from 50 meters. His first competition was in Myrtle Beach in 2013, and he launched his official career in 2014 in the para division at the USA Archery Arizona Cup. Competitions are scored and bracketed similar to NCAA basketball tournaments. Individuals are ranked 1-64 and compete in bracketed competitions until one person is left. It is a highly competitive and rigorous process to qualify for the U.S. national team and earn a spot to participate in the Parapan American championships with teams from the Americas, the Para World Championships held every two years in cities around the world and the Paralympics held every four years.


From beginner to international competitor


Thompson qualified for the U.S. national team in his debut year and traveled to Argentina for the Parapan American Championships, where he earned an individual bronze medal. Archery is not only an individual sport, but a team sport as well. This provides an opportunity for individual improvement along with the camaraderie of a team.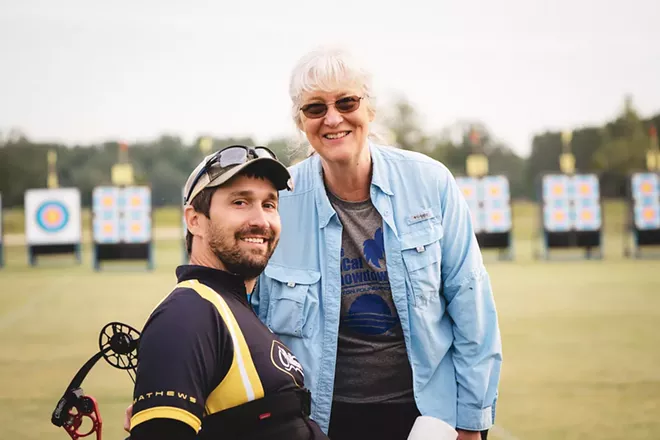 He made three world championship teams. They won gold in 2015 in Germany, bronze in 2017 in China and set the world record in 2019 in the Netherlands, which is where he won the individual gold medal. By winning the world competition, the U.S. team is entitled to send three people to the 2020 Paralympics in Tokyo, instead of two. Being world champion doesn't guarantee his position on the team. He still must qualify to participate.


Thompson failed to qualify for the 2016 Paralympics in Rio de Jeneiro, Brazil, so he is even more determined to work hard to earn his spot to compete in Tokyo this summer. It is an intense process to qualify for the Paralympics, with three qualifying events – in Arizona, Florida and California – beginning in April. Qualifiers for the team will be announced after the third trial in southern California June 13-14. hompson says the U.S. team is stacked deep, with teammates holding world champion silver and bronze and also gold and silver Paralympic medals.


Central Illinois archers contribute to success


Although Thompson has a coach certified by USA Archery and has traveled the world to compete in archery events, two central Illinois archers have contributed to his success. Gary and Kim Rigney are the owners of Rigney's School of Archery on Palm Road near Chatham. They have a public archery range and provide lessons and opportunities for people of all ages and abilities. "Ben is a highlight of our program to showcase what is possible when you choose to put in hard work and quality training," says Kim Rigney.


While in high school, Ben met Gary when Ben and his brother, Charlie, came into a Springfield archery shop to learn more about the sport. Gary has won numerous national archery tournaments, and Gary's wife, Kim, is an accomplished archery coach. Over the years their families developed a strong friendship, which continues to today. Both Gary and Kim have been an important part of Ben's journey. Gary helped Ben perfect his equipment, and Kim worked with him as a coach, helping him perfect his technique.


"The first thing I noticed about Ben was how smart and well-spoken he was," says Kim. Kim also cites his supreme focus during shooting rounds, coupled with his easygoing, caring and joking attitude with other competitors between rounds. "That's really what it takes to become top of the field," says Kim. "A great archer needs to be able to let everything else fade while shooting and then not overthink about shooting when there is down time."


Worth the effort


Archery is a tasking sport, with lots of heavy travel and preparation. International travel in a wheelchair with heavy equipment is not easy. And, the travel and equipment involve considerable personal expense. Para athletes receive only limited sponsorships, and contributions from caring friends, family and community members helped make it possible for Thompson to become a competitive athlete.


But, the hard work and difficulty has been worth it. "Archery has given me options I would not have had otherwise," says Thompson. His trip to Argentina in 2014 was the first time he left the United States. Since then he's traveled to Canada, Germany, Czechoslovakia and China to compete in world archery events. Through competitive archery he has met people from many different races and countries.
Thompson describes archery as a friendly sport. "Even though you want to win when you are shooting, when it is done you can be friends and enjoy sharing information and experiences," says Thompson. Thompson's mother, Karen, has also observed the friendship that has developed among the para athletes and their willingness to share tips for success. "No one else knows more about how to shoot from a wheelchair than someone in a wheelchair," says Karen. "It takes a village to compete at this level."
To learn more about this sport and see Ben Thompson's impressive performance winning the gold medal in 's-Hertogenbosch, Netherlands, go to https://www.youtube.com/watch?v=G4xg0O2aa9U. Also stay tuned for more news about Thompson. He is a nominee for World Archery Athlete of the Year. Award winners will be announced at the Indoor Archery World Series finals in Las Vegas on Feb. 8.


Karen Ackerman Witter started freelance writing after retiring from a long career with the State of Illinois. She enjoys writing about interesting and inspiring people, places and organizations. She looks forward to following Ben Thompson's upcoming competitions to qualify for the 2020 Paralympics in Tokyo.