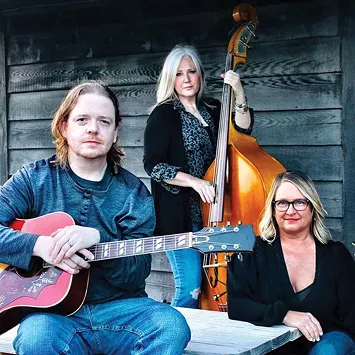 Did I miss something, or did the month of March just fly by in a whirlwind of activity? I suppose the feeling is a combination of the approaching spring season, plus a reaction to the lessening of COVID restrictions and, more importantly, the number of COVID cases falling here in our area and around the country. Any way you score it, we're in our last weekend of March 2022, and by the looks of things, it's going to fly by as well.
Let's welcome Jack Whittle of the greater Chicago area to our blues scene as he rolls in to play Thirsty Thursdays at Whiskey Jack's, a weekly blues night hosted by MCG Presents. Jack, playing at Jack's with his blistering blues trio, calls his music "a deep blend of blues and roots" and keeps quite busy playing guitar in the big city up north, which says a lot about his talent, ability and hustle. Stop by to give the guys a hearty Springfield welcome this Thursday at 7 p.m.
Elvis Presley fans (I know, I didn't really need to use his last name, but once in a while, it's OK) are in for a treat this weekend as two tribute shows hit town. On Friday, Branson headliner and nationally touring artist, Joseph Hall, presents his award-winning show, Elvis: Rock 'n' Remember at the Legacy Theatre with all the trimmings. Then on Saturday, our very own Elvis Himselvis plays Harvest Market Brewhouse Brews (6-9 p.m.) as a warm-up for his latest Tribute to the King concert coming to the Hoogland Center for the Arts on Saturday, April 16.
The Gin Mill (Bar None) venue on Fifth and Monroe hosts a double bill weekend, hailing back to the glory days when the place was a hot spot for live music. On Friday, Rhodes & Battles, an acoustic duo rooted in sweet harmony, hosts a release party for their debut album, Love is Free. Joined by Jamie Merideth, Karen and Amy are elated to play the new record in-person and thrilled to sell you some copies, too. Some guy (haha) named Micah Walk opens the show at 8 p.m. Then on Saturday night, the legendary (I think it's OK to use that adjective) Looming returns to a Springfield stage along with Astrofix in a great display of local, original rock bands doing it up right. It's always great to see homemade music coming out, so please come out to support these working, rocking, DIY, area indie-artists.
On Saturday, in honor of Dion Doss turning the big 4-0, Good News ENT presents the Soulfield Music Festival, an all-day celebration of music-making from 2 to 10 at Danenberger's. Check out this lineup of BAAAD BOYZ, David Lumsden Band, DJ Masterjam, J Brew & the Crew (BOC), Kapital Sound, Michael Burnett & the Sun Band, RIQ (aka Yuri K.) DJ, SmoothTimes and Soul Experience all playing in one place on one day. Visit goodnewsent.biz for ticket purchases and information. Happy birthday Dion. You know how to throw a party!
This Sunday, Petersburg throws down a party as well when Sounds of the Square happens with live music happening all day long at various venues around the square. It all starts at 10 a.m. in the Talisman with Nathan Cozadd and Josie Lowder and ends with Brandon Boston at the VFW from 6 to 8 p.m. For all the in-between shows, check out the Facebook event page or just head out there and wander around until you hear some music playing. What fun!
Be sure to look for all the other music going on around town. Next stop, April 2022.