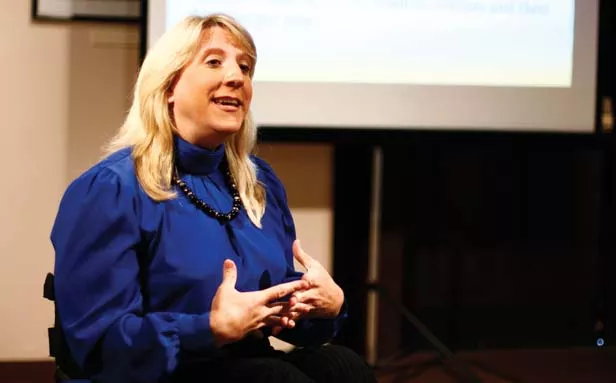 Though she wore long sleeves, Jean Driscoll's muscular arms were evident as she confidently gripped the handrims of her wheelchair. She hasn't competed professionally in years, but Driscoll clearly maintains her athletic physique, as well as her drive for success.

The seven-time winner of the Boston Marathon in the women's wheelchair division visited the Illinois State Military Museum in Springfield on July 19 to raise money for a project benefiting severely disabled veterans attending the University of Illinois at Urbana-Champaign.

Currently serving as assistant dean of advancement at UIUC's College of Applied Health Sciences, Driscoll was inducted into the U.S. Olympic Hall of Fame earlier this month. The 45-year-old retired wheelchair athlete holds two Olympic medals and 12 medals – including five gold medals - in the Paralympic Games. She also holds several records, including the world record for the 10,000-meter (6.2 miles) track event set at the 1996 Summer Olympics in Atlanta and the fastest finish of the Boston Marathon in the women's wheelchair division set in 1990.

As part of her job at UIUC, Driscoll works with the university's program that provides housing and supportive services for students with disabilities that impede their ability to live independently. The university seeks to expand that program to include severely disabled military veterans.

"We have service men and women who have put their lives on the line, and they're coming back with new bodies and a new normal," Driscoll said. "We want to serve those who have served us. … We want to empower them and help them see that there is a bright future despite their injuries."

There are an estimated 250,000 veterans returning from the wars in Iraq and Afghanistan with severe disabilities that require them to have daily help from a personal assistant, Driscoll said.

The proposed Center for Wounded Veterans in Higher Education will feature 12 to 14 apartment-style "suites" specially outfitted for disabled student veterans with technology like automatic doors, buttonless elevators and overhead body lifts that can assist a person moving from room to room.

The center would also offer counseling, career services, physical therapy and other support services to veterans and their families. It would be located at the university's campus in Urbana, Driscoll said, but she hopes the university's campuses in Springfield and Chicago follow suit, along with universities around the nation.

The Center will cost an estimated $12 million, Driscoll said, adding that $6 million has been pledged by the Chicago-based Chez Family Foundation. The university must raise another $3 million before beginning construction.

Driscoll says her own experiences help her identify with those seeking independence despite a disability.

"As a person with a disability, I came to the University of Illinois and it changed my life," Driscoll said. "There are things that I didn't know and understand about opportunities that existed. All of a sudden, you get around other people and see what's possible, and it's invigorating."

Driscoll notes that having a disability doesn't define who a person is, a point hammered home for her by reading Christopher Reeve's 1998 book, Still Me.

"I love that title, because in the midst of all that injury, deep inside, it's still his same thoughts, his same soul, his same likes and dislikes," Driscoll said. "I know that even with the veterans who have head injuries, it's still them. They're still inside, even if they're not able to express themselves in the same way. These are still the same people who want the same things out of life, the same hopes and dignities. It's right that we give back to them when they have given so much of themselves."

For more information, visit woundedvetcenter.ahs.illinois.edu.

Contact Patrick Yeagle at pyeagle@illinoistimes.com.