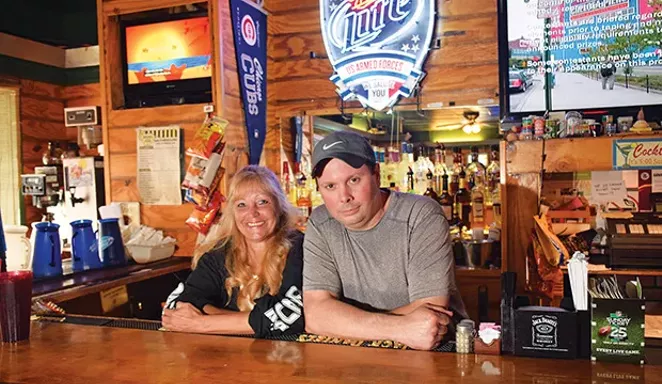 "As soon as I enter the door of a tavern, I experience oblivion of care, and a freedom from solicitude," said 18th-century English author Samuel Johnson. "There is nothing which has yet been contrived by man, by which so much happiness is produced as by a good tavern or inn."
In spite of changing tastes and trends, there have been many steadfast Springfield legacy taverns over the years where that happiness has been shared by long-term proprietors.

"There's a lot of stories in taverns. You hear about other people's lives and people are interested in that," said Louie Manci Jr., the owner of Louie's Bar at 3110 Stanton in Springfield for 31 years. "Oh, it's all exaggeration, everybody has to exaggerate to make it a better story."
Manci has been in the Springfield tavern business for 60 years, including a long stretch at the Elks Club. He's among a surprising number of people who have owned and operated local taverns for decades. Although he shows up at the same place and does basically the same thing every day, Manci never tires of the job.

"It's like an education. You'll meet a lot of professionals, you learn about what they do, and I just enjoy their stories," Manci said. "Nobody's perfect so you just have to enjoy what you get. But don't give them advice, you don't want to do that. Whatever they say just tell 'em they're right."
Louie's looks basically the same as it always has – beer signs, slogans, racks of ready-to-pour alcohol, and a long bar populated with stools, some of them usually topped by patrons. But Manci has noticed some definite changes in his profession over the years.

"Years ago they used to have more neighborhood taverns. It was quieter, you could bring your children, men brought their wives too, they respected everybody," Manci said. "You'll go to a bar now and see maybe 20 cars outside and there will be 19 people in the bar. Years ago you'd see two cars outside and there would be 30 people in the bar because it would be mostly people from the neighborhood and they would walk there."
David Brown and his business partner, Alex Preston, co-own the downtown Springfield D.H. Brown's at Third and Monroe. Brown has operated the establishment for 43 years.
"The business has evolved greatly. Society's views change as time goes by," Brown said. "The smoking ban, the drinking and driving attitude, and now we will soon have legal marijuana. Everything evolves as time goes by, and you have to adapt."
Adapting is something that Brown, who has a degree in business and finance from the University of Illinois, has had to do through five recessions. Brown said that when disposable income goes down, people tend to buy a six-pack and drink at home rather than patronize a tavern. But he has a system that helps him to see when a recession is coming and to better prepare for it.

"I have my 'five-dollar bill' theory," Brown said. "We start out with a few hundred five-dollar bills on a Friday night, and when times are good, at the end of the night we run out because we've given change for twenties and fifties.
"When times are bad, I'll end up with more five-dollar bills at the end of the night," Brown said. "The system works pretty well, and sometimes it starts happening three or four months before we are officially declaring a recession."

Brown said traditional taverns try to create an ambiance where people, especially women, feel safe coming in. Owning such an establishment is hard work, he said, and Brown is no stranger to cleaning bathrooms, tending bar or pitching in wherever necessary. He also wants people to realize that locally owned taverns are very charitable and frequently host benefits and fundraisers for local causes.
Brown and Preston said they "aren't allowed" to tell some of the stories that make them smile from their years running D.H. Brown's, but one that's fair game involves a book-signing they hosted by famed Democratic strategist David Axelrod. A regular patron came in specifically that night because he wanted to meet Axl Rose, the lead singer from the rock group Guns N' Roses.
"I turned to Axelrod and said, 'Well, this is our clientele too,'" Brown said.
"I had a good friend tell me there are three things that most guys want to do with their life," Brown said. "One is to be a U.S. senator, number two is write the Great American Novel, and number three is open a saloon. I think the third part caught me somewhere down the line."

The Track Shack is an aptly named bar in central Springfield on East Laurel along the Third Street railroad corridor. Joe Jannazzo, who has owned the establishment for 40 years, has no intention of departing from the neighborhood tavern formula.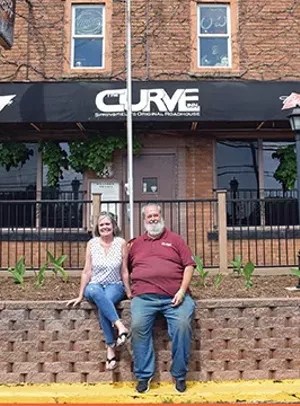 "I remember when Olive Garden was the first big chain to hit town and everybody was saying, 'You're not going to turn this into a fern bar, are ya?'" Jannazzo said. "We've tried to keep it a neighborhood bar as much as possible. We are a bar with food versus a restaurant with a bar."

The younger crowd is more into shots and mixed drinks, but beer is still the Track Shack beverage of choice, Jannazzo said. The addition of gaming machines several years ago has helped to counter the loss of revenue he's experienced by two laws that have changed the tavern landscape.

"The smoking ban about killed us, we dropped about 30 to 40 percent overnight. Some of that business has come back, but it's not like it used to be," Jannazzo said. "What's also hurt us at night are the DUI laws. People are scared to go out and have a good time anymore."
Jannazzo said it's "kind of tough to throw a party every day," but he wouldn't trade his years at the Track Shack for anything else.

"The best advice I got was from my uncle who I bought it from. He said if you do business in a businesslike manner, you have half a chance," Jannazzo said. "I've pretty much gone by that."

Franny's has been a north-end staple for generations, and its location at Eighth and Sangamon, directly across from the Illinois State Fairgrounds, has generated a lot of business through the years.
"You used to look across the street and just see a wave of people coming. You could almost have 200 people at one time coming in here and wanting to drink," said Kevin Ausmus, owner and operator of Franny's for 26 years. "It used to be that the grandstand and beer tents emptied out at about the same time, 11 p.m. Now the beer tents stay open until midnight so you don't get so many people in here at one time."

Outside of State Fair time, Franny's is a traditional neighborhood tavern with a regular clientele.
"A lot of them are like family and they know more about me than my wife does, probably," Ausmus said.

"Owning a tavern is like being married to it. You have to be here a lot."
Ausmus said the DUI laws have slowed his nighttime business but his food menu has increased the daytime crowds. He also "used to be the young one" when he started a quarter of a century ago, but "now I'm the old one."
Ausmus has few regrets about his years with Franny's.
"I talked to a friend many years ago, I said I have a chance to buy a tavern, and he said, 'Which one?'" Ausmus said. "I said 'Franny's,' and he said, 'You're a fool if you don't.' I've done good here."
The Curve Inn has been a south side Springfield destination since 1932. It is now owned and operated by Ami Merchant, her husband, Ray, and business partner, Donald Thompson. The trio bought the tavern at 3219 S. Sixth Street in 2002.
"I meet the best people in the world. Occasionally there's a few bad but the good people make up for it," Ami Merchant said. "Owning a tavern isn't all about the party, it's making sure everyone else has a good time. It's knowing your customers and keeping good staff."
Merchant said they have tried to keep the bar's 87-year tradition alive while serving an increasingly younger clientele.
"It's all about keeping things fresh and young in an old establishment," Merchant said. "The bar had gotten a bad reputation previously and occasionally there is an issue, but the biggest challenge is getting people to walk through the door and after they get in to enjoy it.

"We mainly listen to our customers about their needs and wants. We just brought back Reisch Beer and it's very popular with our older crowd," Merchant said. "Every day they are coming up with some new flavored vodka, so it's just staying on trend, do what the customers want, not get stale, and knowing when to move on."

They may try new things, but The Curve Inn owners remain a neighborhood tavern at heart.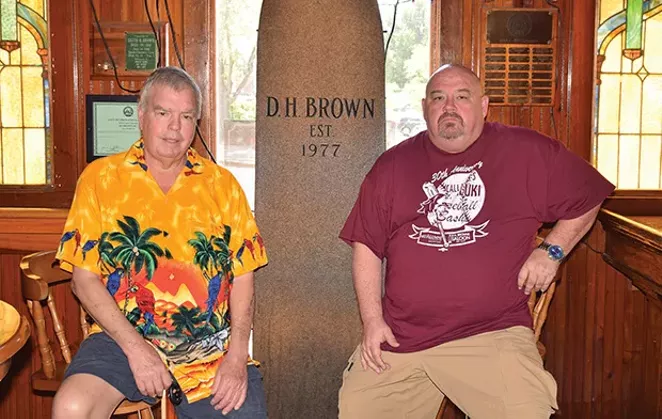 "When you walk into a tavern it's the comfort of knowing that you belong. A tavern is welcoming," Merchant said. "We try to accommodate everyone at a more personal level like you're at home. A neighborhood tavern has a feel, a comfort, that is hard to explain."
Davena Smith has "only" owned a traditional Springfield bar for 12 years, but she knows what she wants to hear.
"I want my customers to say that they love my dive bar," said Smith, who owns Lake Springfield Tavern Inc. at 1221 Stevenson Drive. "I have the most loyal customers in town."

"We have a lot of older folks that come in here and say they've been coming to this place for 50 years, when Stevenson was still a dirt road," Smith said. "Our bar was the only thing between here and the lake and that's the reason it got its name. So it's nice listening to their old stories."

Smith said traditional Lake Springfield Tavern food specialties like chili and poor boy sandwiches keep a steady lunch crowd coming. Since they've kept the original food recipes, it's not unusual for Springfield expatriates to make a culinary nostalgia stop at the tavern when they're back in town.
Another recipe for neighborhood tavern success is having the right employees.

"If you don't feel like family you don't work here," Smith said. "The biggest challenge is finding loyal and trustworthy staff, but once we find them, they stay."

David Blanchette is a freelance writer from Jacksonville and is also the co-owner of Studio 131 Photography in Springfield.