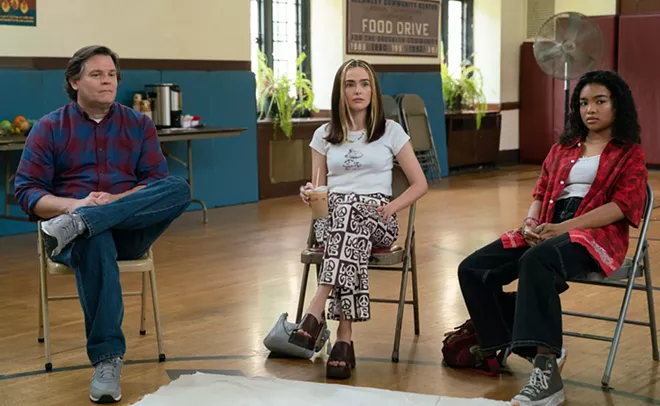 Surprising Okay one of year's best
One of the best films of the year, Quinn Shephard's Not Okay is a vital, timely work that gives voice to a segment of the population that's often brushed aside, their concerns so much collateral damage in the pursuit of profit. Danni Sanders (a perfect Zoey Deutch) is a clueless young woman so desperate for attention she fakes having survived a terrorist attack. It works out well for her, leading to the attention she craves, the job she wants and the guy she desires (Dylan O'Brien). However, the fly in the ointment is Rowan (Mia Isaac), a school shooting survivor and activist she meets. Getting closer to a true victim of violence, Danni's dormant conscious awakens.
Issues of social appropriation and Millennial entitlement, as well as gun safety, are front and center as Danni's sham is exposed, and she's forced to come to terms with her place in the world. Riveting from start to finish, Shephard has no interest in delivering empty platitudes or pie-in-the-sky solutions to the issues she tackles. No, her purpose is to get us to pay attention to the world that's crumbling around us, spurring us to action before it's too late. Okay is a primal scream that must be heeded. Streaming on Hulu.
Vengeance an impressive debut
Having watched B.J. Novak's Vengeance, his directorial and feature film writing debut, I can tell you two things about him: He's very smart and has a lot on his mind. Razor sharp in its examination of our country's cultural divide, Novak sets out to explain why those in the blue and red states see each other in such different lights. An intriguing modern noir mystery is the medicine he uses to make this bit of social commentary go down, and it proves to be just as entertaining as the filmmaker's diatribes are thought-provoking.
Novak is Ben, a vacuous New York City reporter who goes to Texas to attend the funeral of a young woman he would occasionally hook up with. Her family thinks the relationship is more serious than it was and, out of guilt, Ben attends. The culture shock he goes through inspires him to do a podcast on this typical Texas family, one that dwells on the obvious differences between them and Ben yet reveals surprising similarities as well. The mystery is engaging, the humor pointed and the analysis of our current woes spot on. Great fun and thought-provoking, this is an impressive debut. In theaters.
Nope a bore
I fear that Jordan Peele has fallen into the same trap that burdened M. Night Shyamalan after the success of The Sixth Sense. Intent on topping what proved to be one of the great surprise endings in a cinematic history, the director tried to outdo himself with each successive outing, resulting in a series of films that proved the product of diminishing returns. Directing his third feature, Peele seems to be trying to capture a bit of the same lighting that made his Get Out an instant classic. However, much like his second film, Us, this too proves to be much ado about nothing.
Daniel Kaluuya and Keke Palmer are siblings trying to make a go of it on their deceased father's California ranch when they spot something strange in the sky. Turns out, it's a malevolent alien they attempt to get a picture of in the hopes of selling it for big bucks. The premise is fine, and the initial appearances of the UFO are genuinely creepy. Unfortunately, Peele's pacing is slow, the story dragging towards a conclusion that doesn't seem worth the trouble it takes to sit through. In theaters.