It was a hot weekend, with temperatures rising to the 90s, and there's still a pandemic. And yet, hundreds marched again in Springfield. On Saturday, June 6, Jaala Smylie stood before a crowd outside the Capitol building, having successfully coordinated another large rally. It was a crowd diverse in age and background, similar to those seen in previous demonstrations.
Demonstrators in the city have met for more than a week, in the wake of the May 25 killing of George Floyd in Minneapolis by police. As the days go on, calls for change across the nation, beyond justice for Floyd, have become more clear. Many have demanded a reallocation of funding for police departments to areas such as education, as well as other measures to address systemic racism within the criminal justice system and beyond. In Springfield, solution-oriented discussions specific to the city are ongoing, and activists both old and new are promising to band together for change. Officials are taking note and joining their ranks.
Smylie, a 20-year-old Lanphier High School graduate, said she's in this for the long run. "People lose their fires easily when it comes to stuff like this," she said. She doesn't want momentum to wane until the "the next death." Smylie said she has organized with area teens and a group they call the Black People Party of America. She wants to work independently as well to include more college students. She's driven by the cause of ending oppression. "I want to be fighting for my ancestors ... over 400 years to deal with oppression, to deal with death with no probable cause ... that's a long time."
Smylie said, "We need people that can change our community and stand up and be the voices for Springfield," noting the importance of down-ballot races. "It's the smaller offices that we have to be well informed about, so that we can see changes in our community."
From the podium on Saturday, Teresa Haley, head of both the Springfield NAACP chapter and the NAACP Illinois State Conference, echoed calls to the polls. "I want to encourage you not only to register to vote, not only to show up on election day, but to consider running for some of these offices."
Haley and Springfield police chief Kenny Winslow have appeared together throughout the years to address police relationships with residents. Winslow made a visit to the demonstration Saturday. Smylie paused to acknowledge police presence. "They have been absolutely wonderful," she said to applause, and thanked them for blocking streets for marchers.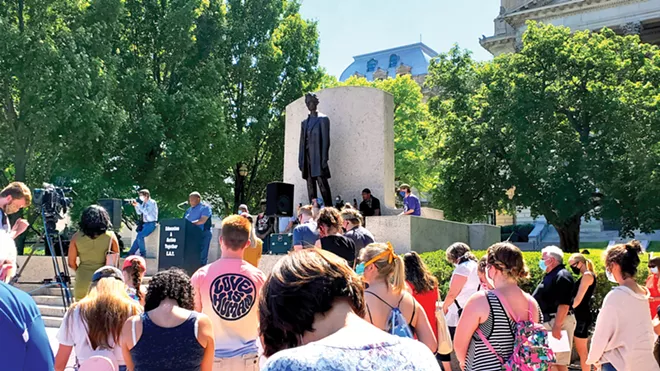 Earlier in the day, U.S. Sen. Dick Durbin of Springfield spoke with a group of youth outside Union Baptist Church. Afterward he addressed reporters. "I want to say at the outset how impressed I have been with the local people here." When asked about calls for defunding police, he said, "I think that's a simplistic look at it." He's cosponsor of the "Justice In Policing Act" which would prohibit law enforcement from discriminatory profiling, ban chokeholds and create a national database of cops found in violation of codes of conduct.
Durbin addressed another rally the following Sunday that featured faith leaders and politicians under the theme of "Manifest our Momentum." He commended an event from a week before, when Black Lives Matter Springfield organized a car procession that drew thousands of people. "That is the message that we need to send from Mr. Lincoln's hometown, that we are using our rights under the Constitution to express our feelings and to assemble in a peaceful, peaceful way to change America and change Springfield for the better."
Mayor Jim Langfelder also spoke. "Black lives do matter," he said. He credited the late Archie Lawrence for opening his eyes to the discrimination black people can face when interacting with police. "A white father, or a white mother, they don't have to teach their 16-year-old son or daughter what to do if the police pull them over." Langfelder said Lawrence had detailed the ways black youth are taught to fear police: don't make sudden movements or move your hands from the steering wheel. Lawrence, once the head of the Springfield NAACP, was a lawyer who helped change the city's form of government to better represent black residents and who advocated for criminal justice reform.
Also on Sunday, current Ward 2 Ald. Shawn Gregory gave a personal reflection of what it means to be black. "I want to remind you all that black is an absorption of all colors. And I'm so glad to be one family with all of you."
Leroy Newbon is a co-founder of the new Springfield group E.A.T: Education and Action Together. He, like others, spoke about the need for widespread shifts. "We can't say all lives matter when Latinos are being locked in cages...when transgender men and women, gay men and women, bisexual men and women are being brutalized and murdered just for simply living their truth."
Black Lives Matter Springfield president Sunshine Clemons has been working against white supremacy for years. The group has recently called on the city's police department to reassess some of its protocols. She urged anti-racist organizations to join forces. "Racism is rooted at the very fiber of this country. We cannot break it down by just being out here talking or working individually. We have to work together."
You can contact Rachel Otwell