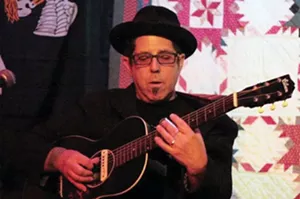 I don't know why, but this weekend shows up like a who's who of what's happening here, there and everywhere. Tough choices lie on the entertainment table.

Let's start when Chris Miller, the extraordinary guitarist, singer and songwriter originally from Latham, Illinois, a farming community near Decatur, plays at Trails End Saloon in Curran. Christopher, one of the several talented players who made the Romany Club (a tiny little tavern that once was where Celtic Mist is now, but only took up about a third of the space), a long-remembered creative hot spot in Springfield's music history during the early 80s.
Miller moved to Minneapolis-St. Paul way back when, then relocated to Nashville several years ago. He has found Music City USA to his liking, playing the famed Bluebird Cafe regularly every few months and reveling in the strong and vibrant music community while finding the area a good place for his wife and family. Those of us who know Chris as a superb guitarist will be interested (but probably not surprised) to learn he's added piano to his list of instruments played, using the keys to augment certain songs, ones he says, "never sounded quite right to me on the guitar." Always a class performer and intriguing artist, Chris is joined by fellow talents Joe Dawkins and Mike Burnett playing short sets before our Nashville expatriate takes the stage.
A Springfield standard and music master of the nth degree plays Robbie's on Friday evening when the venerable Gus Pflugmacher brings his trio to the Uptown Friday Nights concert series sponsored by the Springfield Area Arts Council. Gus has a long and colorful history with decades and decades of work as a musician for hire and bandleader of the Salt N Pepper Band. Support and appreciate our music treasures at all levels and you won't be disappointed.
Also on Friday, see several early evening, somewhat-outside shows with After Sunset setting in at the Curve Inn, Harmony Deep digging melodies at Long Bridge Golf Course, Bluesmattic with Creek Walker a-blues rockin' Brookhills Golf Course, The Hitmen hitting up Weebles and Broseph E. Lee country-fying the Blue Grouch. For early evening acoustic stylings, check out the traveling bard Jason Eklund covering for me at George Ranks, Lowder and Manning doing original creations at Always After Five, the Zack Fedor Acoustic Show acousti-sizing III Tomassos Italian Bistro and The Kitchens cleaning up at Charlie R's Steak House.
For other Friday night options, experience Psychedelic Circus at the Trading Post, ride with Riverboat at Lime Street Cafe or meet up with The Brotherhood out at Koo Koo's Nest. Out of town artists Margo Price and the Price Tags do a classic country update with local openers the Wolf Creek Boys at Bar None for a Bedrock 66 concert while Chase Bryant and Aaron Parker bring contemporary country to Boondocks.
For Saturday, you can check our Pub Crawl on your lonesome. It's fairly jam-packed as well, with many of the same names. Believe it or not, you are in Springfield, and very often performers play more than one venue in a weekend.
My good friend and amazing musician, Rockin' Johnny Burgin comes to town this week. He plays the Illinois Central Blues Club Monday show at The Alamo with a top-notch full band, coincidentally giving me a wonderful birthday gift. In peripheral gigs, RJB does Dr. Ugs on Sunday afternoon as a duo and shares the night with Jason Eklund at the Brewhaus in the evening as I take a night off to see Donnie Fritts in Chicago.
Have fun y'all, and get ready for next week's Best of Springfield edition.
Contact Tom Irwin at tirwin@illinoistimes.com.