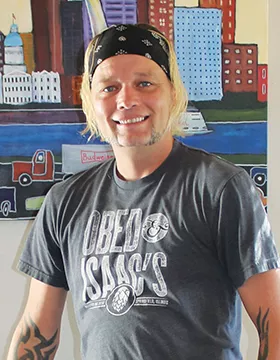 THE BIG KAHUNA AWARD:
BEST DOWNTOWN RESTAURANT
BEST LOCAL BREWERY
BEST OUTDOOR DINING
BEST BEER GARDEN
BEST SERVER – SHANE HOPPER
BEST BARTENDER – DARCY DARLAND
Obed and Isaac's Microbrewery & Eatery
Obed and Isaac's has the distinction of winning not one, not three, but six categories in this year's Best of Springfield balloting, which is more categories than won by any other person, business or entity in this year's contest. And so Obed and Isaac's is this year's Big Kahuna. We are not surprised. Since opening in 2012, the downtown pub has won a staggering 36 first-place awards in our annual Best of Springfield contest, everything from best place for a first date to best downtown restaurant.
Suds aside, the place is known for top-notch service. Bartender Darcy Darland and server Shane Hopper, who both took top honors this year, are not the first Obed and Isaac's crew members to attract praise from readers. The first microbrew pub to open in Springfield, Obed and Isaac's has evolved into a place nearly as familiar and comfortable as your own backyard. Dogs are allowed in the beer garden. During summer months, there's a weekly outdoor market where you can buy art, clothing and assorted knick knacks from local makers. Menu anchors – flatbread pizza, burgers, sandwiches and assorted comfort food – haven't changed since opening day, but each day brings a new, and almost always intriguing, special. And let's not forget the raison d'etre: beer. We recommend the Scotch ale and the Ditzy Blonde ale, preferably with a side of Bavarian pretzel rolls.