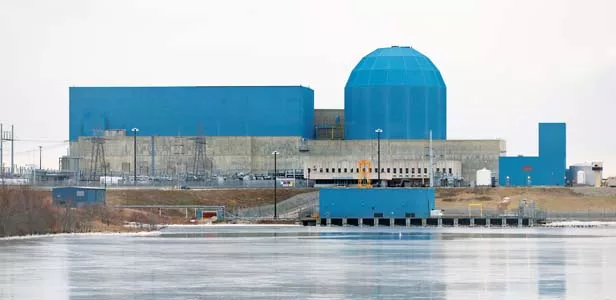 Clinton Power Station is a silent sentry at the edge of a 5,000-acre man-made lake, six miles east of Clinton, and about 68 miles from Springfield. Its powder blue dome rises above silos, cornfields and endless country roads with names like "500 North" and "County Road 14."

Stepping inside the Clinton Power Station is like going underwater. Safety regulations provide for a fair amount of sensory deprivation, between hard hats stamped with Exelon Nuclear's circular green logo, malleable bright orange earplugs and thick safety goggles. It's a world of yellowish fluorescent lighting, layers of colored tape along the cement floor (marking where employees can or can't walk) and the ever-present whir of powerful machinery.

For Bill Harris, the station's communications manager, walking into the control room of Clinton Power Station is like entering a sacred place.

"It's like going into the sanctuary of a church," Harris says. "There's no fooling around, no loud music, no eating, no reading books. Just silence."

Situated on approximately 14,300 acres, the station sprawls out in a sun-baked field. When navigating the winding road, it's easy to feel alone – chirping birds, grassy riverbank, rows of empty parking spaces. Despite numerous signs warning visitors, employees and trespassers alike, it's easy to think no one is watching. Surrounded by a seemingly pastoral scene, it's easy to underestimate what lies inside.

But armed security guards watch from concrete towers, razor wire and video cameras guard the perimeter and computerized surveillance systems track the exact locations of all who enter the plant. The extensive acreage is necessary, since all stations must be built away from population centers in case of an emergency. Isolation is essential, because employees deal with some of the most dangerously radioactive material on earth.

Built in 1976 by Illinois Power Co., now owned by Exelon Nuclear, the Clinton Power Station is one of six nuclear plants in Illinois. Exelon Nuclear, headquartered in Warrenville, near Chicago, operates the largest nuclear fleet in the United States and the third largest in the world. Exelon's 10 stations, with 17 reactors, represent approximately 20 percent of the U.S. nuclear industry's power capacity.

The waters of Clinton Lake provide the steam that turns the station's turbines, generating 1,065 total net megawatts of electricity, Harris says. For comparison, Springfield's Dallman 4 Power Plant generates about 200 megawatts. Energy from the plant travels all over the nation, but the single reactor at Clinton Power Station could power a city the size of Boston or Seattle. With an additional reactor built, the station could generate enough power for a million homes.

As the U.S. seeks new energy options, some are touting nuclear energy as the crown jewel in a green and renewable energy future. Supporters say Illinois is part of a "nuclear renaissance," which is reinforced by President Barack Obama's administration.

This week, the Illinois Senate voted 40-1 to pass a bill that would lift the current moratorium on building new nuclear reactors in the state. The bill will now move to the House for consideration.

In February, Obama announced more than $8 billion in federal loan guarantees to build two nuclear reactors in Georgia. Building a nuclear power station usually costs between $6-8 billion, Harris says, and companies rely on investors to help them with the cost. The loan guarantees provide monetary insurance for investors.

"To meet our growing energy needs and prevent the worst consequences of climate change, we need to increase our supply of nuclear power and today's announcement helps to move us down that path," Obama said when announcing the loan guarantees, which will build the first nuclear power plants in nearly 30 years.

Mark Kanavos, the plant manager for Clinton Power Station, says he's optimistic about the industry's future in the state.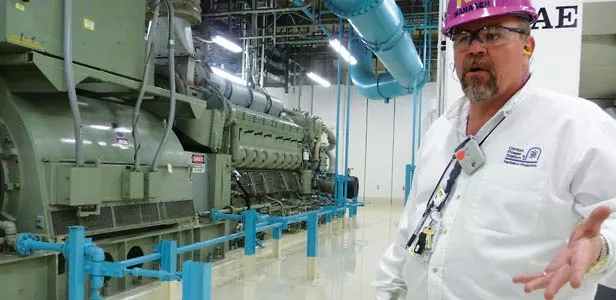 "There's certainly a nuclear renaissance," Kanavos says. "A lot of reactors are being proposed all over the country."
Opponents of nuclear energy say the indus
try fails to address its biggest liability: nuclear waste that will remain highly radioactive for thousands of years. Dave Kraft, director of Nuclear Energy Information Service, headquartered in Evanston, says Exelon has not proved it can safely store nuclear waste.

"It's important to understand that the existing moratorium has served and protected us well from becoming a radioactive waste dump," he says.

Kraft says the state is hurtling toward a dangerous future, without resolving the problems of the past. The recent vote to repeal the moratorium means the Department of Energy could designate the state as a "temporary storage facility" for high-level radioactive waste, he says. Without a moratorium, Kraft's organization says, more reactors and wastes will be drawn into the state over time, which means "more wastes generated and stored on-site, threat of accident and sabotage and potential damage to water sources and ecosystems."

Advocates say nuclear power stations, like Clinton Power Station, have lower emissions when compared with coal or oil. The station lacks the most well-known symbol of nuclear power: the giant cooling tower constantly wafting clouds of water vapor. Instead, the station uses Clinton Lake as a source for cooling water, sharing the body of water with the city's 7,000 residents, who swim, boat and fish in the lake.

Instead of a cooling tower, Clinton Power Station uses a boiling water reactor, which heats water from the lake in order to generate power. Water from Clinton Lake is pumped in to be heated and then pumped back to the lake to be cooled. Uranium fuel pellets, about the size of a penny, undergo nuclear fission, which provides heat that turns water into steam. Steam turbines are used to power generators, which in turn produce electricity.

The turbines are the most crucial part of the station, radiation protection manager Jeff Stovall says, as they are spinning constantly, generating electricity. The turbines are to the station as a battery is to a car, Stovall says. Every two years, the station has a "forced outage," meaning it must shut down to replace the uranium in the reactor.

"Imagine riding around the United States for two years in a car without stopping," he explains. "We need to be able to ensure that we're working all the time. We want it to run thoroughly and run well."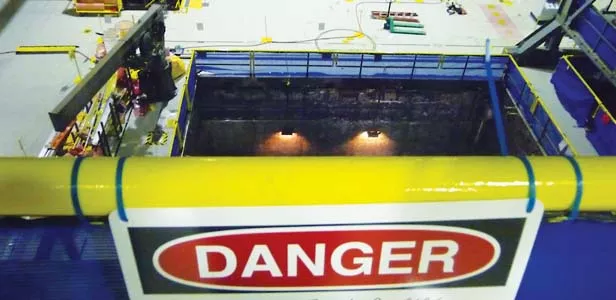 Kanavos says this method of generating electricity is much more environmentally friendly than coal. The uranium pellets are sealed in special metal rods, which are bundled together into a fuel assembly. These rods are good for two years.

"Compared with coal or oil, our reactor has a two-year cycle," Kanavos explains. "After two years, we have to refuel, but a large coal plant runs on a pile of coal that's good for 30 days at most. Even the cleanest coal plants contribute to greenhouse gases and toxic emissions. We don't burn fossil fuels, we just make steam – that's the difference."

According to the U.S. Department of Energy, the Obama administration has filed a motion to withdraw the license application for the nuclear waste repository at Yucca Mountain in Nevada. The new Commission on America's Nuclear Future will look into new, safe, long-term storage solutions. For the time being, spent fuel from power stations will be stored on-site.
After the uranium-containing rods are replaced, they're stored inside the station, under 60 feet of water. The spent fuel storage pool combines the 14-foot rods made of old uranium with "control" rods designed to prevent any kind of reaction, with water acting as an additional shield. About 200 bundles of fuel are removed from the reactor each time, Stovall says, which is about half the reactor's core. Spent fuel contains one-fifth the original amount of uranium, according to Exelon.

Spent fuel has been stored in the station's pool since the station started producing electricity in 1987. Regulations state that the station must maintain enough space to put every piece of fuel in that pool. Clinton is scheduled to reach storage capacity by 2018. Once the spent fuel pools are filled to capacity, Exelon requires the stations to switch to another storage method. Used fuel may also be stored in dry casks, which trap the spent fuel rods in transportable metal canisters, which are inserted into concrete storage bunkers.

Recently, the Illinois Attorney General's office reached a settlement with Exelon resolving the environmental consequences of radioactive tritium leaks in groundwater at the company's Braidwood, Byron and Dresden plants. Tritium, used in nuclear fission, leaked out of underground pipes that carry wastewater away from the power stations. It can be dangerous if inhaled, ingested, carried in water or absorbed through the skin. According to the U.S. Environmental Protection Agency, exposure to tritium increases the risk of developing cancer.

The company will pay more than $1 million to resolve the complaints. Though the plant says the leaks were isolated incidents, Kraft says he sees it as a chronic symptom of the storage problem.

"Pollution of groundwater sources is not a good way to conduct business," Kraft says.

Kraft says the tritium leaks show this system is yet to become foolproof.

"We're of the mind that this needs to be slowed down and examined," he says. "We're not confident that the designs are going to be safe enough. We're not confident in the way they're constructed and built."

Currently, Exelon Nuclear is licensed to build a second reactor at Clinton Power Station, but can't proceed with plans due to the state moratorium. According to Exelon's research, maintaining nuclear energy's current 20 percent cut of the nation's power-generating capacity means that three reactors must be built every two years, staring in 2016.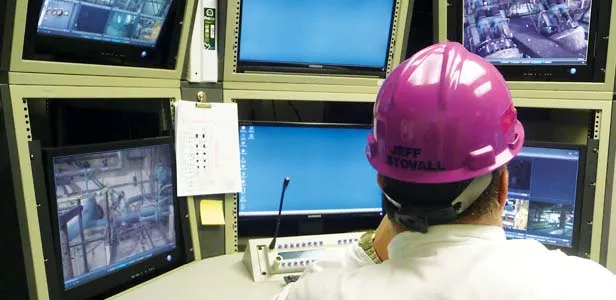 Kraft says the state can avoid ever building another reactor, if it could just harness its wind and solar power potential.

"We probably don't need to build another nuclear plant ever if we aggressively use everything we have," he says. "It's the least contentious and at best a very optimistic way to proceed."

Kraft's biggest worry is the availability of water in a world that's already seeing the effects of global warming. In a global warming world, higher temperatures, more droughts and erratic weather events could contribute to a lack of water in the Midwest, he says.

"If we hitch our wagons to the nuclear horse, we may not have water to operate on," Kraft says. "People say nuclear energy is green energy because it emits less carbon dioxide, but holding your breath is also a solution to that problem. CO2 is not the only factor to be considered here."

With 675 employees on the payroll, the Clinton station is a substantial piece of the area's economy. Most workers hail from DeWitt, McLean, Macon and Champaign counties. The station paid $9.2 million in property taxes last year, and has donated $70,000 per year in direct financial support to local civic organizations, schools and charities.

The large size and scale of nuclear power plants mean it's necessary to hire hundreds of construction employees, thus spurring job creation, Kanavos says.

"Studies show that 10,000 people contribute to building a nuclear power station," he says. "There's a long-term, positive impact. We'd like to have the opportunity to build that in Illinois."

Kraft says his anti-nuclear group isn't insensitive to the jobs issue, but equal numbers of employees can be hired for wind, solar and other clean energy operations. About 48 percent of Illinois' electricity is generated from nuclear power, according to the Nuclear Energy Institute.

"We have to stress aggressive energy conservation and efficiency, utilizing green technologies to enhance jobs," Kraft says.


Harris, who has worked for Exelon since 1998, says the station has a deeply rooted connection with the surrounding natural resources. The state's Department of Natural Resources has an office on the edge of Lake Clinton, where the power station's welcome center used to be.
Clinton Power Station is certified by the Wildlife Habitat Council, Harris says, which recognizes company efforts to preserve the site's natural environment.
"We have eagles here," he says. "Wildlife love it."
Redundancy (systems of checks, double checks and backups for every visitor, employee and piece of machinery) is emphasized at Clinton Power Station again and again. Redundancy is key, Stovall says, because it ensures safety. Backup generators ensure that everything runs in case of a power outage. On the floor, bright green barriers are painted two feet around all equipment that could potentially give someone an electrical shock. Most doors are interlocking, meaning one must be shut before another can open.
Diesel generators run what Stovall calls the "backup battery." It's a whole bank of power that's independent from the rest of the station, and can keep the turbines turning up to two days in a power outage.
"This is where we get electricity when we're not making electricity," he says. "When I'm in here, I feel like a little kid standing on railroad tracks, watching a huge train go by at full speed. That's how powerful these are."
To track radiation levels, employees wear TLDs, or thermoluminescent dosimeters, on their chests. Safety officers can use computers to track anyone's radiation level at any time. On their way out, employees must also step into a full-body scanner, which also records radiation exposure.
"It's all about backup," Stovall says.
If someone comes out of the station with a higher level of radiation than normal, they are contained in a waiting room until the levels come down. Most exposure is relatively low, Harris says. He notes that his TLD meter's total is one millirem. Doses of 20-50 millirems cause the body's white blood cell count to temporarily decrease, while 50-100 millirems spur mild radiation sickness, with a headache and increased risk of infection due to a fewer disease-fighting cells; temporary male sterility is also possible at this level.
Harris, a Mississippi native, tells stories of his past projects, where employees or visitors have had to leave objects behind because they couldn't manage to clear them of radiation.
"One time I was wearing a nylon wind suit, and it took me forever to clear the machines," he laughs. "Another time, we had to buy a man a new pair of snakeskin boots, because the boots ended up trapping radiation, and they weren't safe to wear out of the station."
Past nuclear accidents like Chernobyl and Three Mile Island (which is also owned by Exelon Nuclear) mean some people don't trust nuclear power, Kanavos says. But he reminds the public that it's a highly regulated industry, with many safety precautions. This year, Kanavos held a breakfast for Clinton Power Station employees, celebrating 20 million man hours without a single accident. There are more accidents by real estate brokers than nuclear power employees, he says.
Kanavos says his employees are spreading the word about the safety of the nuclear industry.
"All 675 people have a positive network with their friends and family," he says. "They emphasize our positive attitude."
Clinton Power Station's permit will expire in 2026, and sometime before then the company will need to ask for an a 20-year extension in order to continue operating the reactor. After about 60 years, nuclear power stations are no longer viable, he says.
Kraft says any request for an extension should be denied because of the storage issues.
"How can you go for another 20 years when you haven't solved the problems in the last 40 years?" he asks.
When the time is up, Exelon Nuclear will return the land to a green field.
"We'll restore it to essentially a landscape," Kanavos says. "It'll be like we were never even here."
Contact Diane Ivey at
divey@illinoistimes.com
.