The Springfield City Council on Tuesday trimmed asks from Mayor Jim Langfelder, scaling back an ordinance that would have given the mayor the power to declare an emergency and ban sales of guns and alcohol.
The council also tabled a measure authorizing $2 million to be spent for a shuttered hospital that the mayor has been eyeing since last fall, when he suggested that the old Vibra hospital building at 701 North Walnut Street could become a homeless shelter.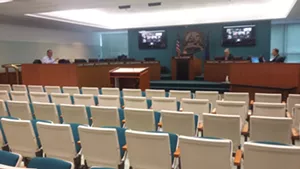 "The ordinance as originally drafted was terrible," Ward 9 Ald. Jim Donelan said as the council amended the ordinance giving the mayor the power to declare an emergency, then take on powers not otherwise allowed by city code. Aldermen excised portions that would have allowed the mayor to restrict sales of guns, ammunition and gasoline. Aldermen also reduced the amount that could be spent without council approval from $250,000 to $100,000, with the added proviso that the mayor must notify the council of six-figure spending within 24 hours of pulling the trigger.
Aldermen also tabled an ordinance that would have given the mayor authorization to buy the Vibra building. Langfelder had presented it as an option, something that could be purchased if the need arose for a quarantine area or other medical space due to the coronavirus. Aldermen balked.
"The city is not in the hospital business," Ward 8 Ald. Erin Conley said. "The governor is making plans for things like this. This is the sort of action that should be coming from the state level."
Langfelder previously has suggested that the Vibra building
could be used as a homeless center
. On Tuesday, the mayor told aldermen that Gateway Foundation, a drug and alcohol rehab firm, had been interested in the building and that city involvement began as part of a partnership between the city and Gateway to provide addiction treatment on demand for city residents.
"Gateway might be interested in the property for crisis intervention – that's what we were looking at initially," Langfelder told the council.
The council also approved
a resolution
declaring that all debt collection proceedings will be postponed until 30 days after a state emergency declared by Gov. JB Pritzker is lifted. Under the resolution, City Water, Light and Power will not disconnect services or charge late fees or interest until month after the state emergency ends. Downtown parking will be free, but filling a grant writer position approved by the council as part of the city budget will be a priority.
Just two council members, Ward 1 Ald. Chuck Redpath and Ward 2 Ald. Joe McMenamin, attended the meeting in person. Other council members, as well as other city officials, attended remotely. At one point, public works director Nathan Bottom was called in from a corridor outside council chambers to provide information. At no point did the number of people in the room exceed nine.
Contact Bruce Rushton at brushton@illinoistimes.com.