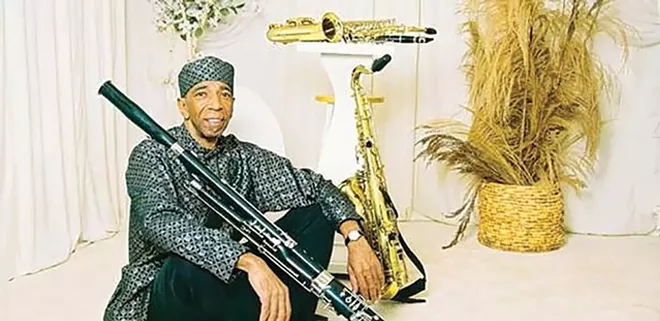 As we head into mid-December, the live music scene is officially kaput for now as we are in the throes of a global pandemic, putting some events in central Illinois (as well as many other places) on hold for public safety reasons. Please be as patient, vigilant and considerate as possible as we move through this once-in-a-lifetime (hopefully and prayerfully) experience.
With deep sadness, I must relate the loss of a great musician who graced us for years with his magical music ways and wiles. Henry Miles, saxophone player of the highest level, spiritually and musically, passed away peacefully last Saturday morning in Dallas, Texas, after years of battling health issues. When Henry moved with his family to Springfield while in high school, he'd already been playing the sax for years. In an interview I did with him in 2009 for an Illinois Times article he said, "When I was eight, I switched to saxophone 'cause they didn't have no guitar in band at school." His career spanned a half century as a working musician and educator, including highs and lows from touring with major acts to playing places long forgotten. Through it all Henry was a magnificent, music-making man. Friends in town included Frank Parker, Archie Logan, John Crisp and Johnnie Owens, plus many others, along with Shayla Logan, who gave this sincere and lasting tribute from the heart. "I love you Henry. My mentor, my friend, my sound."
Johnnie called to tell me about Henry's passing in an emotional exchange that included his recalling of their 40-year friendship and musical bond that expressed his deep and binding admiration for the brilliant saxophonist's love and dedication to music as well as his unwavering support for other folks around him. Henry seemed especially gifted with the conveyance of music conceived in the soul and sent out into the life of listeners with a passion and depth rare in this world. So long Henry, and we will play on without you, but will always be playing for you.
The locally based acoustic duo, After School Special, featuring Aasne Daniels and Jerry Setnicky, are all set for a FB Live stream this Friday at 7 p.m. Aasne and Jerry definitely like to interact during their shows and ask you to send requests and comments via their Facebook music page or at AfterSchool217.com. On the website is an update about their debut album that says, "Most of the writing and composing is complete as of this update (Dec. 1). The record will consist of nine original numbers and one cover, which was one of the first songs we played regularly when we formed this duo. It's one of our favorites and hopefully you'll enjoy it. The tracks are being produced by John "Shep" Shepherd. John is an outstanding talent to add to this project, you can find more on his company New Paradigm Audio at newparadigmaudio.com." Sounds like we have another good to go, hometown-made recording coming soon.
Here's a non-locally produced and created recording from a Springfield native now living in Madrid, Spain, as our friend and fellow musician, Jake Shane, lets loose with another brilliant album. High Desert Hymns, recently released Dec. 4 on all major digital platforms, was recorded in Moba Studios in Alcalá de Henares, Spain in September of 2020 and engineered, mixed and produced by Sergio Molina. Jake is listed as a co-producer of this full band, bluesy, experimental-sounding, very cool record of the latest batch of original tunes featuring his electric guitar playing along with some compelling lyrical turns.
Let's hang in there and move forward until next time.