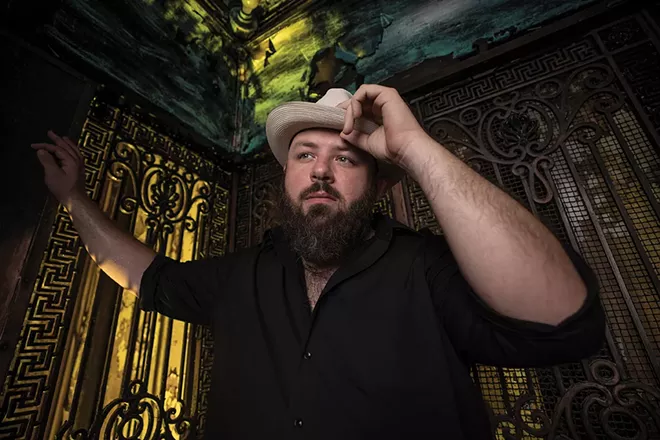 Say hello to the month of April in the year of 2021. Our live music scene keeps growing oh-so-slightly every week, but please, let's all do our best to stay vigilant as together we work our way through these strange times.
Once, every so many years, April Fool's Day falls on a Thursday, allowing me to think I can be foolish enough to try to be funny and silly. Looking back at my past attempts at humor by depicting Springfield happenings that would never happen, I was a little shocked to read that my March 31, 2011 column "Almost April Tomfoolery" contained a mocking bit of two local landmarks now demolished.
The first prank gave credit to city fathers for deciding to transform the Lincoln Library West Branch into an art outreach center for music and dance in a program called Bullets for Beats and the second, not-so-funny-now point, proclaimed that "ambitious and socially responsible real estate tycoons announced the refurbishing of the old Esquire Theater complex near MacArthur and South Grand into a swank and stylish center for popular entertainment and community involvement," which is, of course, now nothing but an empty lot. So much for trying to be funny.
My first official April Fool's Day Now Playing was in 2004 and mentioned silly things like the Kessler Brothers moving Recycled Records to White Oaks Mall for better parking, Kip Nelson, now of Off the Wall, quitting Hot Property to start a country band and Rodney Patterson converting rock club Viele's Planet into a strip joint. Then, we "a-mused" about the Hilton hotel management vowing to turn those staple venues of our live music scene, Underground City Tavern and Jazz Central Station, into discotheques, as managers Brian Reilly and Brad Hanson proclaimed their dislike of live music, while Mike Parkes and Wally Beck of the Brewhaus somehow got permission to open a satellite bar and grill on the rooftop of the Abraham Lincoln Presidential Museum. If any of those names or places ring your bells, you'll remember 2004 as a heady time in the local live music scene, and that's no April Fool's joking.
My second actual April Fool's Day column came in 2010, and in mentioning several now-defunct venues such as the Fieldhouse, Norb Andy's and Remy's in joking terms, I am getting the idea that visiting the past is quite an adventure left for other times. So, after reading through those past articles, I've decided to forgo any such nonsense and go straight to talking about the music happening in our community with no fooling at all.
Evening entertainment continues in the new Harvest Market store on West White Oaks as the Farmhouse Restaurant bar area in the mezzanine presents solo acoustic shows by Ty Brando on Friday and Larry Stevens on Saturday. Hip, hip hooray, as Brandon Santini is back on track with a rockin' show at Long Bridge on Friday night, while we toast to the return of the sweet sounds of Harmony Deep at Lime Street on Saturday evening. In the cool kids' category, Skank Skates, on the corner of 11th and South Grand, hosts a Saturday event between the hours of 3-8 p.m. featuring Black Queen, Rolling Sixes and an open jam. This is a benefit for the South Town Project and also includes discussions about urban gardening and rooftop beekeeping, plus you can skateboard to your heart's delight.
In a final note, this will be my last Now Playing column. Ha, ha, I couldn't resist one April Fool's prank. See you next week, my friends. Be safe and have fun.