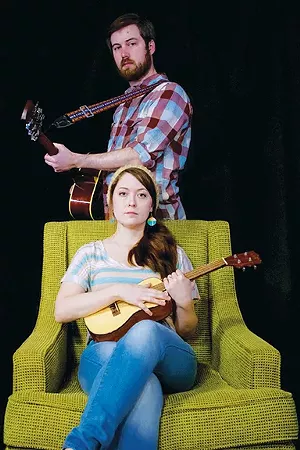 Welcome to the year of 2021. While we progress through the pandemic knowing that nothing will ever be the same, simultaneously admitting that nothing ever is, let's keep the faith believing that things will open up again in the not-too-distant future. Soon, bands will beat the beats in bars, downtown Springfield will be flush with festivals all summer long and the wonderful world of live music will march on, possibly to a different rhythm, but always the same drummer.
I do hope that as the live gigs come back, some of the virtual ones stay in place. During my many Facebook Live shows last year, I've really enjoyed hearing from friends across the country that otherwise wouldn't be dropping by George Ranks on a Friday night on any regular basis.
Nick Baker, husband and music partner of Marina V, posted a good Facebook piece on all the many positives of doing online shows from home, and I wholeheartedly agree with his position. No, nothing replaces real-time music vibrations, but then again, if you can't make it to a live show or, as the case is for now, the live show can't make it to you, this adjustment to virtual performances can be considered progress. As we've adapted to watching music on Zoom, FaceTime, YouTube and Facebook, why not create hybrid shows, in-person and online, to reach as many patrons as possible through continuing to allow virtual access to performances with actual audiences as they happen again. It's already been done for years on national radio and TV, so let's just keep it going on a local level for the benefit of all.
With that in mind, the second CAMP (Creators of Art, Music and Poetry) show hits the online airwaves this weekend on Saturday at 6 p.m. I say "with that in mind," because this was originally conceived as a live show, since that's all there was to consider at the time of conception. By adjusting to make it a pre-recorded program, pandemic protocols were followed and the show got done. The presentation is different, yet the desired result of showcasing various providers of local art in an approximately hour-long show remains the same.
Each CAMP episode is grounded in hosting three music acts, two poets and one visual artist, with those numbers not being a reflection on the likes or dislikes of the producers, but simply a way of dividing the talents in what seems like a logically entertaining way. Plans are in the works for several more programs, each about a month apart, including this week's indie episode and upcoming ones for "country, Americana, funk, blues, jazz, folk" and whatever else fills the bill.
So snuggle up to the old TV, computer, tablet, phone or other device of your choosing and settle in for a Saturday night of fine entertainment. It's actually fun to watch in real time, even though it's prerecorded, but if you can't make it then, be sure to wander to the CAMP site on Facebook to observe whenever you care to do so. The first show is there as well, as will be all the others as they make it online. And you better bet, when CAMP goes live and in-person there will also still be a recorded, virtual version to watch, for the convenience of time schedules and to keep a filmed record of art at work in the Springfield scene.
Here's to a sincerely happy year ahead with a rebirth of live music in 2021.