The Lincoln Developmental Center, first called the Illinois Asylum for Feeble-Minded Children, had a sordid history before former Gov. George Ryan closed it in 2002. Founded in 1877, it was an institution for developmentally challenged children and became the largest employer in Logan County. Ryan was pressured to shut it down by those advocating for the developmentally disabled after abuse and neglect, including preventable deaths, were reported.
The state now has plans to repurpose part of the abandoned facility and turn it into a youth detention center for up to 30 youth. It would be the first so-called Illinois Youth Center opened under Gov. JB Pritzker's "21st Century Illinois Transformation Model" – a plan that promises to make major changes to the state's juvenile justice system in coming years.
The state's promise is that by 2023, youth – those age 10 to 17 – who are incarcerated will be located closer to home to stay connected to family. Currently, only 15% of incarcerated youth have access to frequent family visits, according to the Illinois Department of Juvenile Justice (IDJJ). With the future model, the state promises 75% of incarcerated youth will have easy access to family visits, and center capacity will max out at 50.
This February, Pritzker's administration announced part of the Lincoln Developmental Center would be given new life. "IDJJ is moving forward with its transformative plan to reduce the harm of juvenile incarceration in Illinois," said Lt. Gov. Juliana Stratton in a February news release. Stratton said the facility would be a "bright, life-affirming, trauma-informed and restorative place for some of Illinois' most vulnerable youth."
The governor has acknowledged the harm the state's juvenile system has caused. "While I wish we could undo the injustices of the past or make whole the young lives that were harmed, what we can do is reinvent our path forward," he said during a July 2020 news conference. He's promised change and reform and has pledged millions of dollars toward opening the new facility. But youth advocates have said opening a new youth detention center in Lincoln is not "restorative." Restorative justice focuses on rehabilitation and reconciliation versus punishment. Meanwhile, the number of youth in state detention has been steadily decreasing. The state last reported, in February, that there are 131 youth in state custody. In 2016, that number was 403, according to IDJJ.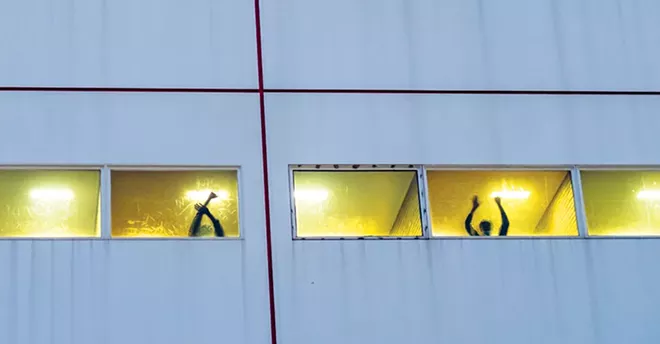 The Final 5
Olivia Blocker is the director of The Final 5 Campaign in Illinois, which describes itself as a coalition of formerly incarcerated youth and their families as well as allies who are committed to closing "youth prisons." The number five relates to the remaining youth detention centers in the state, or prisons, as the campaign calls them. They are located in Chicago, Harrisburg, Grafton, St. Charles and Warrenville. Blocker said Illinois' proposed model to keep kids in detention does not compare to New York's "close-to-home" model. The New York initiative is one that many of those advocating for an end to youth prisons say has successfully implemented restorative juvenile justice housing plans and practices.
Blocker told Illinois Times that a facility meant to house 30 youth, as is proposed in Lincoln, is not "small" or community-based. New York's model uses smaller residential floor plans, where at most 10 youth are housed together. They have the freedom to go to work and school and to interact with the community.
Just 15% of the state's youth are Black, but they represent more than 70% of youth incarcerated, Pritzker said last summer. Meanwhile, almost 90% of the residents in Lincoln are white, the U.S. Census Bureau estimated in 2019. "Most of the young people housed there will not be coming from Lincoln," said Blocker. Instead, they would come from surrounding counties like Peoria, Champaign and Sangamon, she said. Blocker said she believes the Lincoln site would "house mostly Black and brown young people in a predominantly white town, miles and miles away from where they are coming from."
Denzel Burke spent time as a resident in four of the five remaining Illinois youth facilities, from the ages of 14-20. During a Sept. 17 virtual town hall last year, hosted by Final 5, Burke said incarcerated youth have dreams about where they want to go in life. But they often face limited access, education, direction and opportunity. "So often, youth in prisons are living in war zones," said Burke of the conditions that lead many like himself into detention centers. "Being killed or locked up is common," he said.
AnnMarie and Alicia Brown, who are twins in their 20s, lead "think-tank sessions" where they have spoken to more than 150 youth and adults in Illinois with experience in the state's incarceration system. The Brown twins work with Final 5 and oppose a new youth facility in Lincoln. They say while it is close in proximity to counties with high rates of IDJJ-committed youth, the town itself does not match the youth in custody. "The people working there will have no idea what youth need," said AnnMarie.
Those with Final 5, including researchers at Northwestern University, have for several years led statewide conversations on restorative justice and intervention. Final 5 members are working on publishing and distributing newsletters to residents and staff of the five IDJJ facilities to better educate youth about services they are entitled to receive. Final 5 is also planning a podcast, where teens and young adults can talk about their experiences with the state's Department of Children and Family Services and the juvenile justice system.
Those surveyed by Final 5 described conditions of constant surveillance. "They are locked in their rooms with a total lack of privacy, ever-glaring lights, and little to do 'but stare at the walls,'" according to the campaign's report published last November. One incarcerated youth reported unsanitary conditions, including mold, mice and head-lice outbreaks. Overall, incarcerated youth reported feeling "shamed, criminalized and punished, but not prepared for reintegration into broader society."
Many respondents spoke to how financial and housing instability drove them to steal, and said that having the opportunity to make money would have prevented their criminal activity. "It all starts with poverty in the community," said one anonymous participant. The campaign hasn't been allowed in IDJJ facilities since early last year, because of the pandemic.
Advocates with Final 5 want to continue to gather thoughts from incarcerated youth on the proposed new facility in Lincoln, but have been unable to do so in recent months. AnnMarie said they "are trying to incorporate the voices of young people, but it is frustrating." IDJJ said it has led regular informative sessions for youth and staff since the "transformation plans" were announced.

Downsizing
In 1899 Cook County became the first area in the nation to establish a juvenile court system. For more than a century, IDJJ operated as an extension of the state's adult department of corrections. Eight youth state facilities were opened in Illinois over the course of 120 years. The state's largest, St. Charles, was finished in 1905, just six years after the establishment of juvenile courts. The facility has the capacity to incarcerate nearly 350 youth and remains open today. As of February, 34 youth were housed at the location. The next largest youth centers built were based in Kewanee and Joliet. Both closed after a series of state lawsuits and some unfavorable federal attention. In 2006, IDJJ separated from the Illinois Department of Corrections (IDOC) and promised reforms to sentencing and other areas.
Attorneys with the American Civil Liberties Union of Illinois filed a class action lawsuit on behalf of a handful of incarcerated teens in September 2012. The complaint alleged IDOC was in violation of due process rights, guaranteed under the 14th Amendment, and that youth were being denied services required under the Disabilities Education Act. Teens were kept in isolation for long periods of time and reported physical and verbal abuse. The facilities were in bad condition and staff were not properly trained
IDJJ still operates under a consent decree stemming from that 2012 lawsuit. Courts are meant to ensure the department is in compliance with the law and groups like the John Howard Association of Illinois keep a watchful eye on the department and operations as well.
Youth centers in Murphysboro and Joliet were closed under Gov. Pat Quinn's administration in 2012 and 2013. Before its closure, the Joliet maximum security facility for boys ranked third in the nation for the highest percentage of sexual misconduct committed by staff, according to a 2012 survey by the Bureau of Justice Statistics and the U.S. Department of Justice.
Candice Jones was the director of IDJJ from 2014 to 2016 and oversaw the closing of the Kewanee facility. The closure gained bipartisan support. Jones is now the CEO of the Public Welfare Foundation based in Washington, D.C. The organization helps guide state and federal policy around youth and adult sentencing, as well as reentry services. She said when discussions emerged around closing the Kewanee facility, the state had the capacity to house more than 1,000 youth statewide. However, only roughly 400 were under the direct supervision of IDJJ.
Jones said closing Kewanee allowed the department to cut costs and invest in reentry programs. Jones supports the idea of smaller, regional facilities, such as what is being planned for Lincoln. Jones said when the state takes custody of youth, they need to be placed in "small, regional environments." This keeps costs low and allows IDJJ to work more closely with communities, she said. "I know Illinois is always working toward these reforms, but it's hard to do it right with very little resources and extreme fiscal restraints," Jones told Illinois Times.
Heidi Mueller is now the IDJJ director. She said finding ways to help transport families to see their children in custody is being prioritized by the department. IDJJ has installed WiFi in facilities. This is so youth can access online education and virtually visit families more often during the pandemic and related lockdowns.
Mueller said she wants to pilot alternative placement and transportation programs for youth and their families in Peoria and Champaign counties. The facilities would be small and more in line with New York's "close-to-home" model. But building capacity for alternative placements will require more staff, training and even more state funding, she said.
IDJJ still struggles with offering adequate rehabilitation and youth sentencing, which Mueller blames on current law. Mueller said those deemed habitual and violent offenders can still be given mandatory minimum sentences. They are also denied the chance to earn good conduct credit, which helps youth transition out of IDJJ faster. It is inequitable, said Mueller, because they are serving different sentences for the same offenses depending on the age they come into custody. There's also "a statute that currently permits IDJJ to prevent parents from having any contact with their child as a punitive measure," said Mueller.
New location, same destination
In March, Pritzker announced IDJJ will receive nearly $21.1 million for its "transformation project." Details of where the funds will go are being released intermittently. So far, the administration has released $2.5 million to begin designing the project in Lincoln. Funds will go into remodeling five cottages. Two will house youth and one will be a multipurpose building with a gymnasium, classrooms and office. Security fencing and electronic systems will be installed on the property as well, according to plans.
In March, the John Howard Association of Illinois published a report applauding the governor's plans for moving incarcerated teens and kids to smaller facilities. But the nonprofit prison watchdog also had some criticisms and recommendations. "Youth in juvenile detention facilities in Illinois fall under the purview of multiple jurisdictions among a confused, decentralized mixture of government agencies and entities," said the report. The John Howard Association called for consolidation of child and juvenile welfare agencies, arguing that could help streamline resources and individualize rehabilitation and reentry plans.
Like Final 5 advocates, those at John Howard are also concerned with a lack of transparency concerning treatment. "Virtually no readily accessible public information is available regarding the conditions, treatment and experiences of youth in custody," said the report, about those detained in county facilities – which are separate from the five youth centers run by IDJJ. While the association supports the governor's move to "restorative" practices within the juvenile justice system, it wants more transparency.
Contact Madison Angell at mangell@illinoistimes.com.

This article has been updated to remove statements about IDJJ not making certain information public. Language about informative meetings led by IDJJ has also been changed to be more clear. It has been clarified that the John Howard Association of Illinois said in its report it was concerned with a lack of transparency about the conditions of youth detention centers run by counties. Photo captions have also been corrected.