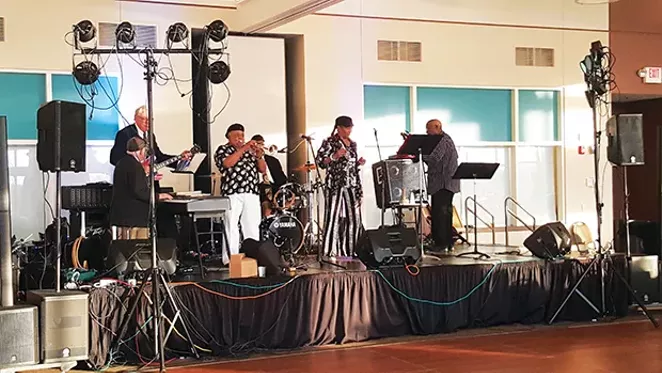 Area jazz and Cajun cuisine fans can get a taste for New Orleans at "Mardi Gras in May." New Orleans jazz performers and local musicians come together for a musical gumbo May 10 for the Illinois Coalition Against Domestic Violence annual fundraiser featuring The Charmaine Neville Band with local talent Frank Parker, Chilli Bryant and John Blythe.

The organization's sixth annual jazz and blues event began featuring The Charmaine Neville Band a few years ago. Charmaine is the daughter of the late Grammy award-winning saxophonist Charles Neville and the niece of Aaron Neville and the other Neville Brothers.
Ellen Schanzle-Haskins, ICADV's event chair and board member, said "Charmaine is a violence survivor herself, having been attacked just after Hurricane Katrina, so she has had a real interest in our cause."
Charmaine and band were recruited thanks to local trumpet player Frank Parker, who played at ICADV's earlier events. Parker grew up in New Orleans and has lived in Springfield for more than three decades but still plays with Charmaine when he is back in New Orleans, which is frequently. Parker recently returned from the annual New Orleans Jazz and Heritage Festival.
"I like bringing New Orleans to Springfield," said Parker. "The flavor of the music, those old New Orleans songs. And Charmaine – she knows how to get people moving."
John Blythe moved into the scene after being recruited by longtime friend and ICADV event committee member Dee Dee Hall to play guitar. The president of Jones-Blythe Construction by day said he grew up surrounded by music, forming a band as a teen with his brother and a friend. "Early Stones, Beatles and Chicago Blues, along with folk music, were the early influences and it just built from there. By the way, we are still all playing in bands together."
"Four years ago I met Charmaine and the two musicians who came up with her from New Orleans," Blythe recalled. "The two musicians are Amasa Miller on piano and Raymond Weber on drums. All three are wonderful New Orleans jazz musicians. I met them on Thursday, the night before the gig. I started to talk to Amasa to try to get a feel for the music that we were going to play. So, I asked him, 'Do you have a set list or a list of tunes she might do?' He said, 'No we just follow Charmaine and play what she calls off.' Then I said, 'Well, do you have any charts or music you use?' Amasa said, 'No we don't use charts or music. But just pay attention and follow Charmaine. We'll try to let you know what key the song is in.'"
"We do a sound check and that's about it," Blythe continued. "It's a high-wire act without a net. Add Chilli Bryant on bass and Frank Parker on trumpet, stir it up, and let simmer with Amasa and Raymond all led by Charmaine, and you've got a fine musical gumbo. It is a lot of fun and a real honor to play with these folks."
Besides the ICADV event raising funds for its statewide network of some 50 local shelters and programs that provide emergency services to domestic violence victims, Mardi Gras in May raises fun and some surprises. "This has always been a fun night for everyone involved," said Blythe. "It's live music in its most dynamic format. The immediacy of the performance is genuine. It's a performance where anything can happen and usually does. In a live setting with Charmaine, to me there is only one rule. Always follow the singer. As a sideman in this type of setting my job is to find my spot in the mix and support the song as best I'm able."
Schanzle-Haskins added, "You can dance the night away or simply groove to the sounds."
The event, at the Illinois State Fairgrounds Artisans Building, includes Cajun food, cash bar and silent auction. Tickets are $50 in advance, $60 at the door. Call 789-2830 or visit www.ilcadv.org for tickets and more information.
Janet Seitz is a local communications professional, writer and artist. To share your story, contact her at janetseitz1@gmail.com.