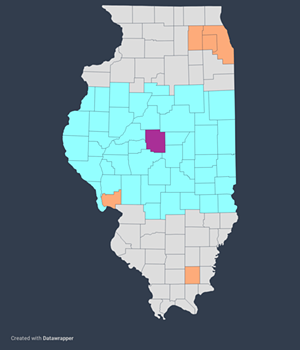 Renovations are underway at the Lincoln Development Center in Lincoln. State officials say after being closed for nearly a decade, the future Illinois Youth Center will keep youth closer to family and spur economic activity.
The new center will take approximately two years to complete, according to the Illinois Department of Juvenile Justice and partners. It "will require not only construction and renovation, but recruiting, hiring and training staff as well," an IDJJ spokesperson wrote. It will have space to house up to 30 youth in dorm-style units and renovation plans include designated areas for food, recreation and education, according to state officials. When it opens, residency in central Illinois will be a requirement for admittance. The department will also look at factors such as risk level, age, vulnerability and educational needs. Treatment needs will also be considered.
The announcement was made Feb. 1 during a Lincoln city council meeting. Lincoln Mayor Tracy Welch said in a statement the center will "better serve those committed youth from central Illinois and their families by having them located closer to home." The plan has also gained bipartisan support for projected economic development, such as jobs and revenue that could be used to repair infrastructure and strengthen public services, the mayor said.
There are currently five IDJJ youth centers and 16 juvenile county facilities in the state. Three state centers are located in or around the Chicago area, one is located near St. Louis in the city of Grafton, and another is in Harrisburg, serving counties in the southern region of the state. Depending on the county and center assignment, IDJJ committed youth in central Illinois can be placed hours away from support systems and hometowns.
Last July, Gov. JB Pritzker called juvenile detention centers "large, stark razor-wired warehouse-like facilities built far away from the homes and families" of youth. He said the impact of the centers is "yet another example of systemic discrimination." During the news conference, Pritzker said 70% of all incarcerated youth in Illinois were Black despite the fact that 15% of all youth in the state are Black. Punishment and strict probation measures have had no effect on juvenile recidivism, he said. Instead, a "tough on crime" approach to juvenile adjudication has exacerbated trauma, making community reintegration difficult for youth, according to state leaders who attended the conference.
The 21st Century Transformation Model, developed by the Justice, Equity and Opportunity Initiative in partnership with the IDJJ, outlined plans for the new center opening in Lincoln. The model utilizes "decades of evidence from across the country, and within its own system" and reduces "the harm of incarceration by transitioning youth to small, regional residential centers," according to IDJJ. Removing children from communities breaks support systems, strains friendships and creates obstacles for families.
Future renovations will move away from concrete walls, confined rooms and wire fencing that are similar to adult prison designs. Plans released by IDJJ last year emphasized a shifting focus to create safer and healthier climates for youth and staff.
Last year during the project's announcement, former state Sen. Heather Steans said the model does three things better. "It provides better accountability for kids and helps them achieve positive behavioral change, it helps dismantle our persistent racist disparities in how we treat children and helps us more equitably treat people of color – and it has a better return on investment," she said.
In a recent news release, state Rep. Tim Butler, a Republican from Springfield, called the model forward-thinking and innovative. In addition, the project is "an investment in the juvenile population of our state as well as a commitment" to the community, he said.
Contact Madison Angell at mangell@illinoistimes.com.