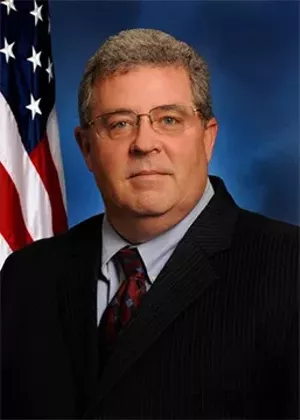 Illinois auditor general Frank Mautino continued collecting campaign contributions and spending money after the General Assembly voted to put him in charge of auditing state agencies to ensure that public funds are properly spent.
Mautino, a Democrat who served 24 years as a state representative before he was sworn in last month to fill a 10-year term as auditor general, acknowledges soliciting donations to help close out his campaign account. Mautino collected $17,500 in donations during the final quarter of 2015, with $15,500 coming between Oct. 20, when the General Assembly voted overwhelmingly for Mautino to succeed William Holland as auditor general, and Dec. 7, when Mautino was sworn in to his new position.
"I made some phone calls to longtime donors and friends…to see if they could help me clear up campaign debts and office-closing expenses," Mautino said.
Mautino acknowledged asking for money from several donors, including the Illinois Manufacturers Association, whose political action committee donated $1,000 on Oct. 16, and the Associated Beer Distributors of Illinois, whose PAC gave $9,000 on Nov. 5.
"After that, I quit asking for donations," said Mautino, who narrowly won reelection in 2014.
Campaign finance reports on file at the Illinois State Board of Elections show that Mautino's campaign committee had nearly $10,400 in the bank as of Sept. 30, with no debts or obligations reported. Mautino said that he needed money during the fourth quarter to pay for routine office expenses as well as the costs of closing up shop, including the cost of shredding documents from his career as a legislator as well as from his father's prior 16-year career in the House.
In addition to money from the beer distributors, Mautino received $1,000 from the Illinois Credit Union League's PAC on Nov. 9, $500 from the Illinois Trial Lawyers Association on Nov. 5, $500 from Maxim Healthcare Services on Nov. 19, $250 from Pepsico on Nov. 19, $250 from Pfizer, Inc. on Nov. 19 and $2,500 from the PAC for the Illinois Association of Realtors on Nov. 9.
Mautino said that he canceled a November fundraiser and also returned some checks after taking the oath of office last month.
Mautino spent more than $21,100 during the last quarter of 2015, which zeroed out his campaign fund. Expenditures made after the General Assembly installed him as auditor general included $3,760 for radio and newspaper advertising. Mautino says that he sponsors postgame high school football shows that were broadcast on radio stations, and much of the advertising money went for shows broadcast after games played subsequent to the General Assembly vote.
Other expenditures made after the General Assembly vote included $7,000 for meeting expenses, with no single vendor receiving more than $150, according to campaign reports that do not indicate the dates of meetings. The campaign spent $420 on meals after the General Assembly vote to make Mautino the state's auditor general, and nearly $500 went for flowers that Mautino says were sent to funerals of supporters. The campaign spent nearly $2,300 for "gasoline/camp vehicle repair" after the October vote, state records show, and nearly $400 for gasoline alone. Another $300 went to the Putnam County Democratic Central Committee on Nov. 7 – Mautino said that the money paid out one month before he took office went toward a Christmas party. State law forbids the auditor general from being "actively involved in the affairs of any political party."
Susan Garrett, a former Democratic state senator and representative who now chairs the board of directors for the Illinois Campaign for Political Reform, said that she doesn't think that Mautino broke any laws in receiving or spending money after the General Assembly vote that made him auditor general. But that doesn't mean that what he did was the right thing to do, she said.
"I think, legally, he's able to do what he did," Garrett said. "I think it's a loophole. Certainly, if you've been appointed to the position of auditor general, one would think that you'd be very careful about requesting and receiving campaign donations. … The spirit of the law, especially when one is being considered for the position of auditor general – you should be free of any questionable practices. It's troubling that Mr. Mautino has requested funds for his campaign under the circumstances."
Garrett said she believes that Mautino should return money he received after the General Assembly voted to make him auditor general, even though he had not yet been sworn in and no laws appeared to have been broken.
"It was clear he was going to be auditor general," Garrett said. "Those funds should have been returned so that there's no question of impropriety."
Contact Bruce Rushton at brushton@illinoistimes.com.