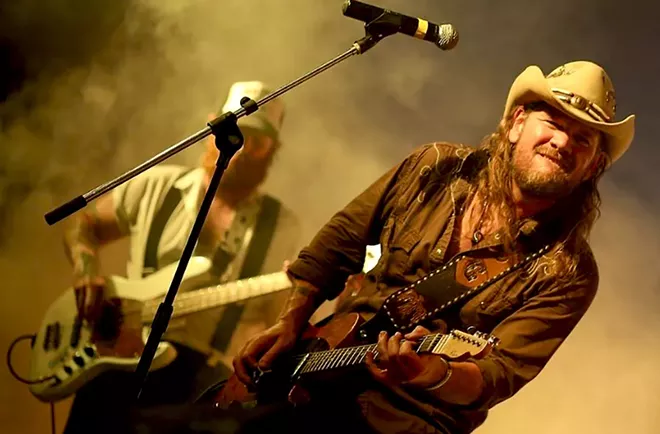 Well, well, well, it's been a while coming, but I can almost say, things are looking nearly normal for music-making on the scene. Not to get too far gone on this since it's still early in the game, but you'll find a good bunch of familiar acts back on stage this weekend.
I'd like to first give a shout out to Stuart Smith, a good friend and fabulously gifted singer, songwriter and musician who puts a piece of his heart and soul into every song and every performance. Plus, this Winchester, Illinois, resident and frequent Springfield performer steps out and does cool things with his original music, like recording his latest album at the world-famous Sun Studio in Memphis, Tennessee. His release show happening in Jacksonville on Friday is sold out, but you can order the CD and/or vinyl at StuartSmithMusic.org or his Facebook page, or just catch him at his next gig to get your freshly autographed copy. Congratulations, Stuart, it's an awesome thing to accomplish.
It's a mighty sure sign of sweet stuff happening when our Live Music calendar shows Thursday night listings and it's doubly nice to introduce another venue back to the pack when Boone's hosts Me, Myself & Schy for a 6 to 9 p.m. gig. Those curious three names can only mean it's Jeff Berendt and Schy Willmore as a dynamic duo covering a bunch of cool songs from the alt-country, Americana catalogue. Hip, hip, hooray for that space being used again for live shows and here's to much more music coming.
In the world of Springfield cover bands and regular booking bars, Friday is really an extraordinary night. Even without considering the withering year behind us of closed venues and show stoppages, the list of groups performing is a sight to see and even better to hear. Consider Big Daddy Jasper doing it up right at the Curve Inn while Brushville Unplugged knocks it out at Weebles, just as The Collective sails into Danenbergers, Boogie Chyld gets down at Long Bridge and the Tom Grassman Band rock-n-rolls the Blue Grouch. It's the first time in a long time there could be an issue deciding where to go and who to see when, and that's just fine.
Saturday ain't so bad either, with NCR taking on the Curve, Smooth Groove working the Blue Grouch, Brandi Kristin & the Revival revving up Weebles and Black Queen blowing out the Main Gate.
Out-of-town shows are looking good too, with Jameson Freeway driving it home at the Boar's Nest in Athens, Risky Rooster Band settling in at Daugherty's in Chandlerville and Naughty & Nice bedazzling Don's Place in Jacksonville, while in Pawnee there's a double header of Jeff Young and the Bad Grandpas bopping into 1854 Wine Pub and P-Nut and the Shells cracking up at Locals.
Also, for their Titos & Tulips event, Curate hosts After School Special (11:30 a.m.-2 p.m.), while the Red Wheelbarrows roll into Shepp's in New Berlin for a Spring Ceilidh (4-7 p.m.) benefiting the upcoming Springfield Area Highland Games on May 15 at the Sangamon County Fairgrounds. Sunday afternoon keeps the action happening when Zack Fedor zips it at Hill Prairie Winery near Oakford, Jonathan Field and Schy Willmore duo it at It's All About Wine, Gracia Harrison flips it at the Blue Grouch and the Craig Gerdes Band takes it to Danenbergers. And to finish off your run, come on down to the Alamo for Blue Monday as Charles Tiner shares songs from N'Treble, his recently released, long-awaited debut album.
Be safe, and see you next week for hopefully more normalcy forthcoming.