A stranger visiting Oak Ridge Cemetery on a recent Sunday might have wondered what a tribe of 50 were doing at the Tanner Mausoleum – surely no burial, too much noise, drumming, laughter! Edging close he'd see, and surely stay – but here's what he'd witness:

A group of Neanderthals garbed in skins of sabre-toothed tigers, zebras, leopards, reciting a ceremonial script in an obscure tongue. The leaders, wielding enormous thigh bones of aurochs, were summoning initiates to repeat vows of fealty to their craft of creative writing.

This ritual at the Flintstone Tomb (called that even on the Internet though it is the final resting place of a former governor) was hosted by the SSU/UIS Alumni Creative Writers Collective, many of whose members are recognized nationally. All have had at least one class that involved creative writing; a committee of former recipients choose new awardees. Advising the group, and leading the procession to the tomb, were Grand Pooh-bah Professor Ethan Lewis, Lou Bosco (First Neanderthal Awardee, 2000), Professor Emerita Jacqueline Jackson and Professor Emeritus John Knoepfle. The awards are the John Knoepfle Poetry Award, and the Jacqueline Jackson Awards for Creative Writing-Fiction, and Creative Writing-Nonfiction. Jackson, 85, has 14 published books (one second in line for the Newbury) and is now finishing her Round Barn trilogy (Vol. 2 reviewed in Illinois Times Dec. 6, 2012). Knoepfle, 90, has authored numerous books, including Poems from the Sangamon. Among his many recognitions is the Mark Twain Award for Distinguished Contributions to Midwestern Literature. He recently published Shadows and Starlight (IT review, Oct. 6, 2012). He is currently preparing a collection of Chinese poems with translations.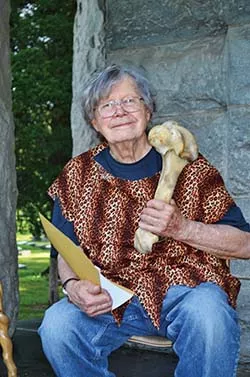 In previous years the ceremony has been held in attics and at the UIS fountain. This year's Flintstone Tomb was chosen because its rough-hewn stone bulk and ancient temple architecture reinforce the primordial use of language and writing to tell stories vital to our species. Jackson pointed out the vault houses the remains of John Riley Tanner, Illinois governor 1897-1901, who resisted using state troops to break coal mine strikes in Virden, Pana and Carterville, and insisted on forming the only African-American regiment in the Spanish-American War. "This is a fitting place to celebrate these awards," Jackson said. "We thank Governor Tanner for his hospitality."
The DNA (Designated Neanderthal Assistant, Brian Jackson) informed the group that we all have two or three percent Neanderthal DNA, and are undoubtedly the better for it.
The event's highlight was each awardee's donning a ceremonial skin (sewed by Carolyn Jackson's bone needle; no harm done to beasts) who then ascended the steps to repeat vows of loyalty to the muses of creativity. Each received a certificate from the Grand Pooh-bah: "We present you with this award, framed with embossed stegosaurus skin. Do not use it for a club."
The awards, said Knoepfle, are a recognition of "courage in the face of the blank page; the victory in filling it with words; the wisdom of crossing most of them out; the tenacity of refilling the page; the humor and madness that is writing; the luck that conjures and cajoles the story, the essay, the memoir, the poem, or something else; and the love that is sharing it with others."
This annual ceremony had been delayed for several years; thus awardees from 2010-2012 were recognized. The recipients: 2010, Cretaceous: Fiction: Nancy Pistorius, coming from Kansas to reconnect with her teachers, one being former Springfield mayor Karen Hasara, who taught Nancy in grade school. Among Nancy's honors is the 2009 Langston Hughes Creative Writing Award. Creative nonfiction: Dr. Barbara Burkhardt, scholar extraordinaire, author of William Maxwell: A Literary Life. She is now writing Garrison Keillor's biography. Poetry: Patricia Martin, author of a sensitive volume, Needles of Light.


2011, Jurassic: Fiction: Julie Low, whose mystical fantasy novel, God the Mother, God the Father, is nearing completion and publication. Creative nonfiction: Tara McAndrew. Her New Salem plays and history articles in Illinois Times and the State Journal-Register make our past come alive; she's published Stories of Springfield: Life in Lincoln's Town. Poetry: Anita Stienstra. Anita, editorial assistant at IT, is an accomplished poet in her own right, but has fostered many local poets. For 15 years she's produced Navigating the Maze, yearly collections of high schoolers' poetry.

2012, Paleozoic: Fiction: Shawna Mayer, creator of strange, remarkable stories, whose wit and sensitivity make us laugh and weep; we'll be hearing more of her in the future. She is also proving herself an excellent editor. Creative nonfiction: Carol Stigger, whose observational writing for nonprofits kept her 20 heartbreaking years in Haiti – and a few in Italy; she gives hope our species just might survive. Poetry: Dr. Brian Jackson. His word-photos capture our hearts. His recent From Delancy West was reviewed in IT Dec. 12, 2013.

At the finale, all recipients vowed they would "never let the facts spoil a good story," or "drag a youth or maid by the hair into their cave." They promised to bravely split infinitives and always write with heart.

Previous award recipients, most with published books or articles, and each worthy of a separate writeup, are Lou Bosco, Laverne Smith, Carol McCartney, Rodd Whelpley (who largely wrote the ceremony's script), Carol Manley, Jeanne Handy, Christy Cameron, Yosh Golden, Teresa Holton, Martha Miller, Lola Lucas, Gary Smith, Celia Wesle and Ron Deverman.

After the cemetery celebration, attendees gathered at Enos Park for a paleo-feast, hosted by Fred and Wilma Flintstone. Over bronto-burgers and pterodactyl wings, recipients read from their award-winning works. Next year's event may return to the Tomb, barring unforeseen events such as extinction.

Amy Spies of Chatham is an observer of the ordinary – the better to see and know what is special. In her daily life, Spies teaches, cooks and writes. Not all at the same time, of course, but sometimes successfully.