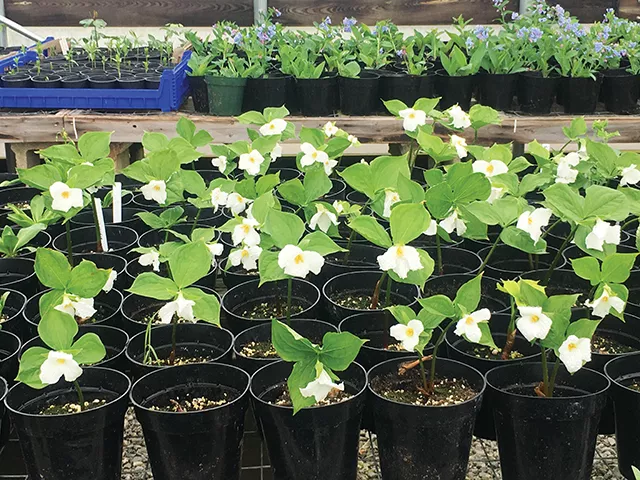 In April and May there are several plant sales, which provide an excellent opportunity to purchase native plants as well as talk to knowledgeable people.

Lincoln Memorial Garden plant sales
"We are promoting plants for pollinators, butterflies and native birds," says Larry Miller, Lincoln Memorial Garden head gardener. He is growing over 95 species of plants in a greenhouse, including over 10 types of milkweed. "Every year I try to offer different plants which we have never sold before. Also, I try to offer species that are rare or endangered. Green milkweed is on my list. It is very rare in central Illinois because milkweeds of all species have been eradicated from crop fields as a troublesome weed."
Also for sale will be herbs, such as fennel and dill, which are beneficial for swallowtail butterflies. Milkweed and herbs will be at both sales and at the Nature Center as long as supplies last during the summer. Plant pot tags will provide growing needs and other information. Members of the Lincoln Memorial Garden Native Wildflower Garden Committee will be on hand to answer questions. For more information, visit http://lincolnmemorialgarden.org/.


Woodland wildflower, herb and tree sale
Saturday, April 13, 8:30 a.m.-4 p.m. and Sunday, April 14, 1 p.m.-4 p.m.
Lincoln Memorial Garden Nature Center
This sale will feature shade-loving plants, including several native shrubs that attract birds and butterflies. Examples of species available include several types of ferns, trillium, bluebells, shooting stars, serviceberry, oak leaf hydrangea, dogwood, redbud and many others.

Prairie/sun-loving plant sale
Saturday, May 11, 8 a.m.-4 p.m. and Sunday, May 12, 1 p.m.-4 p.m.
Lincoln Memorial Garden Nature Center
This sale will feature sun-loving wildflowers. Some featured plants are prairie blazing star, purple coneflower, columbine, royal catchfly and five varieties of milkweed. A wide variety of herbs and geraniums will also be for sale.

Illinois Native Plant Society plant sale
Saturday, May 11, 9 a.m.-1 p.m.
Illinois State Fairgrounds Commodity Pavilion, across from the Grandstand
Native trees, shrubs, grasses and perennials and many milkweed species as well as a selection of plants for pollinators and wildlife will be available. For more details visit http://ill-inps.org/central-chapter-plant-sale/

Springfield Civic Garden Club 43rd annual plant sale
Saturday, May 4, 8 a.m.-noon
Illinois State Fairgrounds, Barn 26
Annuals, perennials, summer bulbs, vegetables and a wide range of other local plants that thrive in this area will be available. Plants are from the gardens of members of the Springfield Civic Garden Club. For more information, go to www.scgc-il.org.