MILD SPOILER ALERT: Near the end of My One and Only, Captain Billy Buck Chandler bypasses fame and fortune to try and reunite with his true love, renowned ex-channel swimmer Edythe Herbert. When he does find her, the ever-optimistic Billy speaks a simple truth that has stuck with me ever since the first time I saw this show many years ago. "We live the only way we can. Shoot, just making it from one day to the next deserves brass bands and confetti."
But this splashy Tony-award winning musical, directed by Scott Richardson, isn't a deep thinker of a show. Rather, it lights up the stage and tap dances its way into your heart with stunning production values, a classic Gershwin score and several silly, sweet performances. And yes, there are a few nuggets of wisdom thrown in. The month-long run ends this weekend so if you haven't already, make plans to see this fabulous show and catch some of that well-earned confetti.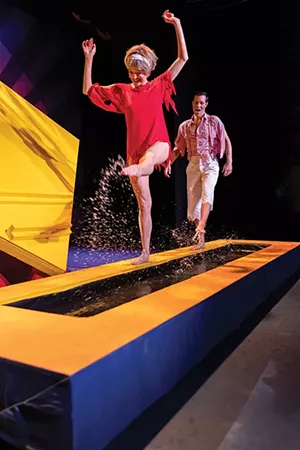 My One and Only is an amalgam of many well-known George and Ira Gershwin tunes taken from their stage and film properties including, "Funny Face," "Sweet and Low Down," "Kicking the Crowds Away" and "Nice Work If You Can Get It." The songs and dances are strung together by a plot that serves little purpose beyond getting us from one entertaining number to the next. Audiences can expect to be immediately wowed by the art deco scenic design by Richardson and spectacular lighting by Aimee Hanyzewski which impressed with each passing scene. Lavish, glittering costumes, constructed and designed by Mary McDonald and Betty Ring, had me 1920s fangirling all over the place. Everything about the show was punchy and bright and it flowed seamlessly with only one minor glitch that I could see – a broken cane that was so capably handled by the performer, it made the number all the more enjoyable.
In the capable hands (or in this case, feet) of choreographer Suzy Collier, this tap-dancing showcase is sure to inspire people to sign up for lessons the next day. The cast, many of whom had never tapped before, attended weekly lessons for six months and the extra effort showed. Not only did everyone look like they knew what they were doing, but also seemed to be truly enjoying themselves while doing it. Vocal direction by Mark McCue and musical direction by Melissa Blankestyn had the orchestra and voices in great form.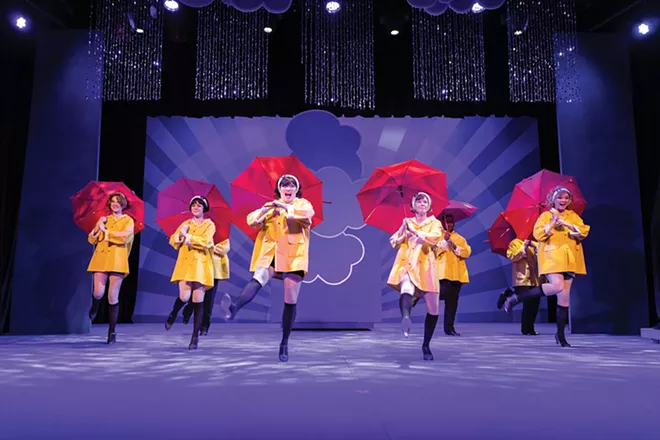 Amid all the impressive technical and visual accomplishments, there's also a talented cast hard at work. As Billy Buck and Edythe Herbert, Matt Woodson and Anna Benoit are perfectly suited to their roles. He, the naive, lovesick pilot willing to go all in for true happiness and she, the luminous star reluctantly trapped in her current life, longing for something better. They both sing and dance expertly and are a joy to watch. As Prince Nicolai Erraclyovitch Tchatchavadze, Edythe's dastardly manager, and later the hilarious character Achmed, Ed MacMurdo, shows off his comedic chops while Betsy Buttell playing Mickey, Billy's mechanic, is an enjoyable and scrappy sidekick.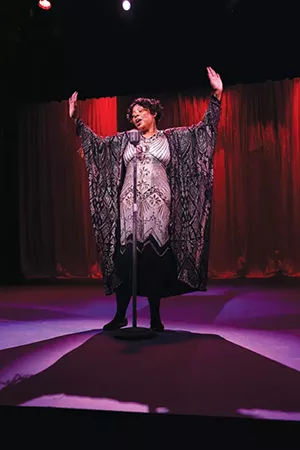 Two area jazz and blues legends step into the roles of Mr. Magix and Reverend Montgomery and impress with their strong vocals. Debbie Ross as the Reverend, who runs an "apostolic establishment by day and an alcoholic establishment by night," encourages Billy in his pursuits and sends him to Mr. Magix Tonsorial & Sartorial Emporial for a makeover. Johnnie Owens, as Mr. Magix, reprises his role from 1991 when he performed it at The Muni. Owens entertains as Mr. Magix works his magic on Billy by teaching him how to win over Edythe. And he's not a bad hoofer, either.
Also worth mentioning are The New Rhythm Boys. This singing and dancing trio appear in a sort-of Greek-chorus fashion, as they continually jump in and out of various characters and scenes. With just the right amount of charm and style to keep the audience engaged, I was always in anticipation of when and where they would pop up next.
So if you're in need of a little sunshine and fun to kick the clouds away (and who isn't these days?) get to the Legacy soon. My One and Only continues Thursday, July 21 through Sunday, July 24. Tickets can be purchased here https://www.atthelegacy.com/ or by calling 217-528-9760.
Mary Young, who was born and raised in Springfield, has been performing in, producing and directing live theater for decades. She she's done film and voice-over work and performs regularly with the improv troupe The Portuguese Rodeo Clown Company. Their podcast is Radio 680: The Voice of Syracuse.