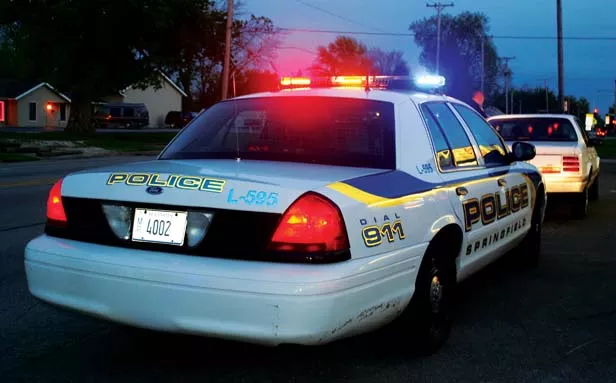 It's dark while I'm seated in the front passenger side of a Springfield Police Department squad car. I feel my voice box drop into my stomach to stay for a while as a handcuffed male suspect arrested for alleged criminal trespassing at Mac's Lounge climbs into the back seat. The driver's seat is empty while Patrol Officer Bob Jones talks to colleagues about 50 feet in front of me.

"When is he coming back to the car?" I think to myself, wondering if a ride-along with the Springfield Police Department was really how I wanted to spend a late Friday night.

I can feel the presence of the man in the back seat but neither of us says a word. All of a sudden, his low voice breaks the quiet. "Little mama," he says. "Are you a reporter?"

I would realize later that I had spilled my coffee in that moment, sending a pool of Colombian Roast onto the floor.

I answer, "Yes," remembering my job and this man's humanity before I turn around to face him through the netting that separates him from me.

"Hey, my man," Jones says, getting into the vehicle. The typical greeting is something he gives most people he comes into contact with on duty, whether or not they are in handcuffs. It's easy to see why Jones has a rapport with suspects.

After the 42-year-old Chatham resident books the male suspect, who wishes not to be named, at the Sangamon County building, Jones looks him in the eyes as he talks easily with him, not down to him.

"He's a fair ass officer," says the suspect as Jones is about to leave the building. The man added with feeling in his voice that Jones is a "fellow officer," a term that reflects a mutual respect Jones has with all people he comes into contact with.

Jones attributes this respect to having "the gift of gab," and says that he has never used his taser or Glock-22 handgun during a call in 12 years on the job. He can usually talk suspects out of violence.

"I honestly, firmly, completely believe that I treat people the way I'd want to be treated. I don't want an officer telling me the obvious, that I screwed up," says Jones. "I really do believe that whole thing – our job is to document and it's up to the courts to punish."

He takes that principle with him every time he comes on for the night shift, which he calls the "mushroom" shift between 11 p.m. and 7 a.m. Tonight he's covering the east side of Springfield, making the rounds on Martin Luther King Jr. Drive and 11th Street, and making sure that he drives through smaller side streets. Most nights he is covering property crimes on the west side of Springfield, and he used to work in the DUI division, covering drunk drivers.

Although Jones has a routine beat, his job is anything but routine, especially when it comes to making traffic stops.

He never knows what he is walking into when he approaches a stopped vehicle. At the risk of sounding "morbid," he says, "you never know if it's going to be the final stop."

Although he has served tours in Iraq with the U.S. Air Force, he admits that he still gets nervous each time he makes a traffic stop.

From traffic stops to gangs, prostitution rings and drug houses in Springfield, Jones has seen much in 12 years. Although the shift ends for me at 4:30 a.m., Jones continues patrolling the capital city streets until after dawn.

Anyone with a clean criminal background check can ride with him or another officer as a ride-along. Bring an open mind and expect to leave with respect for not only what these public servants do but how they do it.

Contact Holly Dillemuth at hdillemuth@illinoistimes.com.