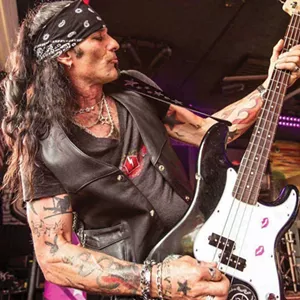 Here we go into mid-January as the music scene remains on the move, viable and productive, continuing to provide our fair city with pleasurable and provocative entertainment experiences.

On Sunday, Jan. 19, we gather in support of musician, booker, fundraiser, working man, parent and friend Micky Shomidie at Boondocks from noon to 7 p.m. Micky, recently diagnosed with Stage 3 throat cancer, is going through chemo and all the other medical mechanisms made to mute the disease, plus the emotional issues attached with truly fighting for one's life. He's also dealing with medical costs above his insurance and no income for six months (at least) as he is unable to work playing music or in his siding business, while directing all energies to beating this thing. The event, called "VIP Rockstar Fight for Life Fundraiser" after homegrown parties he hosted for local musicians, features several bands, emcees, raffles, auctions, food, drinks and more, including some very special guests, as well as autographed items, coming in from friends and fans this guy made through a lifetime devoted to keeping the torch of making music happen burning brightly.

Anyone one that knows what Micky has done in our community is aware of the fundraisers for Toys for Tots, Make-A-Wish Foundation, American Cancer Society, UCP, Red Cross and others he's hosted through the years, raising tens of thousands of dollars for these worthwhile charities. Now let's help karma along a bit by helping out someone in need who has helped others for years. For those who can't attend (Micky actually may only be there for a short while, or not at all, due to immune systems issues), you can donate directly at his ESP entertainment email or use the Facebook/GoFundMe page set up for him. And most importantly of all, let's wish him the best and to get well soon. Micky, the world needs you here fighting the good fight.
In wonderful news, drummer, singer, songwriter and bandleader Reggie Britton just texted me that his battle with lymphoma is going well. Best known for his blues group, Black Magic Johnson, Reg is doing okay while recovering in St. Louis after months of intense procedures designed to thwart the bad stuff. He'll be back in town soon and I suspect, playing again before you know it, singing to us all about corn, chitterlings and collard greens.

Congratulations to Jeb Brown Productions and the Backroom Lounge in Riverton for being named KVOK Entertainment Venue of the Year for the second year in a row. The radio and entertainment group based out of Oklahoma supports "real country music" and especially the styles of "Red Dirt, Texas Country, Americana and all points in between" which fits right into the Backroom's wheelhouse. In his Dec. 24, 2019 post on the Facebook page of Midwest Country Music Revival, Jeb thanked the Backroom audience, affectionately known as the "congregation," for his repeat success. He also dedicated the award to the memory of his gracious and supportive mother-in-law, Melanie Bice, who passed away in February of 2019. For a complete schedule of the amazing performers and songwriters that roll through the intimate venue, visit the Backroom Lounge Facebook page.

Friends and fans of Marina V can now pre-order or sponsor her latest album, while joining her in the many other ways possible to support this amazing performer, songwriter and musician. On Saturday, Jan. 18, Marina, Nick and Baby V invite you to a special raffle for those who've participated in the upcoming recording endeavor. Visit MarinaV.com for details.

See you on the flip-flop for more music-related news next week.