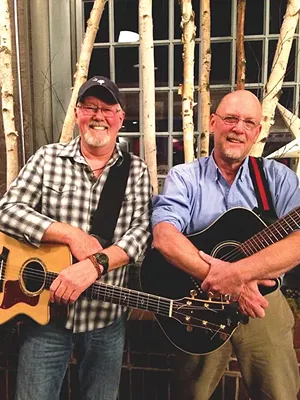 Welcome to October 2020 and all the fine, frivolous, fractious, fun, fantastic and phenomenal things it may or may not have to offer you and yours. But whatever the case, we've still got live music happening at outdoor venues as we await seasonal weather and the inevitable slowing down of music being made.
On the recorded side of things, there's good news to report and congratulations to extend in the blues genre. Recently, as in a few weeks ago, the Mary Jo Curry Band garnered enough fan votes to receive the Sean Costello Rising Star Award for 2020 from Blues Blast Magazine, a nationally known and respected blues periodical. That's a big deal, folks, and earlier in the year, Mary Jo's latest release, Front Porch, landed high up on several blues charts, including the prestigious Roots Music Report.
Hurricane Ruth, the Beardstown native and lifelong, performing songwriter and entertainer, continues to take the blues world by storm. Her latest release, Good Life, just had a single, "What You Never Had," placed on the Sirius XM, BB King's Bluesville, Rack of Blues show last Saturday, sandwiched between an Elvin Bishop/Charlie Musslewhite collaboration and a Joe Bonamassa tune on the playlist. The album has also been hanging around on the Billboard blues charts for several weeks sitting pretty right there along with plenty of top shelf blues artists.
And while we're at it with blues news, our resident, internationally acclaimed, touring (well, used to be and will be again, post-pandemic) blues artist extraordinaire, Mr. James Armstrong, plays the Curve Inn on Thursday, Oct. 1. James, normally out touring Europe and America for most of the year, has been busy producing a powerful song about our current cultural times called "Rise Up Resist," released in August 2020. The politically potent tune, written by Bob Trenchard, found its way to Armstong, who took over production duties and while adding his signature guitar, included top-notch Chicago musicians, plus vocalists Annika Chambers and Derrick Procell, to create the track. Deb Antoine, in making a video, synced in newsreel footage and other photos, current and historic, to fit the theme of the song, now available on YouTube by looking up Rise Up Resist or going to James' Facebook page.
Our acoustic duo friends, Jim Chase and Kit Jones, perform in public as Jones & Chase and look to be in for a busy weekend of making music. Catch the two friends and music mates at Copperheads in Pawnee on Friday (7-10 p.m.) and again on Sunday at It's All About Wine (3-6 p.m.) playing some songs you know and probably some you don't, all done with finely tuned musicianship coming from decades of doing music in some form or another. Kit does double duty with a Sunday morning show (10 a.m.) at Motorheads to warm up for the afternoon gig.
And speaking of Sunday, this one looks to be quite fortified with a fine selection of acoustic music choices happening all afternoon and into the evening. Gracia Harrison graces the patio stage at Long Bridge with her own style and grace (2-5 p.m.), while Wowie Zowie zooms into Locals in Pawnee (2-5 p.m.) with some classic 70s songs, just as Tom & Geoff drop into 3Sixteen in Chatham (4-7 p.m.) for some acoustic versions of Dylan, Petty and TB originals.
Heading into Monday, we get to go back to the blues with our longtime Champaign pals, the Blues Deacons, as Billy Galt and company roll into the Alamo for a Blue Monday. Be sure to check our Live Music listings for much more live music. See you next week. Please be careful and stay safe.