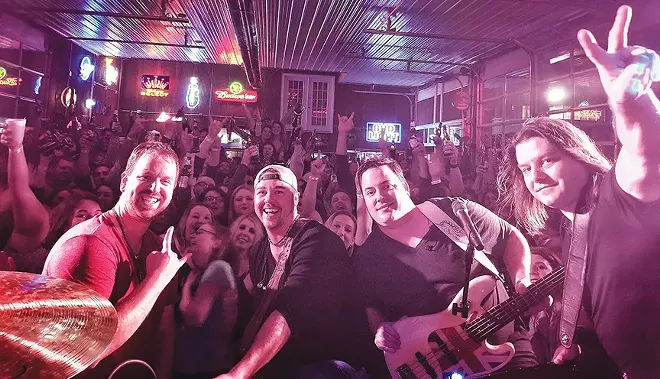 Welcome to week number six of downtime, sheltering and stay-in-place doings as we pay attention to the experts and curb the curve on this COVID-19 pandemic that has sent our world and the world at large into a tailspin. I'd like to express a special thanks to those working in direct contact with this stuff and remind the doubters to check with someone who is fighting this thing on the front lines before making uninformed decisions that affect us all.
Now let's move onto more pleasurable subjects during this epic epoch of slowed down time. Maybe grabbing an instrument of whatever kind that happens to be hanging around your house would be a wise and fruitful way to do something with the newfound time that's on those idle hands. I've mentioned this before, but sometimes it takes a few proddings to get that spring-into-action going strong. Making music is good for the brain, the heart, the soul and good for those listening to you, most of the time. If the issue of making listenable music is an issue, perhaps it's time you got some advice from experts on the subject.
If this is the case and you are looking for music lessons, there are many, many online services that have been around awhile, and due to our ongoing crisis, there are now more available than ever. There are YouTube tutorials (some awfully good, some okay, some just awful) on practically everything, including 47 different ways to play "Stairway to Heaven" on 23 different instruments (approximate numbers). If it's one-on-one instruction you're after (usually the best), look no further than your local scene by way of the world wide web. Area instructors who've adapted to virtual lessons include Micah Walk, Casey Cantrall, Theresa O'Hare and Jeff Cunningham (plus others, I'm sure). These performing musicians and accomplished teachers all deliver music instruction using some form of web-based services. Contact individuals however you can and soon you'll enjoy the new experience so much that after this is all over, who will be joining the community band, starting their own band or heading to a weekly open mic? Yes, that's right —- you, and you, and you, too.
In live-streaming performances, the hits just keep on coming, but I sure wish more musicians would use the Illinois Times music calendar. To me, it would add some normalcy in these abnormal times to see events listed somewhat like they used to be and your virtual events would also be better attended, I believe. Please send show info to us through calendar@illinoistimes.com or submit on IT's website per usual and let's get the listings going online for now. A few performances up for this weekend include Stuart Smith at 7 p.m. on Friday, playing his Sun EP front to back using the instruments used on the recording, and Friday at 8 p.m. Brushville begins live streaming from WFMB-FM's Facebook page, plus Cowboy Randy Erwin keeps making his Take a Break shows come alive every Saturday night at 8 p.m. Check our music listings for other shows happening this week. I've been waiting a while to say that again.
On April 13, 2020, we lost a legendary local musician, when the guy known to most of us simply as "Spibb" passed away at the age of 91. George W. "Spibb" Woodard was a lifetime pedal steel guitar player who also owned Spibb's Music Shop and was an outstanding musician, as well as being a friend, mentor and music mate to many folks in central Illinois.
Until next time, carry on and carry over, with much care.