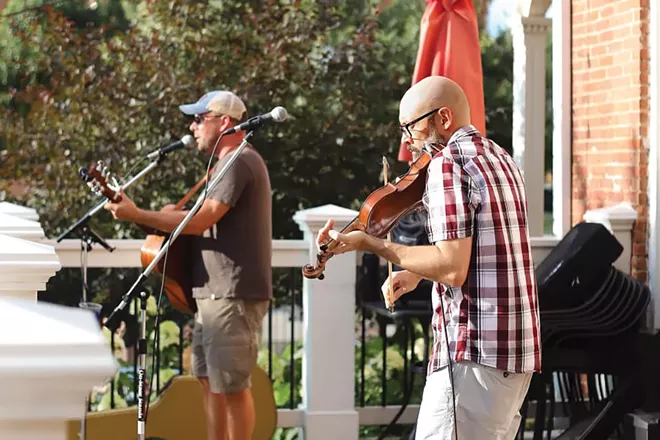 This has most certainly been a wild roller coaster ride over the last few months and the ups, downs, ins, outs and around the bends are still happening for sure, on many levels. Let's first continue to thank those still working on the front line of coronavirus battles, send our condolences to all directly affected by COVID-19 and support officials trying to do their best to make this all work out for the better. With Phase Four of our Restore Illinois plan going into effect this Friday, inside areas of bars and restaurants are allowed to open, albeit at lowered levels of people than before in order to keep the bug at bay.
Even with the opening up of indoor spaces, outside is still the safest spot to be, and during this time of year, the most popular place to experience live music anyway. Since Illinois Times hits the streets in print on Thursdays, I never seem to get around to mentioning the weekly Wednesday night live music at Obed & Isaac's outdoors, so let's go forward by going backward. By the time you read this, Jason McKenzie will have already performed on June 24, but coming up on next Wednesday evening, July 1, the darn-good duo of Jeff Berendt (singing and strumming) and Schy Willmore (picking and bowing), popularly known by the most clever group moniker in town of Me, Myself and Schy, take the beer garden stage playing some of the coolest Americana tunes you'll hear from anyone around.
In the "here's something different" category, the Route 66 Twin Drive In near Knight's Action Park presents a nationally broadcast concert by none other than country superstar Garth Brooks this Saturday, June 27. Promoted by Encore Live, the show is specifically designed for use at drive ins, so you just go to the online link, buy your tickets and go. The rules say one ticket admits one standard passenger car or SUV (no RVs or 20 folks in the back of a pickup truck for you guys already thinking about that), with six Garth fans allowed per vehicle, and everyone must be able to wear a seatbelt. The music will be broadcast via FM radio and, just an FYI, Encore recommends bringing a stand-alone radio with you to save your car battery.
Also, in an almost post-pandemic, new normal move, the Levitt AMP music series that was to happen downtown at the Y-block every Thursday night this summer, has now gone virtual. They started last Saturday and continue on through Aug. 16 with 20 concerts happening, featuring music artists from all over the country who were scheduled to perform at the live concerts. Our very own act, The Deep Hollow, is on the bill for July 24 and all this is available free of charge at levittamp.org/virtual, plus you can go to the site anytime and watch any of the shows after they've happened.
For very live music like it used to be, Buzz Bomb Brewing Company is hosting three days of performers outside in the blocked-off street on Adams in front of the good brew joint. Thursday brings 2FBs, Friday gives us Devin Williams and Saturday delivers Left Lane Cruiser.
It only took a worldwide pandemic for venues to be allowed to open up outside and in the streets. Let's hope we can keep it going after all this, like many other cities do all the time. Be sure to check out our print and online calendars where the music in the bars and clubs, streets and gardens is a-rolling back big time. Be safe and enjoy!