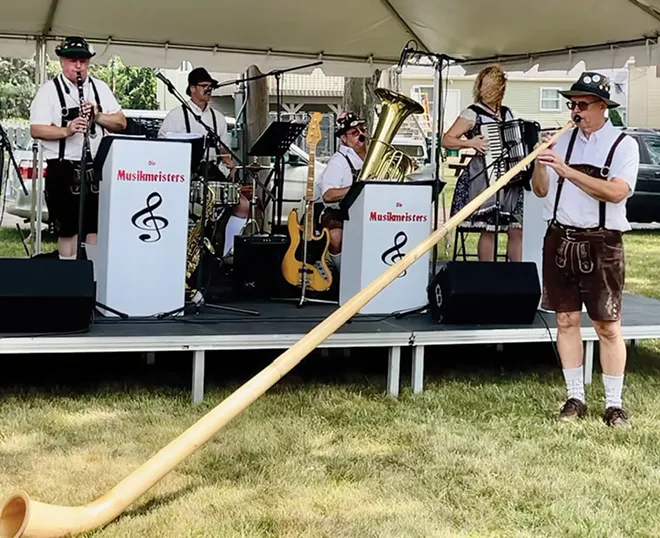 Good day, to anyone and everyone, anywhere and everywhere. Here I offer to you some meanderings, musings, ponderings and wonderings about our local music scene.
First, condolences go to the family of Pat Tavine, as we commemorate a local bar owner, music booker, story-teller and all-around larger-than-life guy. We lost Pat on Aug. 19, and he left behind a legacy in our world as one who always supported musicians in his clubs. Venues with live music at their core that he ran included the old Lake Club, Lake Club II, On Broadway, The Spot and others, all stemming from his original business simply called Pat Tavine's, a neighborhood bar located at Chatham and Wabash that opened in 1970. Thanks, Pat, for all the music you kept going and for all the stories and good times associated with the company you kept and the bars you ran. RIP.
I've been waiting for way too long to talk about Dr. Swing, a forever friend of music in Springfield. Otherwise known as Bill Hickerson, this veteran of radio (and an excellent musician too) with an encyclopedic memory (remember those book things?) of jazz, big band, classical and many other genres of music, was last heard on the radio airwaves as a DJ on WQNA. Now you can catch him live and online at DrSwing.net, every Sunday morning (8 a.m.-noon), as well as his Happy Hour shows every Monday, Wednesday and Friday (4-6 p.m.). Get to listening and be sure to call in to say hello to Bill and make requests. And if you can keep up with his wild wit, quick quotes and bountiful banter, as only the good Doctor can deliver, maybe you'll get on the air, too.
Saturday is Sept. 11, a date forever locked into our national consciousness as 9/11. Lincoln Library, our municipal public library at Seventh and Capitol, commemorates the 20-year anniversary of that fateful day with a Saturday morning program called Lincoln Library Remembers: Never Forget, featuring a Reveal of Senbazuru at 10:30, Remembrance by Kathyrn Harris at 10:40 and then an hour set of live music performance by me starting around 11. There will be an exhibit opening as well, "September 11, 2001: The Day That Changed the World," which runs until Sept. 18. The event is open to the public, so please plan to attend or in some way acknowledge the day in remembrance.
This Saturday from 12-10 p.m., our friends out at the Knights of Columbus Hall on Meadowbrook Road are back with another wild, wooly and wonderful Oktoberfest. Along with food (German and otherwise) and fun (all kinds for you to make), there, of course, will be live music brought to you by three authentic German bands. Break out the lederhosen as Die Musikmeisters (Chicago), Die Spietsbaum (St. Louis) and the Heidelberg German Band (Quincy) do the polka and such, throughout the day and into the "nacht" for your enjoyment.
Lincoln's New Salem State Historic Site hosts a Bluegrass Festival on Friday and Saturday evening in the Kelso Hollow outdoor theater, home of the Theater in the Park shows of years past (and future!) with bands from all over the Midwest playing bluegrass music. From 10 a.m. to 4 p.m. on Saturday, musicians play traditional music throughout the village on instruments such as mountain and hammer dulcimers, concertinas, bones, spoons, autoharps, fiddles, banjos, mandolins and guitars. As in years past, impromptu jamming is encouraged, so bring along your trad instrument to join in the music making.
Enjoy, be safe and check out the listings for all those other happenings going on.