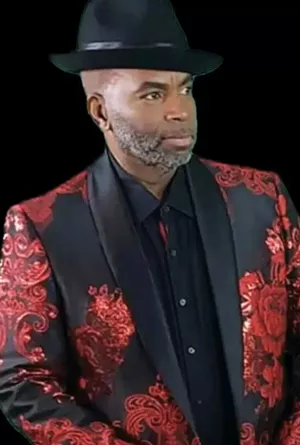 Get yourself all decked out for the hallowed halls and set up for fancy balls as we roll into the last weekend of doings before the big holiday cometh. With Christmas being on a Sunday this year, and therefore putting Christmas Eve on a Saturday night, here's a heads up that it is very possible, more than likely and pretty much a given, that next weekend will be lacking in live music. That being said, you may want to add a few more music-making moments into your life and go see some cool yule things happening right now.
Let's begin our adventures with a visit to It's All About Wine on Thursday as Elvis Himselvis (that's Rick Dunham in the sequined suit and with the fabulous voice) comes to sing Christmas songs and other stuff, with me trying to keep up on guitar accompaniment.
Downtown, Whiskey Jack's continues supporting blues music with the one, the only, Mr. "N'Treble" himself, Charles Tiner, leading a super group of musicians through the magical music maze, plus special guests spicing it up as entertainer Hexli Nadelkissen and vocalist Rebecca Graves join in on the fun.
My karaoke advice from last week still stands true with a shout out to my pal Tedd Ward, who called me up to leave a message demonstrating he did indeed know the names of all the original reindeer (not Olive, though) as stated in the beginning of "Rudolph, the Red-Nosed Reindeer."
Friday gets going with a special mention as Lick Creek brings their country rocking show to the Curve Inn with new bandmates Clint Brockmeyer on guitar and harmonica, plus Jim Cloney on bass and backing vocals, replacing departing longtime members Tyler Landess and Steve Gragert. This will be the first of many gigs with the new guys, and best of luck to all on all levels of this change in the weather.
In more of our many Friday shows, the Suburban Mystics play at Third Base doing trippy, cool pop songs you don't hear every day, Robert Sampson and pals kick out the jams at Boones for Friday NIght Jazz, Wowie Zowie returns to wow the Farmhouse Brews crowd at Harvest Market and Johnnie Owens brings his buttery singing voice to Buzz Bomb for a night of holiday songs and more. Pimpin Henry cools their jets at Weebles, Dave Lumsden delivers his Rhythm 'n' Blues show at Anchors Away, Bustin' Loose releases the Harris Family at Motorheads and George Ranks burns one with the Fireside Relics.
For a last, but certainly not least, Friday night show, The Deep Hollow presents their annual Happy Hollowdays performance upstairs at Arlington's. They've always made it a fun night with prizes for best holiday attire and deals on Deep Hollow merch, but this year includes a first-ever Bourbon Raffle with 100% of the proceeds to benefit Mini O'Beirne Crisis Nursery. Check the Facebook event page for details, so that after hearing a great concert, you may go home with a fine bottle of bourbon, just for helping out a good cause.
Oops, I almost did it again, but we have room for some Saturday night action when Ready for Petty runs down a dream at Goodfellas, Bruiser Queen comes up the Mississippi River to rockabilly-ize George Ranks, Joel Gragg and the Filaments light up the Blue Grouch, Blue Note Jazz Quintet sweetens the pot at Lime Street and Jeff Young and the Bad Grandpas get into trouble at Mowie's Cue.
There's much more going on this Sunday Funday and don't forget Wednesday is the final downtown Holiday Walk of 2022. Stay busy, elves.