Non-professional choirs and community choruses often write to world-famous venues hoping for a chance to sing inside. Cathedrals, castles, museums and other sites will appease amateur groups by allowing them to perform on the steps.

Earlier this year, Springfield's Marion van der Loo received a response from Notre Dame de Paris. Months earlier, as conductor of the Springfield Choral Society, she had mailed an audition CD. Officials from the renowned cathedral have invited her group to France this June – and they won't be singing on the steps. On June 15, the Springfield Choral Society will perform the entire Sunday morning mass in the gothic cathedral completed in 1345.
Van der Loo, a professional musician who began a career on the East Coast before coming to the Midwest to complete a doctoral residency in choral conducting at the University of Illinois Urbana-Champaign, is in her sixth year with the Springfield Choral Society. She spent 10 years as director of music at First Presbyterian Church and 12 years as director of the Illinois Symphony Chorus. It's the caliber of local musicians that has kept her from moving back East. "We have a chorus that nobody should expect to be able to see in a city of this size," she says. "It's a very fine group, and I would put it up against any I've heard."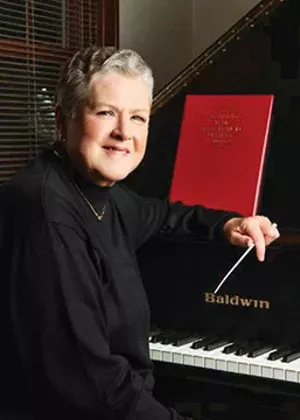 When van der Loo started with the organization in 2008, she was leading 23 vocalists. Now, she has between 60 and 70. Each member rehearses for more than two hours a week. When a concert approaches, rehearsals increase by two and van der Loo adds a retreat weekend. The singers are all unpaid, although the group is a mix of amateur, semi-pro and professional singers. "People come and go, but they come as often as they can because they all enjoy it. We feel like it's a service to the community to do this," says van der Loo. Each year the conductor looks for new ways to challenge the group. They've done everything from secular music to religious hymns and performed music from various classical and modern eras. The society even tackled a 64-minute a cappella Russian piece, and has performed Handel's Messiah in each of the last three years.
This year, van der Loo has put together a special performance designed in part to celebrate her 20 years in the central Illinois choral community. "I love Springfield, and I love being here," she says. The concert – "Psalms in the Sanctuary" – features compositions by three local musicians and lyrics taken from van der Loo's own poetry. The idea for the concert originated in 2011 when World Library Publications released van der Loo's verse in a book called Psalms From the Heart. Eventually, the Choral Society's board approached Dale Rogers, director of music and the arts at Westminster Presbyterian, Nicholas Young, a Millikin senior, and Alan Hommerding, editor at World Library Publications, to each choose a psalm and compose original music for it. "It's such a thrilling thing to hear my words come to life in this new dimension," she says, adding that the music is "painfully beautiful."
The talented and dedicated group continues to grow, and van der Loo says new, young members are an encouraging sign as she contemplates retirement in the next five to ten years. Still, she has to remind herself often that they are volunteers. "Maybe I push too hard sometimes, but that's because I love what we're doing together. I can't not do this," she says. For now, those involved with the Choral Society are forming close bonds and presenting great music in the capital city. The music, like van der Loo's poetry, comes from the heart.
Psalms in the Sanctuary is at 7:30 p.m. on Saturday, May 3, at Cathedral of the Immaculate Conception in Springfield, followed by a second performance at 4:30 p.m. on Sunday, May 4, at St. Joseph's Catholic Church in Chatham. Tickets cost $12 and are available at the door, via email to
springfieldchoralsociety@gmail.com
or by calling 217-787-4868.
Zach Baliva is a filmmaker and media producer living in Chatham.