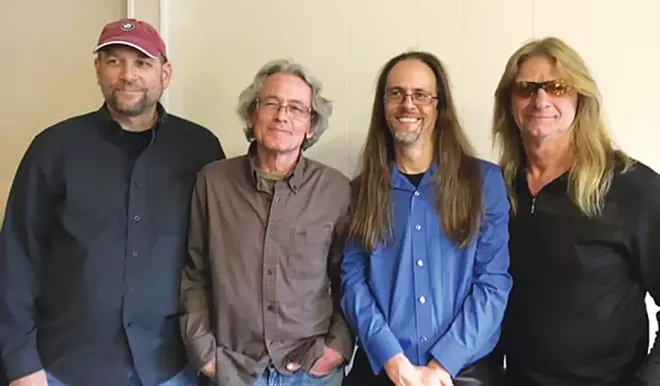 Hello everyone, and welcome to mid-June meanderings of the music scene. We can definitely say, the happenings are hot this weekend, if not downright sizzling. All weather-related kidding aside, please be mindful of the high temps and hefty humidity levels if you're listening to music outside in the heat. There's plenty to get fired up about, so let's burn it.
First, we invite one and all to Mark Kessler's Celebration of Life event on Sunday (3-7 p.m.) at the Curve Inn. Anyone who knew Mark, knew of his incredible interest and far-reaching, deep attraction to music — especially the loud, explosive, hard-hitting, rock 'n' roll kind. Owning a record store (for the uninitiated, before his untimely passing in April, Mark co-owned the venerable Recycled Records in downtown Springfield for decades with his brother Gary) rather implies that such a person would be a fan of recorded music, but Mark also dug a good, live, rockin' band as much as anyone and more than most.
Along with attending countless shows and concerts, Mark, through his capacity at Recycled Records, financially and physically supported many festivals, events and organizations around town that hosted live music. So how fitting it seems to enlist some of his many musician friends to rock out as we celebrate the extraordinary life and times of Mark Kessler. Rick Mari, one of our finest musicians, vocalists and guitarists, plus a dear comrade of Mark's for a long, long time, organized this event with a lineup of Irwin & Son, a Hipbone Sam Reunion, the Rick Mari Band and a Rolling Stones tribute to Mark's finale. Please join in as we give it up to Mark one more time, just as he gave his all for a lifetime in music.
Let's backtrack to Friday night (8-10:30 p.m.) when Dim Art House presents Spontaneous Combustions, a cool concert concept that combines improvisational expressionistic music makers with visual artists simultaneously doing impromptu art work. National touring act ACTUAL/ACTUAL (led by the sax stylings of Rent Romus of San Francisco) joins forces with free-form favorites from here, End Times Trio, to provide the music, while artist Christopher Tice, along with a couple TBA art folks, contribute the visual art creations. That just sounds like a wild and wonderful time of artistic exploration and experimentation transpiring in space.
Here's a fine and fun thing to do helping nature live while hearing live music, when Hope MacGregor and Buckhart Road supply the musical support for the Lewis Solstice Celebration fundraiser for the Lewis Park and Trails on Koke Mill Road from 4 to 7 p.m. on Saturday. There will be a food truck, craft vendors, a drum circle with Dennis Maberry and sound bath by Peggy Patty, plus a bags game contest, and it's all to fund taking care of the bridges and trails at this wooded, privately maintained, exceptional park area open to the public. I'm all in.
For nearby town activities, over in Decatur at the spectacular Devon Amphitheater, on Friday our friends in Off the Wall open for Marshall Charloff and the Purple Experience, who Kip Nelson of OtW claims is "the best Prince tribute band on the planet," and I'm going with that.
Down in Taylorville on Saturday at the Funky Monkey, Positively 4th Street, hot off a successful Sheedy Shores summer festival last weekend, hosts a CD release party for a batch of original P4S-performed, Tom Beverly-penned tunes.
And don't forget, over in New Berlin, the Sangamon County Fair is in full swing starting on Thursday with Grandstand and beer tent entertainment galore and more.
Be cool and stay cool.