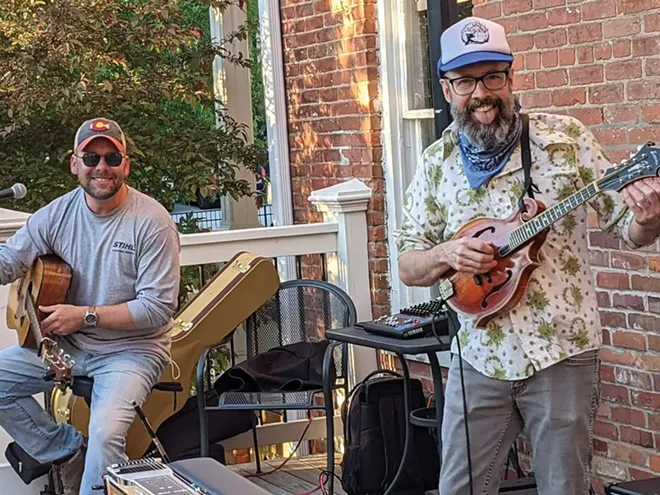 Do you remember the old CB radio craze days and how we learned to say things like "10-4, good buddy," and "breaker breaker"? Well, I couldn't pass on the "What's your 10-20?" phrase since it matched this Thursday's date, so here we go with a bunch of locations (the 10-20 code meaning) for live music in this Illinois Times issue of Oct. 10, 2022.
Fortunately, this Thursday is chock-full of the good stuff, and we can cover our bases well by hanging out here. We start our rounds by visiting the Curve Inn as the Mary Jo Curry Band takes the well-maintained and wonderfully run soundstage of Ric Major at the venerable venue. You can't go wrong with this combination of a fantastic blues band doing a bunch of good original songs as well as cool blues covers with a fantastic sound setup.
For more fantastical experiences, drift into Boones and slide on out into the beer garden area (should be OK temp-wise) for a night of Me, Myself & Schy, which is actually Jeff Berendt playing the parts of both "me and myself" with the multi-talented, multi-instrumentalist Schy Willmore being, well, being Schy, of course. It's a happening duo running through a nifty set list of Americana songs, including some quite familiar tunes and very likely others you're not so familiar with but will be pleased to get to know.
Moving to directly downtown, it's the Camp-Drake Quartet, which consists of Chris Camp on vocals and harmonica with John Drake on vocals and guitar, joined by a bass-and-drum team of I-don't-know-who, but probably will recognize when I drop in to see them play at Whiskey Jack's. Chris and John began as a duo doing blues and other stuff before making the very natural progression into a full four-piece band.
If we stay downtown, and we shall, let's head on over to the Butternut Hut for Birds of a Feather digging deep into the band Phish's well-stocked catalog. You don't even need to know the songs if you just know BOAF has Dave Littrell, Jeff Cunningham, Mike Tasch and Ron James in it. That should be all the information you need to hightail it to this showing of some of the best musicians in town playing away on intricately cool tunes. Then to almost complete our Thursday night romp, Joel Honey jams at Hickory River Smokehouse doing a wide variety of popular songs you will know and enjoy, all done in Joel's inimitable style, 'cause that's just what he does and how he does it.
For the last Thursday performance I will list, we have the extreme pleasure of locating ourselves in the Dana-Thomas House, directly into the room Frank Lloyd Wright designed for music to be listened to in. The concert series called Made for Music is presented through a community partnership by a long list of good folks including the University of Illinois School of Music, NPR Illinois, Illinois Symphony Orchestra and the Illinois Department of Natural Resources, and features the music of Brazilian native and jazz guitarist Jose Gobbo (is he in this column every week or what?) and Andrew Binder, a St. Louis-based, jazz bassist and composer. Get your required reservations ($10 suggested donation) by calling the Dana-Thomas House (217-792-6776) or visiting the Eventbrite ticket page for the show.
Any way it goes, that's a rocking cool night of music in good old Springfield on Thursday, Oct. 20, 2022, or for any time, for that matter. And to complete our celebration of the "ten-twenty" connection, I am stopping right there.
"Adios" and "roger and out" until next week.