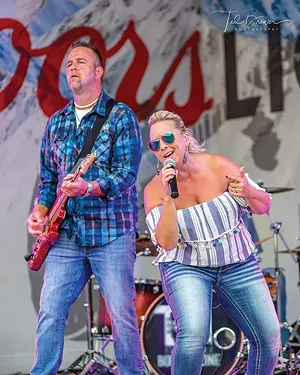 Welcome to our world as we are into the second issue of 2021 with a slight thaw in the live music freeze about to happen. Here come our first live gigs of the year with the promise and hope of more to come as the COVID vaccinations continue, our infection rates drop and, most importantly, folks consistently and without reservation, follow the necessary pandemic protocols helping to curb the spread of this virulent virus.
In this past year of very little in-person music, we've adapted to online live performances as seen from the screens of our electronic devices as our most frequent way of participating in this long- time human experience of casting out sound waves in a harmonic form created on instruments or through voices for the entertainment and enjoyment of a listening audience. It's not like it's a really new thing if we add television or even sneak in radio as a similar concept of broadcasting live music to be a purposefully experienced replacement of in-person performances, but still, the thrill of seeing, hearing and feeling music performed live gets your senses working overtime and makes you feel good like nothing else in the known universe can do in quite the same way.
According to a research paper published in 1983 (available online in Music Therapy Volume 3 Issue 1) called "The Effects of Live Music vs. Tape-Recorded Music on Hospitalized Cancer Patients" by Lucanne Magill Bailey, a graduate of New York University who developed the music therapy program at the Memorial Sloan-Kettering Cancer Center, live music truly makes a difference. She claims, "The live form of music presentation has an energizing element; it provides for a flow of energy from the source, the nearby human body, human voice, and guitar, to the listener... there is an automatic interchange of energy." She goes on to explain how singing and playing instruments allows musicians to become "charged" and when others come into contact with persons who are "charged" and are "emitting energized sounds through music," these "others" are likely to "become stimulated and their listening bodies respond by becoming energized as well."
So the fist-pumping fella who screams, "Dude, you guys are awesome!" or that young woman dancing who squeals, "OMG I love this song!" or even the ubiquitous and phonetic, "Woo-hoo!" shouted by an ecstatic music fan with a balanced bottle in his hand, surely must all be signs that live music is having an impact on their listening bodies while we're all getting "charged" together and loving every second of it. With that being said, we do have a few happenings this weekend for your charging pleasure.
For solo/duo acoustic-based gigs, The 70s Show, featuring the talents of Rickey Allen Meredith, rolls into the Springfield Carriage House on Friday (6 p.m.) and Saturday gives us Tulo+Eads at the Boars Nest in Athens (7:30 p.m.) and Black Velvet at Maddie's Tavern in Diveron (8 p.m.). The Curve Inn kicks off live music again, and with all regulations in order including limited seating, I am both happy and sad to report they are sold out for this weekend. But it's so wonderful to write about bands again and with the possibility of a waiting list, I must tell you, on Friday night Lick Creek rushes in and Saturday shoots us The Damned Torpedoes, plus next week brings us JackAsh on Friday and Hat Trick on Saturday (all shows are 6:30-9:30 p.m.).
Enjoy the live music carefully and safely, knowing we are winding our way through this stuff and will be back to regular business soon. Take good care until we can get "charged" again.