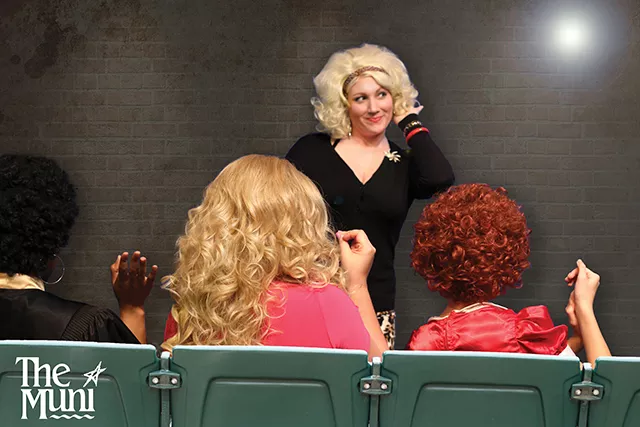 The Springfield Muni Opera is starting its 2018 season on skid row. Specifically, the cartoonish version of skid row which serves as the setting for Little Shop of Horrors. The cheerfully dark musical comedy, which opens Friday, June 1, follows a good-natured, nebbishy flower store employee named Seymour (Kevin Hart) as he inadvertently unleashes bedlam in the form of a ravenous, carnivorous and rapidly growing potted plant.

Little Shop is based on a dingy, weird, low-budget 1960 (non-musical) movie of the same name and absurd plotline – which featured a brief but memorable cameo by a very young, very manic, then-unknown Jack Nicholson. In the 1980s, this unlikely raw material was transformed into a long-running musical stage hit by composer Alan Menken and lyricist-playwright Howard Ashman, which made its way from off Broadway to London's West End, was made into a film starring Rick Moranis and Steve Martin in 1986 and finally landed on Broadway proper in 2003. Filled with witty dialogue, hummable 50s and 60s-style tunes and morbidly funny lyrical passages ("I've given you sunlight, I've given you rain," croons Seymour to the bloodthirsty plant early in the proceedings. "Looks like you're not happy unless I open a vein"), the Muni production of Little Shop – featuring a cast of 25 – promises a breezy and brisk opening to a high-energy season. Also in the cast are Courtney Wick as Seymour's love interest (and the killer plant's namesake) Audrey; Matt Ritz as sadistic greaser dentist Orin Scrivello; Jim Leach as cantankerous, Yiddish-inflected flower shop owner Mr. Mushnik; and Calia Cole, Lindsay Rudd and Brianna Gude-Price as the sassy girl-group Greek chorus, fittingly named Crystal, Chiffon and Ronette.
Founded in 1950, the Springfield Muni Opera has been in its current location at 815 E. Lake Shore Dr. since 1965. The outdoor amphitheatre, situated near Lake Springfield and seating around 800 audience members, is almost completely staffed by uncompensated volunteers (orchestra musicians are union members and are paid) and largely funded by private donors. The Muni has recently completed a major upgrade of its sound system, which will greatly improve audibility of dialogue and music from all seats and the lawn. The system includes new speakers and amplifier plus 24 body packs and wireless microphones which can be worn by actors hidden in their hair, on their faces or even on the inside rim of eyeglasses. There are also up to 25 microphones which can be deployed in the orchestra pit, allowing for a proper mix of all instruments, according to sound engineer Dan Shelton during a recent tour of the facilities. All sound and lighting cues at the Muni are programmed via computer and the soundboard is designed to be easy to shut down and stow in case of bad weather, always a consideration when running tech for an outdoor theater.
Another recent improvement to the Muni is the Lundgren Rubley Building which, beginning in the 2017 season, has served multiple functions, housing a shop where sets are built and stored as well as additional dressing room space for larger casts and much-improved bathroom facilities.
After Little Shop closes its doors, the rest of the season promises great fun. Sister Act, opening June 22, boasts a cast described by co-director Andrew Maynerich as having "a very strong female presence" (mainly because the characters are largely nuns). Fans of the original film will notice that the authentic 1960s pop hits such as "(Love is Like a) Heat Wave" and "I Will Follow Him," sung by Whoopi Goldberg's Deloris Van Cartier in the 1992 movie (Jasmine French in the Muni production) have been replaced with original songs with titles like "It's Good to be a Nun" and "Sunday Morning Fever." Otherwise, the storyline about a nightclub singer placed under witness protection inside of a convent to avoid retribution from her gangster ex-boyfriend (Lex Glover) is fairly faithful to its source material, outside of a shift in locale from the West Coast to the East.
Legally Blonde, opening July 13, is an "extremely upbeat, toe-tapping and empowering musical with songs that just stay with you forever," according to Muni publicity co-chair and apprentice director Craig McFarland. Also adapted from a film, the play tells the story of a fashion-fixated socialite and sorority sister named Elle Woods (Reese Witherspoon in the 2001 movie, Zoey Zara here) who semi-implausibly applies and is accepted to Harvard Law School in an attempt to win back an ex-boyfriend (Dalton McGhiey) and ends up surprising everyone, not least herself, by excelling at the law. Rounding out the Blonde cast are Ryan Fisher as fresh love interest Emmett Forrest; Eric Huber as the hard-nosed Professor Callahan; and Hope Cherry as defendant Brooke Wyndham, a fitness guru accused of murder.
Finally, Annie, opening Aug. 3, is being directed by Carly Shank, who knows a little bit about this particular production, having twice performed herself as an orphan in local productions of the beloved musical at ages eight and 10. Set on the Lower East Side of New York during the Great Depression and based on the long-running comic strip "Little Orphan Annie" (1924-2010), it follows the story of diminutive, parentless Annie (Caroline Dahlquist) as she escapes the clutches of intolerably cruel orphan master Miss Hannigan (Tiffany Williams) and winds up – spoiler alert! – under the benevolent tutelage of Oliver "Daddy" Warbucks (Gus Gordon).
Starting last year, the Muni began a new initiative called the Muni Children's Audition Program (MCAP). "About 150 or 200 children audition at Muni every year," said McFarland. "This year Annie only cast 15." MCAP is a free workshop open to any child who auditioned for, but was not cast in, a Muni show. Participants will learn the nuts and bolts of the audition process along with some basic instructions in movement, dance and singing – and then give their own standalone performance at the Muni, to be held the weekend after Annie closes. "It helps to build confidence for their next audition and a chance to experience what it's like to be on the Muni stage," said McLaughlin.
Little Shop of Horrors will run June 1-3 and 6-10; Sister Act, June 22-24 and June 27-July 1; Legally Blonde, July 13-15 and 18-22; and Annie, Aug. 3-5 and 8-12. For tickets to these shows or more information call 217-793-MUNI (6864) or visit www.themuni.org.
Scott Faingold can be reached at sfaingold@illinoistimes.com