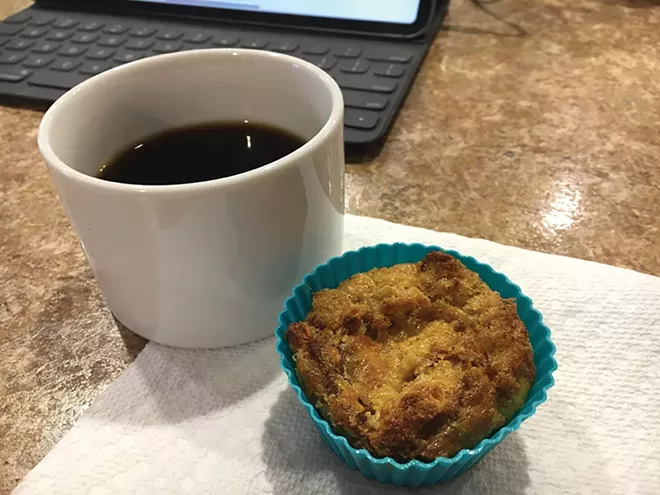 Stocking the freezer with ready-to-eat meals is a smart way for busy families to put home-cooked food on the table. Unfortunately, unless that casserole has had time to thaw it's going to be a while before supper is ready. A frozen 9x13 inch casserole will take at least 90 minutes or more to bake, which is a problem when there are hungry kids and tired grownups waiting on dinner.


Instead of freezing one large casserole, try freezing individual portions in lined muffin tins. Practically any freezer-friendly casserole recipe adapts well to prepping in a muffin tin, and once they are frozen solid they can be popped out of the tin and transferred to a zip-top freezer bag for storage. Reusable silicone muffin cup liners work particularly well, but paper or foil baking cups are also fine. This method is perfectly suited for busy families with children of varied ages and scattered schedules, as well as for grownups looking for help with portion control or for teenagers who need to fix their own dinner before practice or work.


Chicken, broccoli and rice casserole bites


This can-free casserole recipe is freezer-friendly and infinitely adaptable. Substitute whatever type of cooked grain you prefer (cooked pasta or frozen shredded hashbrowns also work), and feel free to change out the veggies (spinach and artichoke is a delicious combination) or meat as you please. This recipe makes enough to fill one deep 9x13 casserole dish or about 40 individual muffin cups, and it can be easily scaled up or down. I usually fill a three-quart baking dish to have for dinner on the day I make it, leaving enough for about a dozen muffin cups to stash in the freezer for another day.
4 tablespoons butter, divided
1 large onion, diced
2-3 stalks celery, diced
2 cloves garlic, minced or use ½ teaspoon garlic powder
2 cups chicken stock, unsalted
1 tablespoon cornstarch
2 tablespoons Dijon mustard
8 oz cream cheese (regular or low-fat)
½ cup sour cream or plain Greek yogurt
4 cups diced cooked chicken, about one whole chicken or four breasts
4 cups roughly chopped broccoli
4 cups cooked rice (I like to use a combination of brown and wild rice)
½ cup chopped fresh parsley
8 ounces grated cheddar cheese
1 cup panko breadcrumbs
1/4-1/2 cup grated Parmesan cheese


Place the chopped broccoli in a microwave-safe bowl and add a splash of water. Cover the bowl and microwave for four minutes. Be careful of steam when you remove the lid. Rinse the broccoli under cold water to stop it cooking, drain and set aside.
Melt two tablespoons of the butter in a heavy bottomed skillet over medium- high heat. Add the onion, celery and garlic and sauté until softened and just beginning to turn golden, about 5 minutes. Reduce the heat to low and add the cream cheese, stirring until melted.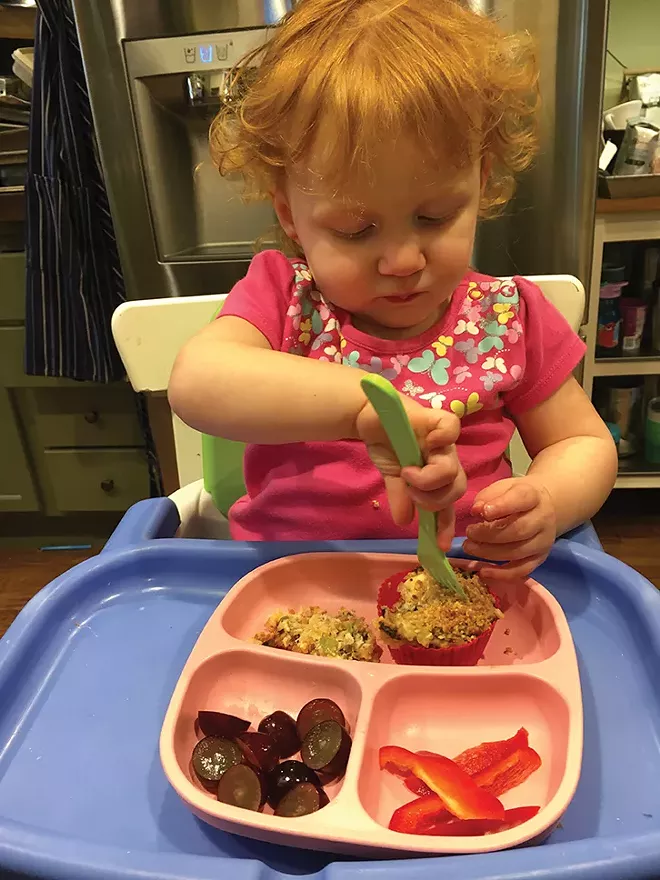 In a large mixing bowl, whisk the cornstarch into the chicken stock, stirring until no lumps remain. Add the mustard and sour cream and whisk until well combined. To that add the chicken, broccoli, rice, parsley and the cooked onion-cream cheese mixture. Mix well, then add the grated cheese and mix until throughly combined. Season to taste with salt and black pepper. Transfer into a greased baking dish or paper-lined muffin tins.


Melt the remaining butter and combine with the bread crumbs and Parmesan. Evenly distribute over the top of the cups or casserole. At this point they can be baked or frozen.


When ready to bake, preheat the oven to 350 degrees. Bake frozen casserole bites for 35 minute until bubbling and the topping is golden brown. This should only take about 20-25 minutes if thawed. Let rest for 5 minutes before serving.


French toast bites


4-5 slices stale whole-grain bread
6 eggs
2 ½ cups milk
3 tablespoons melted butter
¼ teaspoon grated nutmeg or cinnamon, to taste
A pinch of salt
Maple syrup or powdered sugar, to serve.


Line a 12-cup muffin pan with muffin papers. Tear the bread into small pieces and divide it amongst the muffin cups. You want them full but not overflowing. Combine the eggs, milk, butter, spices and salt and mix throughly. Carefully pour the egg mixture over the bread in each muffin cup, leaving about one- fourth of an inch of headspace. Freeze immediately to bake later or preheat the oven to 350 degrees. They will take about 20 minutes to bake starting from room temperature or 35 minutes if frozen. Serve with maple syrup and powdered sugar, if desired. Leftovers will keep for about five days in the fridge.


Ashley Meyer of Springfield is a mom, a chef and a writer whose column appears regulary in Illinois Times.