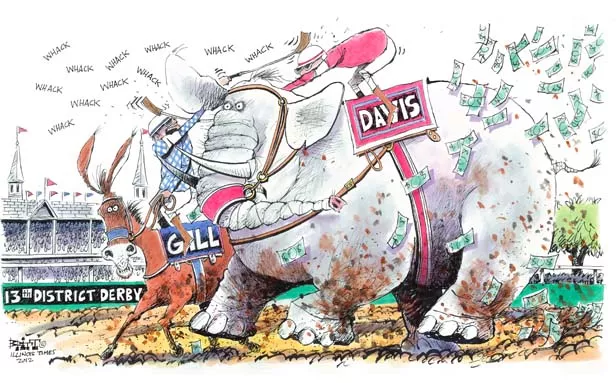 CORRECTION (10/04/12): An earlier version of this article indicated Republican Congressional candidate Rodney Davis fully supports the budget plan created by Rep. Paul Ryan of Wisconsin. That is incorrect. While Davis has said he likes parts of the Ryan budget plan, he does not support it in its entirety. We apologize for the mischaracterization.


David Gill is an unabashed liberal, even in a time when "liberal" is a dirty word.

Gill is running for Congress in the 13th Congressional District as a Democrat, hoping to finally secure the seat in the U.S. House of Representatives that he has sought for the past eight years.

The 52-year-old emergency room doctor from Bloomington makes no bones about calling for higher taxes on high-grossing businesses and individuals or a government-financed health care system that goes well beyond the limits of the Affordable Care Act, known to Republicans as "Obamacare."

Gill's Republican opponent, Rodney Davis of Taylorville, is no less staunch in his politics. Listing among his influences former Illinois Gov. Jim Edgar and former President Ronald Reagan, the patron saint of Republicans, Davis' political platform meshes seamlessly with that of the GOP. In keeping with his Republican kin, Davis calls for lower taxes and proudly proclaims his intent to repeal the same health care law that Gill wants to expand.

And so voters in Illinois' new 13th Congressional District face a choice between polar opposites. On the left is David Gill, pushing an unflinchingly liberal agenda that focuses on the middle class and corporate influence in government. Rodney Davis stands on the right, beckoning with promises of a free-market utopia, lower taxes and drastically cut spending. (*See above.) For Davis, government is the problem; for Gill, government is the solution. The race is heating up, with negative ads, strong fundraising and a televised debate scheduled just days before the Nov. 6 election.

Meet the candidates
Rodney Davis, 42, is the Republican contender in the 13th District. Davis lives in Taylorville with his wife, Shannon, and their three children. He previously worked for 16 years as project coordinator for Rep. John Shimkus, R-Collinsville, a job he quit to run for office. Shimkus credits Davis with arranging funding for numerous public works projects, including Springfield's MacArthur Extension to I-72.

"Where I really saw him blossom was working with state agencies to figure out what they could do, what the federal government could do and what private groups could do," Shimkus said in a phone interview. "He's great at finding the right mix of funding to move a project forward."

Davis previously lost an election for state representative in 1996 and lost another for mayor of Taylorville in 2001.

In person, Davis seems confident and even willing to poke fun at himself.

"I think I've worn a suit more in the past four months than I had in the past four years before this campaign," he joked to reporters at a campaign stop in Springfield.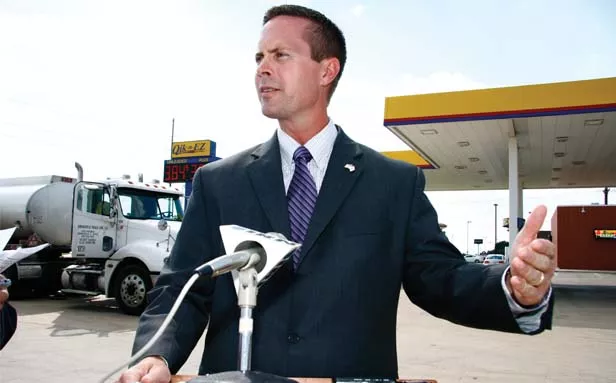 He is personable and seems comfortable interacting with potential voters, no doubt a result of having worked for Shimkus.

Davis was chosen by the Illinois Republican Party to replace retiring Rep. Tim Johnson, R-Urbana, when Johnson dropped out of the race after winning the primary election in March. Davis says that if elected, he'll do his best to reach "across the aisle" to Democrats in the House and find bipartisan solutions.

Davis likely stands to the right of Johnson on the political spectrum. Having worked for Shimkus, many of Davis' ideals mirror those of Shimkus himself. According to analysis of bill sponsorship done by the legislative tracking service GovTrack, Shimkus falls in the middle of the Republican pack in terms of ideology, while Johnson lands just right of several conservative Democrats.

Davis lists people like former presidents Ronald Reagan and Abraham Lincoln as having influenced his political beliefs. His main political hero, however, is former Illinois Gov. Jim Edgar, who served from 1991 to 1999. Davis didn't know Edgar during Edgar's two terms as governor, but Davis said he watched from afar as his hero turned the state's deficit into a surplus by rejecting costly projects, for which he earned the nickname "Governor No."

"He didn't make Republicans or Democrats happy, but instead put his political future on the line to make some tough decisions and do what was right," Davis said.

When Davis was chosen to run for office, Edgar endorsed him, saying voters ultimately want someone who will make tough decisions.

"We don't always get this quality of candidate," Edgar said during a June rally for Davis at the VFW in Taylorville. "We don't often get someone who runs for a new office; who really is prepared from Day One to do 100 percent."

Running on the Democratic ticket is David Gill, 52, an emergency room doctor at Advocate BroMenn Medical Center in Normal. Gill lives in Bloomington with his wife, Elaine, and their six children. Gill says he has been interested in politics since he was a young boy following the political careers of Bobby Kennedy and former President Jimmy Carter. It wasn't until 2002 that Gill decided to run for office, however. The moment of inspiration came when Gill discovered that Sen. Paul Wellstone, a progressive Democrat from Minnesota, had been killed in a plane crash.

"I decided we need 500 Wellstone-ian Democrats to go to Washington in his place to stand up for the things he believed in," Gill said. "He believed that the purpose of government is to serve the well-being of ordinary men and women, and that that only occurs if you have a government that isn't funded by Wall Street banks and big oil companies and drug companies and insurance companies."

Gill's politics reflect the "good-government" approach, in which the government is seen as a protector, a tool to be used for the greater good. According to this outlook, regulations are a necessity, and the wealthy should take care of the less fortunate.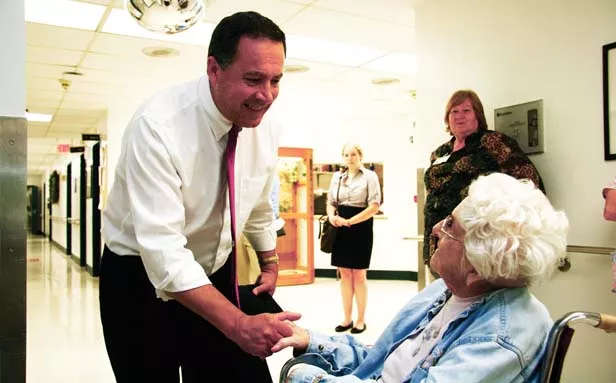 Gill was not the Democratic Party establishment's first choice. Instead, they favored a more moderate Democrat, Matt Goetten, who received thousands of dollars in contributions from several Democratic political committees during the Democratic primary campaign. Only after he defeated Goetten in the March primary did Gill begin receiving the vast majority of his contributions from Democratic political committees. That's also when the Democratic National Convention began running independent ads attacking Davis on Gill's behalf.

In person, Gill seems slightly uncomfortable selling himself as a candidate, despite having run for the same office three times previously. While he listens intently to voters' concerns and offers thoughtful responses, it's clear he is out of his element on the campaign trail. His hands move awkwardly during conversations, like those of someone who is more used to the intentional movements of an ER doctor. In an era where a political candidate's appearance and mannerisms can matter as much as his or her ideas, Gill will have to overcome his discomfort, especially during the upcoming televised debate planned for Nov. 1 by WILL-TV in Champaign-Urbana. Gill will undoubtedly appeal to hardline Democrats, but he may have to work harder to win the type of voter who would base his or her presidential pick on the question of "who would you rather have a beer with?"

High ground for Democrats?
The new district was drawn by Democrats in the Illinois General Assembly. Every 10 years, state lawmakers get to redraw districts for the Illinois House and Senate, as well as for seats in the U.S. House. If one political party controls both chambers of the General Assembly, that party can draw a district map that favors its own candidates and punishes the other party's candidates.



View 13th Congressional District in a larger map
The Democrats control both the Illinois House and Senate, and that's how the new 13th Congressional District got its shape. It starts in the eastern part of the state covering Champaign-Urbana, then heads east to pick up the western half of Bloomington-Normal. From there, the boundaries head south to include Decatur, then west again to encompass most of Springfield. Only the most western section of Springfield – which tends to be the area with the largest concentration of wealth – is left out of the new district. It then stretches west to the Mississippi River, picking up a large swath of southwestern Illinois that includes Carlinville and Edwardsville. The district attempts to encompass enough areas with left-leaning voters to ensure a Democrat victory.

Gill says he is confident that the district will do just that. He previously ran for Congress in 2004, 2006 and 2010, losing in the general election each time to Rep. Tim Johnson, R-Urbana. But Gill says the new 13th Congressional District is far more competitive than the 15th District it replaces. He points out that the new district was drawn to include more Democrat voters than the previous district, and past election data show that President Barack Obama won by 11 percentage points in 2008 in what would later become the 13th District.

Shortly after Johnson announced he wouldn't run again, Gill's campaign hired Democratic polling firm Victoria Research to survey likely voters. The poll results showed a generic Democrat beating a generic Republican in the 13th District by three percentage points. When voters were asked about the actual candidates, that margin increased to 10 percentage points in Gill's favor, he claims.

A more recent poll released Oct. 1 by Gill's campaign showed Gill one point ahead of Davis, with a count of 40-39. The poll, conducted by Victoria Research, shows eight percent of voters support independent candidate John Hartman, while the remaining 13 percent are undecided.

"To be frank with you, I don't know if I'd still be banging my head against the wall if a map hadn't shown up … where you at least have an even chance, that there wasn't a handicap just by having a 'D' after your name," Gill said.

Davis says he rejects the notion that the new district favors a Democrat. He points to the 2010 election, in which the area that would become this district chose Republican Mark Kirk for U.S. Senate over Democrat Alexi Giannoulias. He admits that the 14 counties comprising the district have voted Democrat in the past, but he says they now appear to be turning Republican.

"It's a true 50-50 district, drawn to be competitive," Davis says. "We're reaching out beyond partisan affiliation, and the response has been good so far."


Trading barbs and raising bucks
This race has been negative almost from the beginning, with name-calling, attack ads and accusations flying back and forth. Davis has accused Gill of calling for an end to Medicare, a charge Gill denies by saying he'd drastically expand Medicare to include everyone in the nation. Gill, in turn, has accused Davis of helping the Illinois Republican Party skirt campaign finance laws, which Davis denies.

The negative campaigning has even driven both sides to label the other as "radical." Measured against other members of their respective parties, neither candidate is particularly radical. Gill is most outspoken in his insistence that the U.S. needs a single-payer health care program – a common call among progressive Democrats. Meanwhile, Davis' platform is practically the same as that of the Republican National Committee, which hardly makes him radical.

However, both candidates do advocate for a profound departure from the current state of national affairs, which does make them radical in a sense. Gill's single-payer health care plan would create a nationalized system of paying for health care instead of the current privately-funded system. Davis, in step with the GOP, wants to drastically cut federal spending, reduce the federal deficit, and extend the Bush-era tax cuts for all tax brackets. (*See above.) If these ideas do qualify as radical, the question remains which brand of "radicalism" voters will prefer.

The candidates are pretty close in terms of fundraising, with each collecting more than $400,000 as of their last filing with the Federal Election Commission on June 30. Since then, both have raised thousands more through email solicitations and fundraising events. The difference between them lies in the types of donors giving them money.

The majority of Gill's reported $423,000 came from individual contributions. His latest filing shows $381,000 in total individual contributions, though about a third of the contributions – $129,000 – are not itemized because they're smaller than $200.

Gill accepted about $43,000 from Democrat-affiliated political action committees (PACs) and labor union groups, and an email sent to supporters on Oct. 1 claims he raised $45,000 in the preceding weekend alone.

Davis collected about $441,000 as of his FEC filing on June 30, which put him narrowly ahead of Gill. He, too, emailed supports to say he had raising thousands more since then. About $242,000 of Davis' already-reported total comes from individual contributions, with the remainder coming from Republican-affiliated PACs and business groups.

Gill reported 928 individual donations during the period from Jan. 1, 2011, to June 30, 2012, compared with 230 individual donations for Davis. Those numbers may be misleading, however, because Davis has only been campaigning since March 2012, and the non-itemized donations give no indication of how large or small those contributions were.

Gill criticizes Davis for his acceptance of contributions from corporate groups like insurance company Aetna, which also gave about $7 million to advocacy groups pushing for a repeal of the Affordable Care Act. Gill's campaign does not accept corporate PAC donations.

But Davis calls Gill "a hypocrite" for not refusing money from the Democratic National Committee, which ran an ad saying Davis orchestrated a money-laundering scheme for the Illinois Republican Party. The ad also said Davis was on a "clout list" of political favors kept by disgraced former governor George Ryan. The ad references a 1995 State Journal-Register article to claim that Ryan "got him started." What that means isn't spelled out in the ad.


Davis says he didn't know Ryan personally, though he worked in Ryan's office when Ryan was secretary of state and helped on Ryan's reelection campaign in 1994, according to the SJ-R article cited by the ad.

Davis, former executive director of the Illinois GOP in 2011, claims the money-laundering allegation merely refers to an occasion in which he introduced a wealthy Republican political donor to several Illinois county Republican Party heads. Early this year, Chicago billionaire couple Ken and Anne Griffin gave a combined total of $200,000 to several county Republican parties in chunks at or below the $10,000 federal limit. Several of those county party organizations later transferred a combined total of $120,000 to the Illinois Republican Party. The DNC's anti-Davis ad claims Davis orchestrated the scheme to circumvent campaign finance laws, though no charges have been filed in connection with the allegations.

Fundraising for both candidates has been helped by high-profile endorsements. Gill has U. S. Sen. Dick Durbin in his corner, along with Lt. Gov. Sheila Simon, former U.S. Rep. Phil Hare, the Illinois AFL-CIO and several other groups. Davis holds the favor of former Gov. Jim Edgar, Illinois Treasurer Dan Rutherford, the U.S. Chamber of Commerce and Illinois Chamber of Commerce, and others. Both candidates have also conducted extensive fundraising efforts through email, with each candidate using negative attacks against himself to underline the need to prevent the other from winning.

Meanwhile, independent candidate John Hartman has run an almost invisible campaign, only recently exceeding the $5,000 threshold on his campaign that requires reporting to the FEC. The Edwardsville-based candidate describes his political beliefs as

being based on ethics and knowledge. Hartman says he chose to run independently because he has been an independent for 30 years, and "it would be dishonest to pretend to be a Republican or Democrat."

"I think we need to get beyond trying to shoehorn all policy choices onto a right/left continuum," he said.

Listing Martin Luther King, Jr. as one of his political influences, Hartman says he feels confident he can compete with the two major party candidates. While out collecting signatures to get his name on the ballot, Hartman noted that nearly everyone he approached was willing to sign his petition.

"I think the people are completely fed up with what they have been given and are willing to give me a chance," he said.

The recent poll released by Gill's campaign puts Hartman at only eight percent, but Hartman may have a point about people being fed up. A nationwide poll released Sept. 26 by Rasmussen Reports shows only 36 percent of likely voters believe America is on the right track. As the Nov. 6 election nears, the candidates will continue to tap into that deep vein of dissatisfaction among voters. Barring an upset win by Hartman, either David Gill or Rodney Davis will soon represent central Illinois voters. The two main-party candidates represent two vastly different approaches to government, the economy, taxes, health care and nearly every other issue. The entire election can be viewed through the lens of corporations versus the government – a topic both Gill and Davis know well. Is government the clumsy, tax-dollar-slurping job-killer that Davis depicts, or is it a shield and sword to be used against modern robber barons, as Gill sees it? Voters in the 13th District will answer that fundamental question on Nov. 6, whether they realize it or not.

Contact Patrick Yeagle at pyeagle@illinoistimes.com.