Here's a trivia question for you: What do fu dogs, vintage trains and gas-fired glass have in common?
If you have been to the Monticello area, you know the answer. The three are highlights of a day trip 65 miles east of Springfield on I-72.
"Monticello is an easy drive and has a little something for everyone," says Shelly Crawford-Stock, executive director of the Monticello Chamber of Commerce and Tourism. "The Lincoln enthusiast, the nature lover, the railroad buff, the fan of historical architecture and the person looking for a unique shopping and dining experience" will all find something to enjoy in Piatt County.
You can find 22 of the blue porcelain fu dogs facing each other across a manicured lawn in one of the 14 formal gardens at Allerton Park, a few miles outside Monticello. Allerton, dubbed one of the seven wonders of Illinois, is a peaceful place to wander or eat a picnic lunch, especially as fall brings cooler temperatures and changing leaf color.
The free 1,500-acre park also houses the mansion built for Robert Allerton in 1900 and now run as a retreat center by the University of Illinois. Allerton was an art collector, artist and heir to his family's agricultural and business fortunes. He traveled the world acquiring sculptures, some of which grace the formal gardens.
In all, visitors can view more than 100 ornaments and sculptures, including the fu dogs, often used in Asian art as guardians against demon spirits. Allerton bought the mythological lion-dogs from European and American dealers, and the fearsome-looking creatures now sit atop pedestals against a backdrop of massive evergreens.
Visitors also can walk through the Avenue of the Chinese Musicians with its rows of sculptures to the walled Sunken Garden. A house garden with a green fu dog and a koi pond grace the mansion lawn.
Depending on the season, you can visit gardens full of peonies, bulb flowers and annual plants. Tall hedges line many of the walks and some gardens are wheelchair accessible.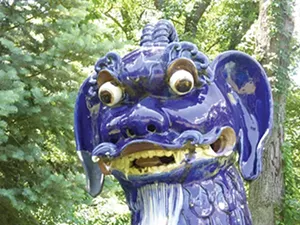 No visit to Allerton is complete without a walk or drive to the Sun Singer statue of the Greek god Apollo, where many visitors pose for a selfie with outstretched arms like the 16-foot-tall figure.
Because of the pandemic, the visitors' center, greenhouse café and water fountains are closed, but the mansion is open for lodging and special events. Restrooms and picnic areas are available while the grounds are open from 8 a.m. to sunset every day. Download a garden map before you arrive as signage is infrequent.
Allerton also is offering virtual tours of various trails and sites, which can be a good introduction to the area. Check the website allerton.illinois.edu for more information.
If you need an Abraham Lincoln fix, head to Bryant Cottage in nearby Bement. The state historic site is where Lincoln and Stephen Douglas met in 1858 to plan their famous debates. The four-room cottage is open for free viewing Thursday through Sunday from 9 a.m. to 5 p.m. from March to October and 9 to 4 November through February.
In Monticello, more history resides at the temporarily closed Railway Museum with its vintage train cars and railroad memorabilia. Normally, you can book rides for a train pulled by a diesel-electric engine every weekend between May and October or for a steam-engine train once a month, but the pandemic has derailed those this year. Even the popular Polar Express is cancelled for this winter, but the museum and rides should be back in 2021.
When operating, passengers can board the trains at either the main museum site on the outskirts of town or the downtown Wabash Depot, which remains open as the town's visitors center.
Downtown Monticello centers around the Courthouse Square Historic District, home to several unique shops including Prairie Fire Glass Studio and Gallery. Glass artist Jim Downey creates vases, bowls, decorations and jewelry and displays work from other local artists as well. The shop has been closed for regular hours during the pandemic, although Downey does brisk online sales. But you can make an appointment to shop in person and watch a glass-blowing demonstration by calling 217-762-3332.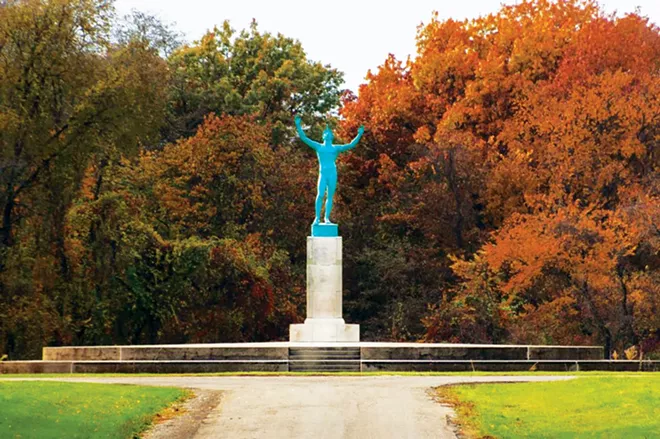 Downtown hosts a small farmers market on Thursday afternoons during garden season, a local bookstore, an unusual Polish pottery shop and several restaurants. One of those, the Brown Bag Deli, has been around for 40 years and offers soups, sandwiches and pies.
A few blocks south, the Monarch Brewing Company took over an old church building and serves craft beers, other liquor and food. You also can grab some treats for your dog at Bruno's Bakery and stock up on lures at Jay-Diz Fishing.
North of downtown is Millionaire Row, a several-block stretch of tree-lined North State Street with large, well-kept homes worthy of a city bigger than 6,000-resident Monticello.
But then again, the town, named for the Virginia estate of Thomas Jefferson and nearby home to all those fu dogs, is not an ordinary place.
For more information on the Monticello area, visit makeitmonticello.com
Mary Bohlen of Springfield writes about travel for Illinois Times. She taught journalism at University of Illinois Springfield for 30 years.