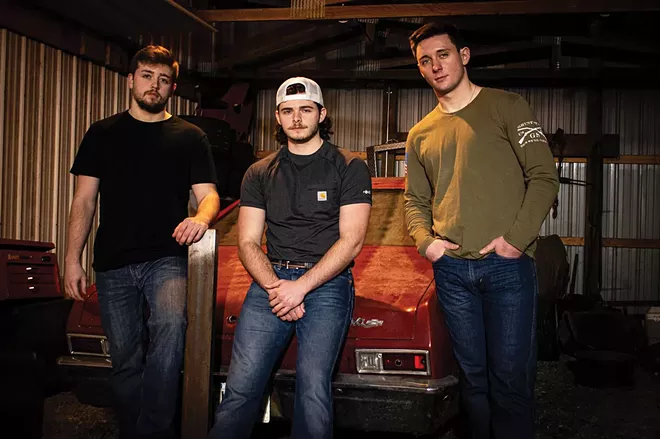 Well, now wasn't that a fun time of snow, shoveling, snow again, shoveling again, cancelled gigs, other gigs that weren't but probably should have been, and all kinds of delightful experiences we can happily move on from. This weekend looks to be a bit different weatherwise so let's see what's out there in the bars and clubs without much concern of scheduling changes.
Thursdays are still slim pickings for live music, but Whisky Jack's downtown on Fifth and Monroe is doing its best to beef up the night. This week, blues singer, songwriter and guitarist Timo Arthur sets up shop from 7 to 10 p.m. Timo, an extremely accomplished player who's been touring with Brandon Santini for years, lined up Eric Tinsley on bass (he ain't no slouch either) and the one-and-only Michael Wallace on drums to join in on the music-making.
In two weeks, on Feb. 24, your friend and mine, Johnny Burgin, rolls into town for a Thursday night gig. Also, Whiskey Jack's has Joel Honey and Silas Tockey hosting a killer open mic on Mondays. This Saturday, Downstate, an acoustic-based trio of Conor McCormick, Griffin Eggleston and Garrett Eggleston, hits the window stage area bringing family harmonies to cool country songs with a true passion. And here's a thanks to Whiskey Jack's for keeping things going in that special spot where so much has happened in our Springfield music scene.
Look who's back and playing at the Curve Inn on Friday night when Out of the Woods is out for a gig and onto Ric Major's soundstage. You can expect a whole bunch of good rockin' tonight as these guys are well-primed to do just that as they have done many times before and will do many times more.
Also on Friday, the Cocktails head over to Coonrod's to try again after the snow cancelled them out last week. You know, you can't keep a good cocktail down, or something like that, anyway. Saturday at Buzz Bomb, we have some visitors from out of town when Jonah Leatherman and his band drop in from Fort Wayne, Indiana, to rock 'n' roll the brewing company. Check our listings for much more music all over town through the weekend.
Before I get out of here, here's a happy birthday shout-out to Tiffany Riech, half of the Tangents, along with Casey Cantrall doing the other part of the duo. I missed telling you about her Dirty Thirty birthday jam at Coni's this past Wednesday, but I can direct you to three chances this weekend to see this terrific twosome and wish Tiffany a happy belated birthday. Friday, The Tangents land at Mowie's Cue, Saturday takes them to Golden Fox Brewing in Decatur, a cool spot that's been booking lots of Springfield talent lately, and Sunday you will find TIffany and Casey singing, playing and entertaining at Slauterhouse Brewing in Auburn. How's that for a weekend run? I love to see musicians working hard, staying busy and making it happen, I really, really do.
Let's wrap up with a nod to LiL Higgy and the House Reckers, tearing up the Alamo on Monday with some harmonica-driven, old-school boogie woogie, foot-stompin' blues. As always, Whiskey Ben's spirit will be floating along in the ether, soaking up the sweet sounds. It's a bit down the road, but on May 28, there will be a Ben Pope Celebration of Life at the Uptown Saloon in Farmersville hosted by Higgy and the boys. Let's celebrate that life gone too soon.
Until next week, stay safe and warm.