Until the mid-1850s or so, much of Springfield was a mud bog. For decades our dirt streets were filled with trash and mud, and in summer, pools of rainwater stagnated on the streets and combined with refuse from roaming livestock to make the place smelly as well.

Perhaps it's no surprise then, that some Springfieldians fled our town for cleaner, drier pastures north of here. In doing so they helped settle new towns, like Mt. Pulaski, which will celebrate its 175th anniversary over the Fourth of July weekend.

Although the first government land sale in that area was in 1824, the town wasn't created until 1836 when former Springfield merchant Jabez Capps and several others moved there. According to Mt. Pulaski's website (www.mtpulaskiil.com), the town got its name from Revolutionary War hero Casimir Pulaski, because the father of one of the settlers had fought in that war and knew his reputation. The History of Mt. Pulaski by Judge Lawrence B. Stringer, says, "As an evidence of the loyalty of the new (town) proprietors to the land of their adoption, they named the new town 'Pulaski,' in honor of the Polish nobleman who came to America during the Revolutionary War and offered his services as a private soldier to General (George) Washington."

Pulaski was a renowned soldier from Poland who had fought battles in Europe for countries seeking freedom. He offered to help the American colonies fight Britain and developed the colonies' first real cavalry. As a result he was called the "Father of the American Cavalry." Pulaski died from battle wounds received during the Revolutionary War. (The first Monday of March in Illinois is Casimir Pulaski Day.) The town of Pulaski added "Mount" to its name later.

The town is especially proud of its link to Abraham Lincoln, who argued cases in its courthouse while traveling the Eighth Judicial Circuit as a lawyer. That courthouse still stands and is one of two remaining original courthouses where Lincoln worked on the circuit. "We have hundreds of visitors to the courthouse every year," says Phil Bertoni, publicity chair for Mt. Pulaski's anniversary celebration.

"We were the Logan County seat from 1848 to 1855," he says. "Lincoln stayed in our town twice a year between 1849 and 1855" while he was working there. "He stayed with families in town because he didn't like the local hotel. It was greasy, uncomfortable, and the food wasn't good. One family he stayed with was Jabez Capps," the former Springfieldian and a founder of the town, "and the other was Thomas Lushbaugh, a merchant. The Lushbaughs used to live in Springfield across from the Lincolns on Eighth Street, and the Lincolns went across the street to the Lushbaughs to borrow coal."


In 1936, the Mt. Pulaski courthouse was named an Illinois State Historic Site. Contemporaries of Lincoln, including Bloomington's Judge David Davis and Stephen Douglas, Lincoln's political rival for the U.S. Senate, practiced there as well.

Another interesting period of Mt. Pulaski's history was Prohibition, when the town gained the nickname of "Vinegar Hill." Allegedly, the town continued to produce and sell liquor after it became illegal. "We were one of the last towns, if not the last, to go dry," Bertoni says.

"During Prohibition the bootleggers in town had to smuggle their beer and liquor out, so they decided to use vinegar barrels and pickle barrels, and put their booze in those," he adds. When trains neared Mt. Pulaski, "the conductor wouldn't say 'Here's Mt. Pulaski, the bootlegging capital of the world,' he'd just say, 'All out for Vinegar Hill!'"

The trains brought booze-seeking customers from many nearby towns, including Decatur, Clinton, Urbana, Springfield, Lincoln and Peoria. "I was told high school kids were on the payroll to load the barrels on the trains going out of Pulaski," Bertoni says. "I guess it was quite an operation!"

Mt. Pulaski has events planned throughout the year to celebrate its 175th anniversary, but the bulk of those activities will occur between July 1 and July 4. Every day there will be a variety of free music available throughout town, with bands playing music ranging from the 1800s to jazz to rock.

There will be activities for children, along with living history demonstrations, dueling pianos, food, a parade, wine tastings, an antique firearms demonstrations, fireworks on July 4 and much more.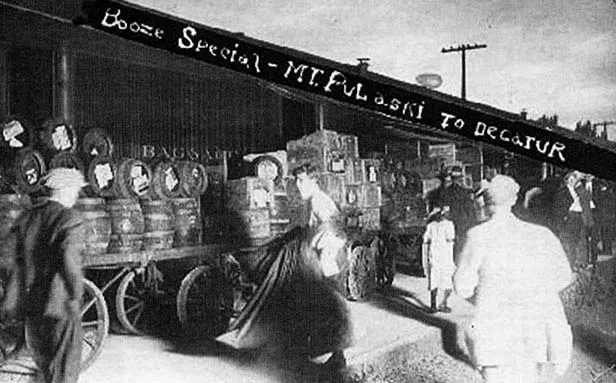 For a complete list of activities and a schedule, visit www.mtpulaskiil.com.

Contact Tara McAndrew at tmcand22@aol.com.