Mrs. Harris exudes charm
Based on his novel Mrs. Harris Goes to Paris, author Paul Gallico must have believed in the power of karma. It's certainly at play in this charming adaptation that tells the story of the titular English widow, a cleaning woman in the 1950s who longs to own a dress from the House of Dior. How she will get to Paris to choose a gown, let alone afford such a piece of haute couture are difficulties that need to be overcome, yet somehow hard work, good luck and more than a little divine intervention help her along the way.
In the title role, Lesley Manville wins us over by providing the character with a sense of strength and tenacity that has us rooting for her to achieve her modest dream. As directed by Anthony Fabian, the film trips along from one soon-to-be-vanquished catastrophe to the next, each solved with a dose of human kindness. While the film's tone and sensibility wouldn't have been out of place in the feel-good comedies of the 1930s, the sincere manner in which all involved embrace the notion of adhering to the Golden Rule makes for a heartfelt testament to the power and value of good deeds. In theaters.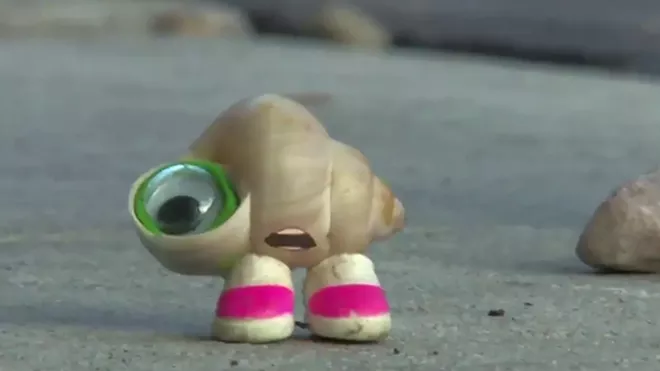 Sentiment trips up Marcel
Giving a negative review to a film like Marcel the Shell with Shoes, is akin to kicking a puppy. It shouldn't be done, and you're going to come off looking bad if you do. Yet this feel-good feature left me feeling manipulated rather than moved. Marcel (voice by Jenny Slate) and his grandmother, Connie (Isabella Rossellini), are shells who've achieved consciousness and are in search of the family they once lived with. A documentary about them becomes a cause celebre, and before you know it, people from around the country are volunteering to help in the search.
Without question, the movie's theme regarding the power of kindness needs to be shouted from the rooftops. Yet far too often, director Dean Fleischer-Camp lays the sentiment on with a trowel, pushing Marcel's naivete just a bit too far. Slate's affected, high-pitched voicework doesn't help, nor do abrupt cuts, overlapping conversations and quickly delivered dialogue. These factors conspire at times to keep the viewer at arm's distance, try as Slate might to charm us every step of the way. In theaters.
Black Bird delves into the mind of a killer
Based on the memoir In with the Devil, Apple TV's Black Bird is a slow-burn drama that recounts the efforts of convicted felon Jimmy Keane to get his sentence for drug trafficking commuted. All he must do is get serial killer Larry Hall to tell him where the body of one of his missing victims is. Piece of cake...
The relationship that forms between these two as they serve their sentences develops in fits and starts, Hall being slow to trust as he's found those he allows to get close often betray him. Paul Walter Hauser brings a sense of menacing naivete to the killer while Taron Egerton makes Keane nearly as deplorable, exuding a sense of unfettered arrogance. However, Greg Kinnear as a small-town investigator who was responsible for apprehending Hall, and Ray Liotta in one of his final roles as Keane's father, steal every scene they're in, the veterans wisely underplaying their parts, providing a baseline of normalcy that proves to be an effective counterpoint to the perversion in the principal story. Only two episodes in, the question of how far Keane will compromise himself to gain his freedom is the engine driving this compelling drama. Streaming on Apple TV.