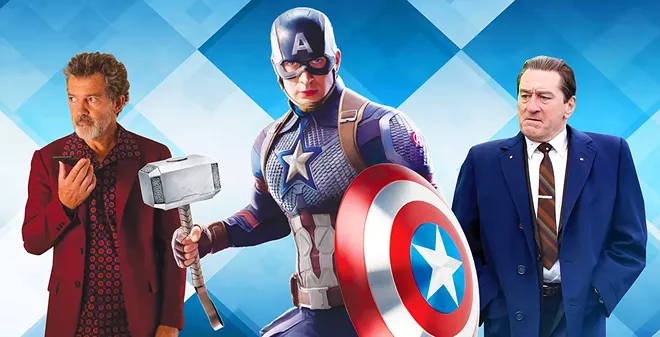 When film historians look back at 2019, they will note that this was the year when Netflix changed the cinematic landscape for good...or ill, depending on your point of view. Up until this year, the streaming service had only been a minor disruption on the movie landscape by producing its own fare, acquiring others' work or buying the big studios' castoffs (The Cloverfield Paradox, anyone?) before dipping its toe in the Oscar race with a multimillion-dollar push behind Alfonso Caron's Roma. It ultimately took home three of the gold statuettes but failed to nab the top prize, Best Picture. This year, they will not be deterred as they have two likely Best Picture nominees (The Irishman, Marriage Story) and a marketing team of 60 that will move heaven and earth to make sure those films stay in the spotlight until the ceremony on Feb. 9.
The fact that Netflix now has north of 160 million monthly subscribers, which translates to approximately $25 billion in subscription dollars annually, and that movie attendance has dropped for the 10th straight year, has executives at the remaining big studios sweating. However, the suits at 20th Century-Fox no longer have to worry, as they've been devoured by the beast that is Disney, the first studio to post annual ticket sales in excess of $10 billion. While the other majors fret, the Mouse House continues to dominate the market in a way that could ultimately run them afoul of antitrust laws.
Much like Disney, Warner Brothers and other studios are following their "If you can't beat 'em, join 'em" strategy where the Netflix problem is concerned and are simply starting their own streaming services. Disney-plus got off to a rousing start, signing on 10 million subscribers during its first month, with projections showing that number will double by year's end. Their wildly popular content is an obvious draw, but so is their initial price point of $6.99, the most affordable babysitter you could ever hope to find. Warner Brothers is hitching its star to HBO Max, a division of its studio, and will charge $15.99 a month for access to its vast catalog of films as well as HBO's programming slate as well. We'll have to wait until spring to see if this proves to be a wise strategy.
Perhaps the most disheartening thing about the film year was the quiet death of the mid-budget movie. Today, studios avoid modest, adult fare that may only set them back $25 million to $75 million. They, and their stockholders, are much more interested in betting big, ponying up $200 million or more in the hopes of producing an international hit that will bring in over $1 billion. Credit Warner Brothers for continuing at mid-budget, with The Goldfinch, Doctor Sleep, The Good Liar and Motherless Brooklyn, all films with price tags in the $50 million range. Unfortunately, each of these movies went down in flames at the box office, driving a few more nails in the coffin of studio-produced, adult entertainment.
However, that double-edged sword that is Netflix is more than eager to pick up the mantle, producing The Two Popes, Dolemite is my Name and The Irishman, all movies that were cast aside by the majors, only to find a home at the streamer. Yes, the company may be slowly killing the theater-going experience, but they produce films no one else will and that can't be ignored.
There were films I liked that you didn't (Anna, The Best of Enemies, Booksmart, Captive State, Dark Waters, Fighting with My Family, Hellboy, Missing Link, The Prodigy,), movies you liked that I didn't (Breakthrough, Glass, It Chapter 2, The Lion King, Maleficent: Mistress of Evil, The Upside, Us ), and those no one liked (Alita: Battle Agent, Charlie's Angels, Cold Pursuit, Dark Phoenix, The Goldfinch, Hustle, The Kitchen, MIB: International, Motherless Brooklyn, Serenity, Stuber).
In making this year's "Best of" list, one thing that struck me was that there was only one film that cracked the top 10 that was produced by a major studio. Almost every movie below was an independent production distributed with no help from the major studios. Risk-taking is over at Warner Brothers, Paramount, Sony and MGM and their bland fare is hardly proving successful. Yes, this is the dawning of the Netflix Era and perhaps the beginning of the end of the Hollywood studios as we know them.


The Irishman – With a budget of nearly $160 million, it would seem odd to call Martin Scorsese's masterpiece a small film. Yet there's an intimacy to the movie that cuts to the eternal dilemma its titular character, hitman Frank Sheeran (Robert DeNiro) must contend with. This isn't simply another gangster movie. It is an examination of what happens when you compromise your beliefs, and the toll it takes on your soul. DeNiro has never been better, subtly displaying Sheeran's anguish as he makes one morally questionable decision after another while climbing the ranks of the Philadelphia underworld and the Teamsters. Paired with Joe Pesci as crime boss Russell Bufalino, who gives the most quiet yet menacing performance of the year, and Al Pacino as Jimmy Hoffa, providing an unexpectedly poignant turn as a man desperate to remain relevant, this is an immersive experience that is perhaps the most emotionally relevant of Scorsese's works.


Uncut Gems – Directors Benny and Josh Safdie are an acquired taste. Their gritty, in-your-face, manic approach overshadowed their first three films, undercutting their hard-edged stories. However, they tone things down just enough to allow this tale of small-time hustler Howard Ratner, brilliantly played by Adam Sandler, to resonate. As their anti-hero's schemes come tumbling down around him, the directors' camera bores in even further on Sandler who fills the screen with a sense of misguided bravado and frantic desperation. Not for all tastes, this is a daring piece of cinema that signals a new direction for Sandler, and a welcome one.

Dark Waters – Amid the many social justice films released this year, Todd Haynes' examination of the suit brought against the chemical giant DuPont is the most arresting and infuriating of the lot. Mark Ruffalo has never been better as attorney Rob Bilott, a corporate lawyer who reluctantly takes on the case of West Virginia farmer Wilbur Tenant (Bill Camp) who believes the nearby DuPont plant is poisoning his land. Haynes sets out the facts of the case and pulls no punches in stoking a sense of simmering fury that drives Bilott. The viewer can't help but share the anger once the corporation's negligence is exposed. Fiery and poignant, this is necessary viewing. It speaks to the need to remain vigilant where corporate practices are concerned.

Pain & Glory – Pedro Almodovar's semi-autobiographical film has his longtime collaborator, Antonio Banderas, giving a career-best performance as a filmmaker hobbled by pain, drug addiction and doubt. Far from being a pity party, this is a celebration of the experiences that made him into the artist he becomes as we are treated to poignant flashbacks focusing on his relationship with his mother (Penelope Cruz) as well as scenes from a heartbreaking love affair. Quiet and moving, the filmmaker's ultimate triumph comes from taking stock of himself and, most importantly, asking for help in order to get back on his feet once more.

American Woman – The best movie you didn't see this year features an incredibly dynamic, fierce performance from Sienna Miller as Deb, a woman who never grew up, but is forced to change her life when her daughter goes missing and she's left to raise her grandson. The film takes place over 15 years and Deb's journey is a distinctly American one. She remakes herself into a woman who can be depended on, as well as a person who finds joy in helping others, rather than simply focusing on herself. A hidden gem, this is well worth seeking out.

Midsommar – While I felt that writer/director Ari Aster's Hereditary (2018) was one of the most overrated horror films in recent memory, Midsommar is one of the best. Florence Pugh gives a raw, daring performance as a lost young woman who finds herself in the most unexpected of places – a Swedish summer solstice ceremony that has dark undercurrents she and her fellow outsiders are cruelly unaware of. Aster takes his time, steadily building a sense of dread as he ingratiates his characters and viewers into this seemingly nonthreatening environment, only to reveal a culture that adheres to out-of-step notions about life and death. Vividly driving home the dangers of not questioning the status quo, this is a movie that resonates far after the credits roll.

Brittany Runs a Marathon – Promoted as a quirky comedy, Paul Colaizzo's film is a tale of personal redemption in which a young woman takes stock of her life and successfully pulls herself out of a pit of self-loathing. Jillian Bell gives an unexpectedly moving performance as Brittany, progressively finding her footing after contending with one setback after another, going from being everyone's doormat to a self-assured woman brimming with confidence. Surprisingly moving, this was one of Amazon Studios' few bright spots this year.

The Mustang – Based on a real rehabilitation program in which inmates are given a wild horse to tame, this film is driven by Matthias Schoenaerts' simmering performance as a convict desperately trying to make things right with his estranged daughter. The relationship he forms with his horse Marquis evolves into one of mutual understanding, as these two initially test each other before recognizing they're cut from the same cloth. Moving and haunting, the movie's final image has stayed with me the entire year.

Diane – Criminally underseen, this indie from writer/director Kent Jones was written especially for actor Mary Kay Place, who takes the meaty titular role and runs with it. Set in Pennsylvania, Diane lives a life of quiet regret and desperation, helping others in her community as a sort of self-imposed penance for perceived sins from her past. As she tries to reconcile with her drug-addicted son, she winds up finding the solace she needs in the most unexpected of places. A true slice-of-life, Place brings to life this common woman we all know, giving us pause to realize that those we often overlook or take for granted are worthy of our love and empathy.

Avengers: Endgame – With apologies to Martin Scorsese, I simply have to include the final chapter of Marvel Films' 22-movie saga, a conclusion that simply could not have been executed any better. Audience expectations were met, not simply from the standpoint of visual spectacle but, more importantly, in the emotional payoff that resulted from seeing the journey of the superhero characters we've come to know and love come to a satisfying end. No other movie had the epic feel of this grand adventure, which was bolstered by the emotional investment the studio nurtured so effectively.

Tied for 11th place
Noah Baumbach's heartbreaking and ultimately hopeful Marriage Story...Kenneth Branagh's revisionist Shakespeare tale All is True...Olivia Wilde's poignant and knowing Booksmart...Danny Boyle's musical fantasy Yesterday...Julius Onah's shocking and timely tale of modern teens Luce...Chris Butler's beautiful and touching Missing Link...Taika Waititi's sharp-edged satire about Nazi Germany Jojo Rabbit... James Mangold's thrilling buddy film Ford v Ferrari...Marielle Heller's much-needed and moving A Beautiful Day in the Neighborhood...Rupert Evert's criminally underseen sci-fi parable Captive State...and Claire McCarthy's clever Hamlet redo Ophelia.

Chuck Koplinski sat through 139 new releases during 2019 to reach the above conclusions. He's been reviewing film for Illinois Times for 21 years and has loved every minute of it.