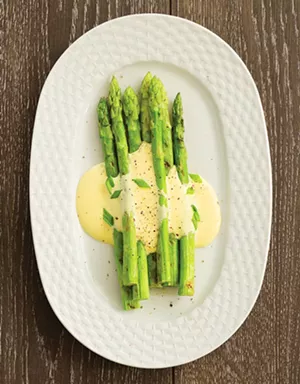 The first spears of asparagus began popping up through the soil in my garden last week. Likewise the spinach seeds that I planted way back in February are finally showing their true leaves and it won't be long until these much anticipated spring delicacies make their appearance on our table. When they do I know exactly how I'm going to serve them – swathed in bright, creamy sauce hollandaise. One of the five French "mother sauces," hollandaise is an essential component of Eggs Benedict, but it isn't limited to brunch. Drizzle it over plump spears of steamed asparagus, a fillet of grilled salmon or serve it alongside succulent sautéed spinach.
This mother sauce has several children, or delightful variations on the classic, such as sauce béarnaise, which is arguably the most luxurious steak sauce imaginable. Hollandaise is also open to nontraditional interpretations. Once you've mastered the method, try adding your own favorite flavors, such as a spoonful of smokey chipotles in adobo sauce, or substituting lime juice and cilantro for the lemon juice.
Hollandaise sauce is an emulsification of egg yolks, lemon juice and melted butter. Like so many classic French recipes, its preparation is at once simple and technically tricky. The traditional method of preparation involves whisking egg yolks and lemon juice over a double boiler before whisking in melted butter. The difficulty lies in not allowing the eggs to overheat and turn into scrambled eggs. And if the butter is poured in too fast the sauce can sometimes "break," or separate. If this happens, try whisking in a teaspoon of hot water a drop at a time to bring the sauce back together, or you can beat up another egg yolk then slowly whisk the broken sauce into the additional egg yolk. In truth, it's been a long time since I've used the double boiler method because I always have great success with the blender method outlined below. Purists may look down upon this technique, but it's generally pretty foolproof and less time-consuming to prepare.
Hollandaise sauce
8 ounces unsalted butter (use the best quality you can get your hands on)
3 egg yolks
1 1/2 tablespoons lemon juice
½ teaspoon grated lemon zest
1 tablespoon water
½ teaspoon salt (use less if using salted butter)
A pinch of cayenne (optional)
Classic method:
Melt the butter in a small saucepan. Place the egg yolks, lemon juice, water, salt and cayenne (if using) in the bowl of a double boiler or in a heatproof, nonreactive bowl set over a saucepan of barely simmering water. Whisk vigorously for about two minutes (be careful not to scramble the eggs) until the mixture begins to thicken and the whisk leaves a trail in the mixture. Remove from the heat and place the bowl on a rolled-up ring of dish towel to help stabilize the bowl. Whisking continuously, slowly drizzle in the melted butter until all the butter has been incorporated and the sauce is thick and creamy. Taste for seasoning and add more salt or lemon juice as needed. Use immediately (sauce can be held for 30 minutes by placing the uncovered bowl over hot (but not simmering) water off the heat. Whisk to incorporate before serving.
Blender method:
Place the egg yolk, lemon juice, water, salt and cayenne in the bowl of a blender. Melt butter in a saucepan until it's bubbling furiously. Then with the blender running, carefully and slowly drizzle the hot butter into the blender through the hole in the top. Continue to blend for about 30 seconds until thick and creamy. Serve immediately or keep warm as directed above. (The egg will not be fully cooked, so folks with compromised immune systems should consume this sauce at their discretion.)
Variations:
Sauce noisette: Brown the butter before incorporating it into the yolk mixture (for more on making brown butter check out https://www.illinoistimes.com/springfield/the-magic-of-brown-butter/Content?oid=12648343).
Sauce Maltese: Delicious with asparagus. Substitute 3 tablespoons blood orange juice and zest for the lemon juice and zest (or use regular oranges). Proceed with master recipe.
Sauce béarnaise: This makes ultra luxe steak sauce. In a small saucepan combine ¼ cup white wine vinegar with a finely minced shallot, a tablespoon of tarragon and ½ teaspoon cracked black pepper. Bring the mixture to a simmer and cook over medium-high heat for about two minutes until reduced by half. Let cool slightly. Replace the lemon juice in the master recipe with this shallot-vinegar mixture and proceed as directed.
Sauce Choron: This is also served as a classic steak sauce, but excellent with seafood such as salmon and lobster. If I'm planning to serve with fish and I'm feeling extra fancy I will sometimes omit the tarragon and add a pinch of saffron instead. Prepare the vinegar mixture as directed for sauce bearnaise. After the mixture has reduced, add one tablespoon tomato paste and proceed as directed in the master Hollandaise recipe.
Ashley Meyer is a fifth-generation gardener living in Springfield. She went a bit overboard this year and, when she's not writing or chasing her kids, she's nursing along over 1,800 flowers, tomatoes, peppers and eggplants that she started in her basement weeks ago. In the coming days she'll get to work starting cucumbers, zucchini, nasturtiums and who knows what else.