Music is in a constant state of flux. Bands form, perform, break up, get back together and eventually call it quits. Venues become established, switch hands, change names and get torn down. Genres increase and decrease in popularity, and they sometimes end up as dead as disco. Over nearly four decades, as popular music moved from genre to genre, Tom Irwin experienced and learned from it all. After all those years, he remains an integral icon of the Springfield music community and a constant source of inspiration.

Sitting in Gin Mill's beer garden in downtown Springfield, with the background sounds of up-and-coming musicians rocking out across the street at Dumb Records, Tom reflects on his relationship with the written word and the music that came to accompany it throughout his life.
"I never really had that dream of wanting to be a musician growing up; I wanted to be a writer," Tom remembers. "That was kind of my dream. I wrote poetry and stuff like fake Hardy Boys novels when I was in seventh grade. I always liked music, but for me the words always came first."
To become one of the most recognizable voices in the central Illinois music scene, Tom's journey was a winding one. As a bassist in high school, Tom and his best friend,Tom "Dooley" Woolsey, started a rock band called Zeus, which became popular enough to gain professional notice. They went to Minneapolis and learned the hard way that there are always people happy to scam the young and hopeful. Disillusioned, Tom went back to school to study writing. "I wasn't working – trying not to work, at least." He finished his associate's degree, but after another semester, he was done with school for a while.
Tom had to get a job. He found it at the Marine Bank Computer Center, where he met Terry Hupp, a guy who wrote great lyrics but didn't really play or sing. Hupp introduced him to the music of bands like Talking Heads and Gang of Four, which reignited Tom's interest in music, and they started a band called The Strand. Dooley, who had been down in Louisiana building bridges, came back to Springfield for the ride. Tom quit his job at the bank and got a job as an assistant manager at a record store. The pay wasn't as good, but that was fine with him since he didn't want to be locked into a day job. He has managed to avoid another full-time job since 1984.
As bands have a tendency to do, The Strand changed members and names, and when it seemed as though the band's final iteration, Condition 90, was on the verge of making it, the band broke up. "That's when I decided I'm not going to be in a band again. I'm just gonna get my acoustic guitar, and that's all I'm gonna do. So, I kinda taught myself guitar and started writing songs."
Tom was 28 when he got his first acoustic guitar. He moved to Nashville, moved back to Springfield after a few months. Back on his home turf, Tom started writing music that appealed to his sense of place, set aside his rock star aspirations and put out his first solo cassette, Cornucopia, in 1989.
"That's when I started on this adventure: Reading, writing and continually putting out records," Tom recalls. Throughout that time, musicians rotated in and out of Tom's life, and no real band name stuck. He focused on his life in Springfield, and he played music while writing about his experiences and things that piqued his interest. He also found little Irwins popping up over those years.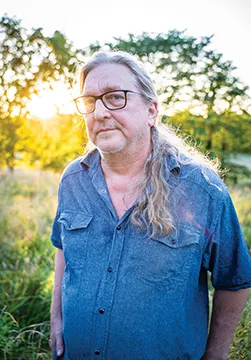 Tom didn't give up music for his kids. Asked if he considered it, he remembers thinking, "No, I'm not going to be that guy who's going to say, 'Well, I'm going to get a job and support you and give up all my dreams. I'm going to go for my dreams all the way, and that's how I'm going to support you: by doing what I want to do, and you know that you can do what you want to do too.'"
Over the years, people often asked why he stayed in Springfield and didn't spend more time pursuing fame on the road. "People have told me staying in one town and playing the same gig is kind of cheatin'," Tom chuckles. "Ya know, being a big fish in a small pond kind of thing. I never really believed that...it's very nice to be in the pond. You get lost out in the ocean, and then somebody's gonna eat ya up – and then you're gone. I think it's important to have that sense of place. On the road, you can lose contact with the real world. Sure, you can play every night, but I found a way to play every night and stay in my hometown and enjoy it."
Satisfied, Tom smiles when discussing his life's trajectory. "I have always followed my heart, followed what I wanted to do. I did it for myself, but I also did it because it gives people the chance to go, 'Well, he did it. So I can do it,' because I'm not anybody special. It was important to me for my kids, especially, and for other people who are out playing music now, to say, 'Yes, you can do that.' If they tell you you can't, just do it anyway. It's good for people, it's good for humanity, and it's good for the world."
Tom kept performing and surrounded himself with a myriad ensemble of extremely talented musicians too long to list. Always a fan of steady work, Tom moved from venue to venue in town, hosting open mics and rocking weekly performances until his brother-in-law, legendary bartender Mike Parkes, opened Brewhaus in 1994 and offered him a weekly gig on Sundays.
For many Springfieldians, it was experiences throughout the next 20-plus years of Sunday night Brewhaus performances that solidified Tom Irwin's position on their mental playlist. At times, the place had a leaky ceiling and sticky floors, but it was home to remarkable cocktails, Springfield's first extensive craft beer selection and an all-star bar staff. It was there Tom truly realized that "singing is an outpouring of the soul."
Starting in the summer of 2000, Tom started making some extra money writing articles for Illinois Times. His first-person narrative style and perspective made his stories both entertaining and informative while shining light on the local music and bar scenes. By filling that niche, he was able to continue steadily gigging and writing songs that spoke to him. His columns further established his voice in the Springfield music community.
Tom kept playing. Many musicians would develop wanderlust after 20 years at the same venue, but that was never the case for him. "That's the thing about staying in the same place and playing at the same place every Sunday," Tom explains. "People come in there and meet and get married. I played there long enough that I'd have people come up and say, 'My dad said I should come here and see you,' and I'd say, 'Where's your dad?' 'Well he don't go out anymore, but he said I should come see you play!'" Such experiences produce a bittersweet reaction for Tom, as they cause the length of his career to hit home.
Things always change. After surviving Springfield's smoking ban, the bar changed hands, and the stage was moved to extend the bar top and tap system. "I always say when the stage was taken out, that's when it was no longer the Brewhaus for me. That was it. Even though it got rained on and leaked, that was the Brewhaus," Tom recollects. "Is that your tip bucket? No, that's my drip bucket!"
Tom was disappointed when Brewhaus went in a different direction, but that's what happens in the music business. Brewhaus still has live music, but it doesn't feel the same to Tom. As he did in the past, he found a new spot for himself and his fans. He plays at George Rank's every Friday. While it could never replace his longtime musical home, Rank's does a great job presenting his tunes and providing libation for his thirsty fans.
Asked what advice he has for aspiring musicians and writers, Tom says, "You don't have to give up everything to do it, but you have to do it and keep doing it. You don't think about it. Your art, I mean. If you think it's bad, it's not up to you. If you get a chance to look back later...if you want to, then you can. Otherwise, you just keep going on to the next thing and hope that you get a chance to do it and hope that you're inspired to do it...that whole idea of leaving something behind for the world to see is kind of preposterous in a way."
A book could be filled with Tom Irwin's exploits and achievements. Given the chance, he's not shy to share a few over a pint or two. He has played with the best musicians in Springfield, opened for Willie Nelson in front of 4,000 people in his hometown, earned a master's degree, and recorded an album with a member of Wilco.
"The best part has been these later years," Tom says. "I feel like I kind of know how things work. If I want to write a song, I sit down and write a song. I feel okay going out and playing in front of people without feeling like I have to win them all over. If you just do what you do and don't worry about it, then people that like it will find you." It's nice to know that he intends to continue writing, performing, and allowing generations of the thirsty masses to find him. So, raise a glass to Springfield's Tom Irwin.
Jay Wheeler is a Springfield transplant from the Chicago suburbs. He is a freelance writer with an interest in intriguing characters and businesses. A bar manager by day, he helps organize the Downhome Music Festival and Fatass 5K. Contact him at jaywheeler882@gmail.com.