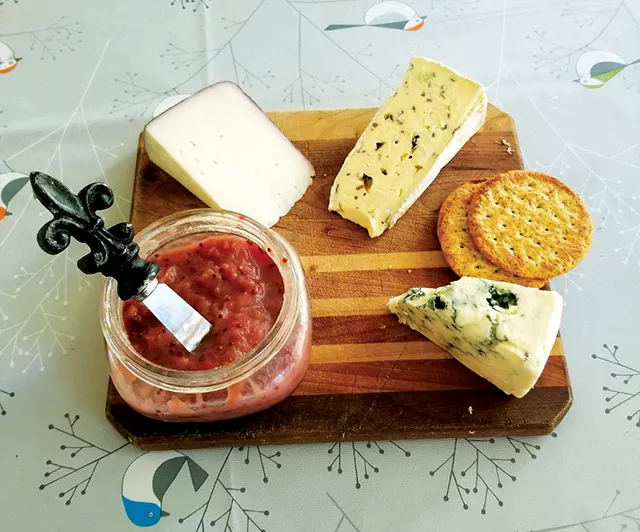 Last Saturday at the farmers market, I was attempting to make my way back to my car and head home, arms sore and tired from toting around an overflowing market basket and a hot and stroppy five-year-old. I ran into Michael Higgins, an old friend who is the chef and owner of Maldaner's Restaurant in downtown Springfield. He had just wrapped up a cooking demonstration when he beckoned us over.

"Did you guys get to try some of this rhubarb mostarda? Come have a taste!"
I hesitated, fearing that one more stop to chat would result in my child having a complete and utter meltdown right there on the street. She had been sulking because Incredibly Delicious had sold out of her favorite ham and cheese croissants by the time we'd gotten there, and none of the myriad of other foods available would satisfy her. Before I could decline Michael's offer, she jumped in and said, "I want to try it. I like rhubarb. I like mustard." Typical.
The sweet-savory condiment elicited a thumbs-up from my daughter, and I was flooded with memories from my wedding. Folks who know me won't be too surprised to learn that I made most of the food for my reception. I'd just opened a catering company and had more time than money. So, friends made the cake and, on the day of the wedding, assembled the food I'd prepped, but I spent the days before making sauces, marinating meat and preparing as much food in advance as possible. One of the items I made that week was a rhubarb mostarda to accompany the roasted lamb and smoked turkey that we were serving for dinner.
Mostarda is more of a relish than a mustard. Originating in Northern Italy, this bright, punchy condiment is traditionally made with candied or dried fruits, cooked in a syrup of sugar, sweet wine and mustard seeds. It is fabled that Catherine de Medici packed a jar in her dowry when she left Italy to marry the son of the King of France in 1533. While typically served alongside boiled and cured meats as part of a charcuterie plate, mostarda is equally at home on a cheese platter, as a topping for grilled meats, or as a way to upgrade an otherwise dull turkey sandwich.
Making your own mostarda is a simple and unexpected way to preserve the changing bounty of the seasons. Once the basic method is mastered, mostarda can be made with a wide variety of fruits and vegetables. Early in the season, make it with rhubarb or strawberries, with a good dose of crushed black pepper for extra kick. Mostarda made with peaches or tomatoes and little bits of candied ginger pairs perfectly well with grilled sausages or a cheese plate for dinner when it's simply too hot to turn on the stove. When the temperature cools down and apples, plums, pears and cranberries come into season you can put up a few jars to serve alongside your holiday turkey of ham or to give as a gift. The varieties that can be made are limited only by the cook's imagination.
While not strictly traditional, this mostarda recipe is similar in texture to a chutney, and deftly adapts to accommodate various types of fresh produce.
Strawberry-black pepper
• 1 ½ pounds strawberries, hulled and cut in half
• 1/2 cup red wine or water
• 1/3 to ½ cup sugar, depending on sweetness of berries
• 1 tablespoon balsamic vinegar
• 1 teaspoon cracked black pepper
Rhubarb
• 1 ½ pounds rhubarb, cut into ½-inch pieces
• ½ cup red wine or water
• 1 cup sugar
• 1 tablespoon cider vinegar
• 1 teaspoon whole cumin seeds
Orange-fennel
• 1 ½ cups sliced fennel bulb
• 2 oranges, zested and supremed
• ¼ cup white wine or water
• ½ cup sugar
• 1/3 cup cider vinegar
• 1 tablespoon fennel seeds
• ½ teaspoon red pepper flakes (optional)
Ginger-peach
• 1 1/2 pounds peeled and sliced peaches, either fresh or frozen
• 1/2 cup white wine or water
• 1/2 -2/3 cup sugar, depending on sweetness of peaches
• 1 tablespoon cider vinegar
• ½ cup chopped candied ginger
• ½ teaspoon crushed red pepper flakes
Apple
• 1 ½ pounds peeled and sliced apples (try using a mixture of varieties)
• ½ cup apple cider or water
• ½ cup to 1 cup sugar, depending on sweetness of the apples
• 1 tablespoon cider vinegar
• ½ cup golden raisins or currants
Sauté ¼ cup shallot or onion in 1 tablespoon butter or olive oil in a non reactive saucepan until softened, about 3-4 minutes. Add 2 tablespoons whole mustard seed, 1 tablespoon dried mustard powder, and 1 teaspoon salt, and all the ingredients for the variation you are preparing. Stir to combine and bring to a boil over medium high heat. Reduce heat and continue to simmer for about 20 minutes, until fruit is softened. Season to taste for salt and sugar. Your mostarda will taste better the next day, after the flavors have had a chance to marry overnight. It keeps for several weeks in the fridge or it can be canned.
Contact Ashley Meyer at Ashley@realcuisine.net.