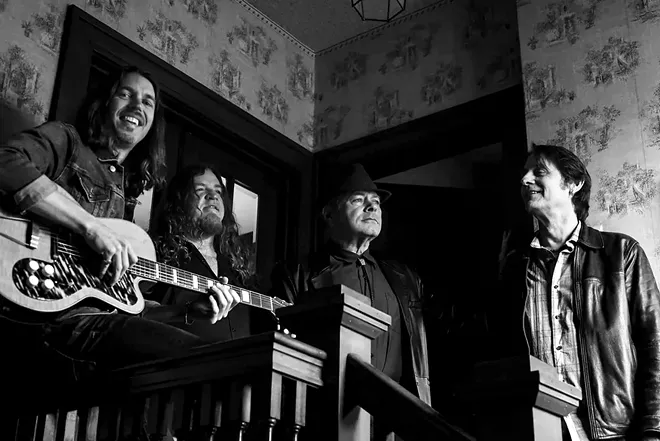 Greetings, fellow travelers, and welcome to our wonderful world of live music made right here in central Illinois. As we round the last lap of the Illinois State Fair, let's see what's happening on the fairgrounds and in town.
There are plenty of opportunities to encounter music at the fair, from national touring shows at the Grandstand to familiar area performers on the street stages all across the grounds and at those designated libations stations, commonly called beer tents. I would like to take this moment to remind everyone, coming from someone who has played the Grandstand, plus most of the stages and beer tents over the years, it takes a lot of behind-the-scenes work to make it all happen. We should be thankful and grateful for those who accomplish such a mammoth, and often overlooked, task. Thank you!
Because there's just too much to mention here, check out the ISF website for a complete list of who's playing where and when (but not what they're playing or why). Look under the section labeled Entertainment and go to the subsection Free Entertainment for a listings schedule for most of what concerns us here, other than the Grandstand groups, who are there in a subsection called, wait for it... Grandstand. While looking at the webpages, I spied in the General Information section a thing new to me at the fair called Webcams. Since this was approximately 9:23 in the evening on Monday, I was hard at work (haha) writing this piece, so there wasn't a whole lot of action going on. I did see some Giant Slide sliders and watched a squirming pile of piglets sleeping, plus got a glimpse of not much happening at the Village of Cultures, a good view of the butter cow's butt (seriously) and a constantly rotating, 360-degree shot from 80 feet in the air atop the high dive tower.
There are no cameras in the beer tents, and I will go out on a limb to express my deepest gratitude, to whom it may concern for that, even though those views could very well be the most interesting ones at the fair. But I digress, as they say, from our mission to discuss live music performances, so let's get back to it.
As we hit the town, be aware that every regular venue seems to be going full steam ahead with all kinds of absolutely terrific music. That includes the incredible Ivas John Band from southern Illinois back at Walnut Street Winery for the first time in years, the mighty grooving Ghost Town Blues Band from Memphis at Danenberger's Family VIneyards on Saturday and The Debbie Ross Band and Soul Experience at the Curve Inn on Thursday for a musical treat from some of Springfield's finest entertainers and musicians. Then Buzz Bomb hosts the touring group Asheville Southern Journal on Thursday, Jimmy Riemer plays his last Springfield show of the season at The Office on Friday and Gabe Marshall drives up from Nashville for a Saturday night blowout at the Blue Grouch.
In the midst of all this fair and more stuff, be sure to mark your calendars for the return of the Old Capitol Blues & BBQ festival held downtown next weekend, Aug. 27 and 28. Voted the best music festival in Springfield by our illustrious and perceptive readers time and time again, headliners for 2021 include Ana Popovic on Friday and Big Head Todd and the Monsters on Saturday, along with several local and regional artists performing as well, plus, of course, plenty of barbeque and beer.
Other than that, there's a ton more music in our listings to experience.