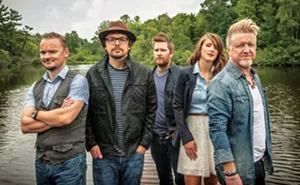 As we head into the second and final weekend of the 2015 Illinois State Fair, the dust has settled, the corn dogs are setting low and the beer tents are settling in with bands aplenty. Add all the regular townie venues to the fair action, and we can expect a spectacular run of music ahead.

You may have heard Homespun Republic closed recently. Formerly known as Donnie's Homespun (before that the Atrium, the Spot, Pizza Machine and other names), owner Neill Dresen put his heart and soul along with a substantial investment of time and money into the establishment but, in the end, decided to let it go. Thanks for all the great shows and good times, Neill. We will miss the Homespun experience and wish you the best.
In state fair entertainment news, a late congratulations goes to Don Smith for his 35th year in a row playing a gig at the fair with his band. They appeared last Sunday on the Lincoln Stage. Also, here's a shout out to Gene Acree, who played his first state fair 50 years ago at age nine drumming with his dad. He hasn't missed one since. See Gene at noon on Sunday with Elvis Himselvis at the Miller Tent. While we're at it, let's give a hand to all who made music happen at the fair this year. Hip, hip hooray!
Thursday is looking good around town at our regular venues. Anni Piper, the award-winning Australian blues bassist makes her third visit to our area this summer with a show at Walnut Street Winery during bocce ball time. Boondocks hosts the world renowned Celtic group Gaelic Storm for an all-ages show. Doors open at 7, and Theresa O'Hare and I, along with John Irwin, have the great honor of opening the show at 7:30. GS hits the stage at 8:30 with one of the most compelling and unique sounds around. From 6 to 9 at The Alamo during the James Armstrong Presents event Johnnie Owens sings up a storm with a wonderful group of backing musicians. This man can sing!
Friday, the Frank Parker Quartet takes Robbie's early evening spot. Frank plays with so many folks so it's a real treat to hear him and his horn at the helm for once. Bar None continues an exceptional Friday night run with Bruiser Queen, James and the Ultrasounds, Sammy and the Punk and The Incorporated taking the corner stage. Bernie has lined up some great music (as usual) in the upcoming weeks, so pay attention.
Saturday, Brooke Thomas & the Blue Suns rock Casey's Pub at 7:30. Jimmy Hopper, manager of the joint, booked a great lineup of local favorites and traveling bands all through the fall, so stay tuned as this place gets hopping. The Forty Niner plays host to BobStock for a night of metal mayhem featuring the area's most metal bands. The lineup includes What Thou Will, Porno Virus, Rotten Monster and several others, blasting out the hardest hitting music you will hear anywhere.
Also on Saturday, folk music fans rejoice as central Illinois favorites Finnegan's Wake host a concert at Edwards Place to celebrate the CD release of Quiver and Rattle. The group formed in 1973 when John Van Orman, William Furry and Bill Rintz hit it off picking old school folk traditionals. After years of playing steady, then off and on for a decade or two, the trio is back for a one-time local appearance, 42 years in the making. Check out the long and winding road of this tremendous folk ensemble at Van Orman's website and the group's Facebook page.
See you at the fair next year and all the time around town.
Contact Tom Irwin at tirwin@illinoistimes.com.