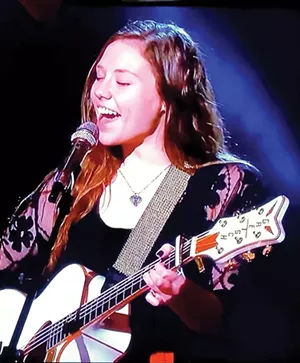 Last week sure seems like a lot longer ago than just last week, but time is relative and it's been in a relatively strange and peculiar mode as of late. I have no desire to dwell upon the recent changes that each of us has experienced in some form or another, but there's no way to write anything that doesn't speak to these times that definitely are a-changin'.
When Illinois Times hit the streets last Thursday, our intrepid crew in charge had already begun to alter our format of calendar listings. They now accommodate not only live streaming music listings, but things such as the YMCA offering online classes, area churches streaming services, Theater in the Park holding virtual auditions and listings of the many web-based programs available from museums. A profound change in our existence, for sure, but one that feeds our current needs by widening the path we've all been following in extending our internet information sources and opening new avenues to explore.
I decided to live stream on Tuesday, March 17, for St. Pat's Day with Rick Dunham, Theresa O'Hare and myself doing our Irish folk songs. For my first experience on Facebook Live, that I, and not someone else (meaning Mark Brillhart) instigated, it went well after we (meaning Theresa) figured out the technological angle. Theresa and I then did shows on Friday and Sunday evenings from our living room to wonderful outcomes. I am calling this phenomenon the Covid Bonus. It's when improvements occur while figuring out ways to deal with current issues.
This is not meant to disparage the devastation or soften the incredible blow COVID-19 is subjecting our society to, but to reflect on the notion that out of disaster often comes progress. Many others have commented upon this subject, so this is just my personal experience of how discovering the world of live streaming as a way to reach another audience and increase my cash flow is a good thing that happened out of adapting to what we are now experiencing.
From now on, I'm planning to stream every gig that allows me to put on the show in person and online. It will take a bit more work, coordination and commitment, but if it makes for a better show, expanded crowds and increased compensation, isn't that the hoped-for concept behind most live performances anyway? Plenty of big-time concerts (and many other events) already use this idea, so I'm going to start applying it to my little giglets as well. So from this day forward, I plan to play just live and just virtual shows, as well as gigs using a blend of both ways.
With that said, let's try some old-school Now Playing by listing local music happenings even though these are all going down on Facebook Live instead of at your local watering hole. I spy Silas Tag Tockey streaming every day this week at 2 p.m. (the plan is to Cher and share alike) and Cowboy Randy Erwin is online every other evening or so, about 6 p.m., with his world-class yodeling and classic songs. After School Special streams this Friday (6 p.m.), as does Avery Kern (7 p.m.), plus yours truly (8 p.m.). I noticed that Zack Fedor, Joel Honey, Pinch of Grace and Trellblazer all have done live streaming shows this week. Musicians, please send performance info to IT's calendar page to publicize the events and don't fail to set up ways your audience can send you some monetary sustenance. And, listeners, please help out if you're willing and able.
Catch you next week on the day after April Fool's Day.