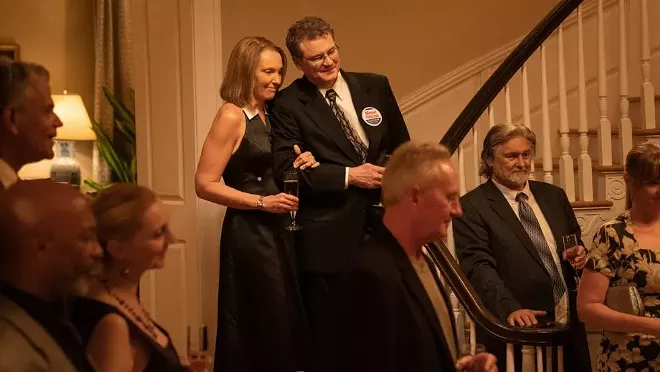 Performances rescue Montana
The physical wounds have healed, though some scars remain. However, it's the emotional and psychological damage that have yet to be addressed in Scott McGehee and David Siegel's Montana Story, a quiet, intimate tale of strained reconciliation set in Big Sky country. Corrupt lawyer and rancher Wade (Rob Story) is on his death bed, and his son, Cal (Owen Teague), has been left to deal with the sale of the property and the settling of his father's debts. Out of the blue, his estranged sister, Erin (Haley Lu Richardson), shows up to gain some closure, as her relationship with Wade turned abusive and nearly fatal during her high school years. That he is comatose makes this rather difficult.
It takes some time – a little too long, actually- for all to be revealed regarding their relationship as well as the ruction between the siblings. However, the fine work between Richardson and Teague keeps us hooked, each of them effectively conveying much more with their silences than words. The story is hardly anything special, but the sincerity conveyed by the two young actors and the gorgeous canvas before which this plays out, rewards the patient. Streaming via VOD.
New Downton more of the same
You can tell that Julian Fellowes, creator of Downton Abbey, is walking a fine line with the continuation of the beloved series, A New Era. He has to deliver the comfort food elements fans demand, yet also inject something fresh into the drawing room dramatics, lest he be accused of simply treading so much narrative water.
The new comes in the form of a French villa inherited by Violet (Maggie Smith) and the invasion of the titular estate by a British film crew. The old would be the cursory examination of class, the forbidden romances that occur and the myriad other personal crises the aristocracy and working class alike must contend with.
The familiar faces return — Michelle Dockery as Lady Mary, Hugh Bonneville as Robert, Elizabeth McGovern as Lady Crawley – all of them providing a welcomed anchor for the proceedings. A couple of characters deal with health scares, some unexpected romances develop, an affair is contemplated and misunderstandings ensue.
In the interest of not spoiling any of the film's minor surprises, I'll keep to myself who's contemplating their morality and who does what with whom. In the end, A New Era provides fans of the series exactly what they want, which really is all that should be expected. In theaters.
Structure of Staircase intriguing
Thanks to a career-best performance from Colin Firth and a compelling narrative structure employed by showrunner Antonio Campos, I was able to get over my initial "meh" response to the first episode of HBO's The Staircase and get fully immersed in this fascinating crime procedural. The British screen veteran portrays author Michael Peterson, who was accused of killing his wife, Kathleen (Toni Collette), in 2001. He claimed she had too much to drink and took a catastrophic fall down the stairs. Authorities felt differently.
Campos takes the viewer back and forth along the narrative timeline, showing us events before and after the murder, interspersing scenes from Peterson's trial as well as moments from his post-verdict life. It's initially offsetting, but once you come to understand the rhythm and intent of this approach, you can't help but get sucked in. Equally intriguing is the fact that Campos presents Kathleen's death as an accident and then later as a murder, each moment graphic and jarring; both seen as equally plausible. The eight-part show is at the halfway mark, and while at this point it may appear things are cut and dried, this show's structure promises there is much more to be revealed. Streaming on HBO Max.