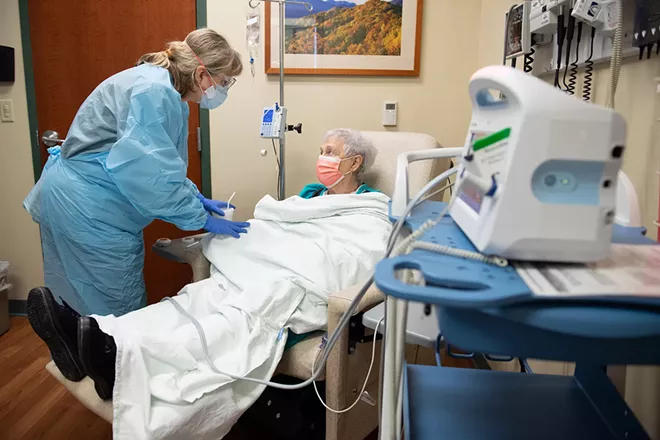 COVID-19 cases are on the rise in Sangamon County. The Omicron variant has not yet been identified here, but it's just a matter of time. Only 59.47% of the population in Sangamon County is fully vaccinated, and vaccination rates have stagnated. Consequently, COVID will continue to be an ongoing concern. Gail O'Neill, director of Sangamon County Department of Public Health, says people are tired of wearing masks, but vaccines and masks are the two most effective things we have for prevention. An infusion of monoclonal antibodies within 10 days of a COVID diagnosis is highly effective in reducing symptoms and preventing hospitalization.
There are multiple locations in Sangamon County for monoclonal antibody treatment, which involves either a one-time infusion given intravenously or a subcutaneous treatment. The Food and Drug Administration has issued an Emergency Use Authorization for monoclonal antibody treatment for patients meeting certain eligibility requirements. There are three brands of monoclonal antibodies for COVID; currently the treatment is being used here is Regeneron, which is a cocktail of two separate monoclonal antibodies.
To receive monoclonal antibody treatment, patients must be 12 or older, have a positive COVID diagnosis within the last 10 days and have at least one major risk factor related to COVID. Examples of risk factors include age 65 or older, pregnancy, diabetes, obesity, cardiovascular disease, immunocompromised condition, lung disease or other comorbidities. Individuals who have been exposed to COVID and are at high risk are also approved for monoclonal antibody infusions. Monoclonal antibody treatment is recommended for pregnant women who contract COVID because COVID creates an increased risk for pre-term delivery and causes inflammation and other complications. Recently a formulation produced by Eli Lilly has been newly authorized for infants to age 11; however, Regeneron has not yet been authorized for this age group.
To avoid exposure to others, treatment is administered outside of an emergency room setting. Specialized facilities have been created, with negative pressure rooms, filters, separate entrances and other extensive safety protocols. Monoclonal antibodies are not used to treat COVID patients who require hospitalization. Patients are not charged for the drug. For patients with insurance, the cost for nurses to deliver treatment is typically submitted to the patient's insurance company.
Memorial Springfield administers monoclonal antibody infusions at the Memorial Urgent Care on Koke Mill. For information and to schedule an appointment, contact expresscareinfusion@mhsil.com or call 217-588-5154. The SIU Medicine COVID Monoclonal Antibody Clinic is on the lower level of Baylis Medical Building. Patients can refer themselves or be referred by a provider within 10 days of symptoms by calling 217-545-8500. Springfield Clinic offers the treatment; a doctor's referral is required in order for it to be scheduled. HSHS St. John's Hospital is currently administering monoclonal antibodies only to pediatric patients ages 12-17 who meet the Emergency Use Authorization criteria; a referral is required. As COVID cases increase, there is a surge in demand for monoclonal antibodies and a potential for shortage of availability. The State of Illinois allocates monoclonal antibodies to eligible institutions based on the previous week's usage. Potential shortages in nursing staff to administer the treatment may also impact availability, causing providers to prioritize treatment for those at highest risk. The Sangamon County Health Department is working to maintain on its website updated information about monoclonal antibody treatment. As with many issues related to COVID, circumstances change quickly. There is research underway related to monoclonal antibody treatment and the Omicron variant.
Initially, hospitalized COVID patients were treated with blood plasma from patients who had recovered from COVID, and there were no outpatient treatments available. Monoclonal antibodies have now proven to be a more effective treatment and are given on an outpatient basis. Monoclonal antibodies are laboratory-produced synthetic molecules that attach to the spiked protein and thus stop the virus from entering more cells and help reduce the viral load. Monoclonal antibody treatments were newly developed specifically for the COVID-19 virus, but this is not a new medical procedure. Monoclonal antibodies are used to treat cancer, autoimmune and other diseases. According to Dr. Anna Richie, Memorial Health Urgent Care Clinical Director, treatment with monoclonal antibodies has reduced hospitalization of COVID patients by up to 80%. Treatment is most effective the sooner it is administered after diagnosis.
Memorial Health began administering monoclonal antibodies in November 2020 and has administered more than 2,000 infusions in Springfield and another 500 at their facilities in Jacksonville, Lincoln and Decatur. Memorial is a statewide leader and has given a large proportion of the infusions provided statewide.
Monoclonal antibody treatment is not a substitute for vaccines. To best protect yourself and others, medical experts urge people to get vaccinated and get the booster. Dr. Richie says monoclonal antibody treatment is "only plan B."
Dr. Vidya Sundareshan is professor and chief of infectious diseases at SIU School of Medicine and medical adviser to Sangamon County Department of Public Health. She says viruses behave differently in vaccinated vs. unvaccinated people. Vaccines provide more durable protection and last longer than antibodies as a result of having COVID. Sundareshan says that individuals who have had a very bad case of COVID may have robust antibodies, but studies show that vaccines are more protective and durable in preventing COVID than a previous case of COVID. The U.S. Centers for Disease Control and Prevention have found that being fully vaccinated provides five times more protection against a future COVID case than unvaccinated people who had a previous COVID infection, added Dr. Richie.
With the holidays approaching and the Omicron variant spreading quickly, the message from medical providers remains consistent: Get vaccinated. If you are eligible get a booster. Wear a mask.
Karen Ackerman Witter is a frequent contributor to Illinois Times. Her goal is to connect people, organizations and ideas to achieve greater results. She was inspired to learn more about monoclonal antibodies and write this article after a fully vaccinated colleague was sick with COVID for 11 days and another mutual friend lamented the lack of widespread public awareness about the efficacy and availability of monoclonal antibody treatments.