The Springfield Art Association is currently in high gear with a unique exhibit featuring nearly 300 specimens of modernist furniture and décor. The SAA is also now hosting the first two visiting artists to participate in the recently established Enos Park residency program for visual artists.

"Many [20th-century] designers and consumers rejected traditional styles and materials as new horizons of form, color and use came into view influencing everything from appliances to furniture," according to curator Anthony Rubano's notes for "Living with Modernism: Mid-Century Decorative Art," the mesmerizing, and sometimes overwhelming, exhibit on display in the M.G. Nelson Family Gallery through July 22. Featuring "tables, chairs, lamps, rugs, toasters, vacuum cleaners, china, flatware, toys and more" dating from the late 1920s through the 1980s, the exhibit manages to feel by turns uncanny and cozily familiar, with items which – depending on the viewer's age – may have once been seen and used in one's own home or that of a relative or perhaps just glimpsed in the background of an episode of "Mad Men."
As the pieces on display were created over the course of seven decades, the overall feelings generated by the show can hover somewhere between nostalgia and displacement. Some items, like designer Paul Evans' imposing "stalagmite coffee table" (1970) – with its glass tabletop supported by legs resembling the upward-growing calcium formations found in caves – come across as valid conceptual art objects as much as functional items; others, such as the desktop "Aurora clock" (1972) with its constant, almost lava-lamp like color transformations (on loan from the permanent collection of the Museum of Modern Art in New York City), are fascinating, flashy examples of consumer kitsch at its most far-flung.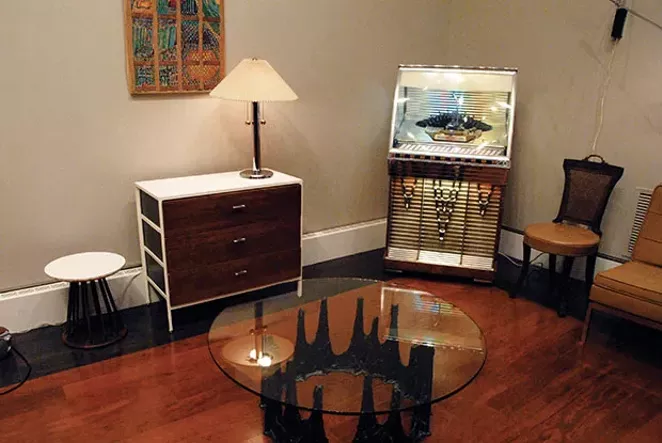 Many of the items on display – ranging from elegant examples of the utilitarian Bauhaus movement to mass-produced, plastic, ostensibly futuristic items predicated on a sci-fi future that never came to pass – are odd, humorous, powerful or all three. Others, though, are astonishing simply for how prosaic they are, with the gallery environment inviting the viewer to consider practical items anew as purely aesthetic objects – perhaps a tall order when regarding stuff that might also currently reside in one's cluttered desk drawer at home.
Elsewhere on the SAA grounds, two out-of-town artists are now occupying the two-story house located on the association grounds, as part of the recently initiated Enos Park residency program for visual artists. James Pepper Kelly of Chicago and German-born Astrid Kaemmerling are both in the midst of six-week stays, during which they are creating new work relating to the Enos Park neighborhood or Springfield as a whole. The work will be presented later this summer in a special exhibit at the University of Illinois Springfield's Visual Arts Gallery.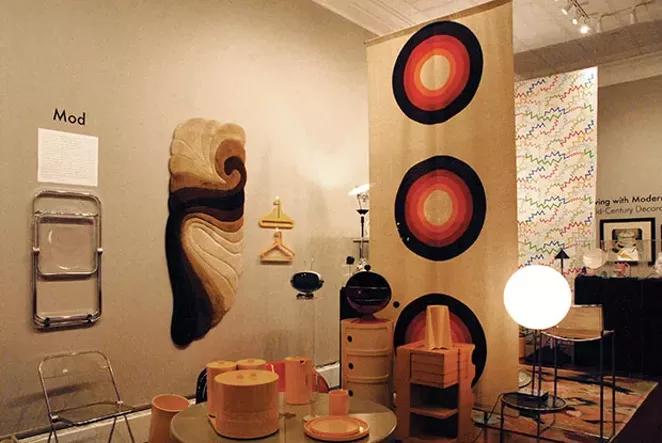 Kaemmerling, who has shown work in Germany, Italy, Korea and the United States and has been the recipient of numerous awards and fellowships, is currently based in San Francisco. The concentration for her current Springfield-based project is in the field of "walking art," in aid of which free tickets are currently available for her "Enos Park Community Walking Laboratory." According to Kaemmerling's online event page, "while meandering the streets of Enos Park for one hour you and I will engage in a conversation about the past, present and future of the neighborhood while monitoring our thoughts and passageways." The conversations will be recorded and later presented as part of the exhibit, along with maps of the paths taken in each walk. Kaemmerling's enthusiasm for the residency is palpable. "It's a fantastic way for me to put some of the research I have done into action and really field test it," she said. "The support here so far has been incredible. And welcoming! Wherever I go, even on the street, people are super friendly; they greet you and engage in conversation. It's been really nice."
For his part, Kelly has also been engaging in conversation with the Springfield community, quickly making himself a fixture at local bars and coffeehouses, drawing out locals for their opinions and stories as he researches his project, which he says will in part consist of a Springfield-centric "fake newspaper," as a comment on the current and historic media climate. "I really wanted to come here because history seems to resonate in Springfield in a way that it doesn't in a lot of other places," he said, drawing connections from Springfield's present community to the utopian narratives of Vachel Lindsay and the idealized political rhetoric of Abraham Lincoln, a theme which will certainly play a part in his finished work. "People here have an investment in narrative, in telling their own stories, which I really haven't encountered elsewhere – a tendency toward storytelling that I've run into over and over since I've been here."
Contact Scott Faingold at sfaingold@illinoistimes.com.