Rich Saints a gripping morality tale
Did we need a prequel to David Chase's seminal television series "The Sopranos"? I didn't think so until seeing The Many Saints of Newark, a sumptuous, gripping tale about the generation of Jersey mobsters that came before Tony Soprano, the character popping up here as a teen played by the late James Gandolfini's son Michael. And while the film is touted as an origin story for the gangster, he's really just a peripheral character.
The focus here is Dickie Moltisanti (Alessandro Nivola), a conflicted made man who serves as Tony's mentor. Content to enjoy the spoils of mob life, things get complicated when he finds himself attracted to his father's (Ray Liotta) new young wife (Gabriella Piazza). Needless to say, this leads to bad decisions and a great deal of guilt. Great acting, an intelligent script and spot-on period details makes for a rich film not so much about gangsters, but about the price we pay when making a deal with the devil. Whether you've seen "The Sopranos" or not, the film is accessible and engaging from frame one. In theaters and streaming on HBO Max.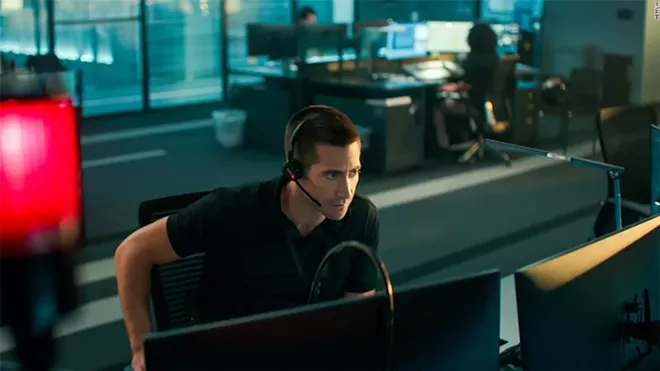 Gyllenhaal anchors taut Guilty
Remaking foreign films is a tricky proposition and always seems like a bit of a cheat. The notion those involved are simply copying a previous project is a hard one to overcome. So, when it was announced that Jake Gyllenhaal was to star in a remake of the 2018 Danish thriller The Guilty, I was a bit skeptical. I shouldn't have been, as this proves to be every bit as good as the original, a claustrophobic production that's driven by the star's performance and director Antoine Fuqua's ability to keep this one-setting story from becoming a static exercise in tedium.
Gyllenhaal is Joe, a hot-head patrol officer who's been assigned to the dispatch center to answer 911 calls. This is a position he's not suited for, and this is never more obvious when he gets a call from a woman (Riley Keough) who's been kidnapped. Joe's impulsive actions lead to unnecessary complications which end up impacting both him and those he's trying to help in tragic, unexpected ways. The taut script has more than a few surprises, while Gyllenhaal is captivating throughout. Joe may not be admirable, but the actor avoids the trap of making him a one-note villain. Streaming on Netflix.
Third act saves Henry
Tim Blake Nelson has always been an intriguing actor, one who's not afraid to take on off-beat roles and has the ability to make his characters stand out, even in the smallest of parts. In Old Henry, he gets the lead and runs with it. As a farmer early 1900s Oklahoma, he's a widower who simply wants to raise his teenage son (Gavin Lewis) in peace. However, their quiet life is disrupted when he finds a bloodied, unconscious rider with a satchel full of money on the outskirts of his property. His first mistake is taking the stranger in, as a sheriff and his two deputies soon show up on his doorstep, wondering if Henry has seen the bank robber they're looking for. That he denies his guest's presence is a huge mistake.
Derivative in nature and a bit meandering, the film rights itself with a third act surprise that forces us to reevaluate all we've seen before, casting the contentious father-son relationship and Henry's solitary existence in a different light. The more you know about the Old West, the more you'll appreciate what this sleeper has to offer. Streaming on Amazon Prime, Apple + and Video-on-Demand.